Kitchen cabinet painting service
Homemakers tend to spend a lot of their time cooking. They deserve to have a nice kitchen! Did you know we also remodel kitchens and kitchen furniture? Just give us a call for cabinet refacing in Saint Augustine FL and we will turn your kitchen into your favorite place at home!
Kitchen cabinet painting service
Only 72 hours later, here is the finished product
Giving your kitchen cabinet a fresh new look does not require major investment nor does it take a long time. Only 72 hours later, here is the finished product with freshly painted walls. We exceeded our client`s expectations.
Kitchen cabinet refacing vs. new kitchen cabinet?
Cooking enthusiasts know how important it is to have all your kitchen tools at hand. Well-thought-out and good quality kitchen cabinets should be renovated and given a fresh coat of paint instead of being replaced. The careful placement of all the shelves and drawers does not have to be changed and after the renovation your kitchen will look as good as new!
Kitchen furniture are made up of many parts: shelves, drawers, storage cabinets, and built-in kitchen appliances. It's very important that all parts fit together perfectly. In time, due to usage, screws may become loose or get tightened. The oily water vapor sits on our kitchen cabinets and even the most though cleaning won't stop it from staining our beautiful wood furniture. Let's get rid of those icky stains and renovate your kitchen furniture! I guarantee I pay attention to all the details and everything will be back in its place once I'm finished making your kitchen look stunning as ever!
Restoring kitchen cabinets is not only an environmentally friendly solution, but it can also save you time and money. Keep your kitchen furniture that you are accustomed to, and I will give it a new look in just a few days!
Cabinet refinishing in Saint Augustine FL 
What goes on during the kitchen furniture renovation process? 
As a first step, I take all the measurement of your kitchen cabinets. After you have accepted the quote, I gather all the necessary tools and order your chosen color of paint. Before I start the work, I mark every piece of the cabinets, so I know exactly where to put back each one. I sand, repair, and paint each piece one by one. When all the parts are finished and dried, I put all the cabinets back in their place with the outmost care and precision.
For a normal sized kitchen, restoring the kitchen cabinets will only take a few days of work. You will be left with clean and stunning kitchen furniture that looks new. A thorough deep cleaning of stained cabinets would take just as much of your time, and you cannot compare the results!
We ask that you clear out all your kitchen pots and pans, utensils, and appliances from your cabinets before we start the work. Cleaning beforehand is not necessary, but the cabinets do need to be empty as we will be taking all of them off to paint.
Zachary Boucher
14/08/2023
Extremely professional, fair pricing, very satisfied with end result. Went above and beyond to get the job done and impressive attention to detail. Impeccable cleanup, excellent experience all around.
We live out of town but have a condo at the beach. We had to coordinate the painting with various other services and Peter was incredibly responsive and punctual. He was a pleasure to work with and most importantly did a superb job!! Don't think twice about hiring him.
I used Multicolor to paint my house trim. When I called, a real person answered the phone. That was a pleasant surprise. I told them what I needed. Within a day or so Peter, the owner, came out to estimate the job. He looked closely at the condition of the trim to understand what was needed. I got a very reasonable price and we scheduled the work to start within a couple of days. The painter Peter sent out knew his business and was well organized. He was very easy and pleasant to work with. This painter was unable to work the second day, but a different man came out and finished the job. He was as professional as the first one. I never saw either man take a break. Maybe they did, but not long enough for me to notice. They finished the job a day early. It looks great. My wife loves the way the house looks. I'm very happy with the job and will use Multicolor Paints for future jobs. Also, I never knew anything about this company, the owner, or employees before I called them. I choose them based on a recommendation from a Jacksonville company that did not want to travel this far except for a full house painting job.
Dianne Norquist
02/02/2023
No words to express my gratitude to Peter, Eric and Benny for the professional. Amazing job they did on our exterior. My husband has been a builder for many years and he is very impressed with the workmanship. We had a difficult two-story new home in treasure Beach that needed a lot of caulking. They did a great job putting on primary and two coats of color that will last way after I'm gone... They were courteous and kind from the very beginning to the final cleanup. No need to look any further. I did a lot of research. They are the best around and more than fair in their pricing thank you again Peter, Eric and Benny. God bless.. photos can be seen on the website 🙂
If you want a quality job done on time by a responsible crew, then you should hire Multicolor. Peter and crew showed up when they said they would and did a meticulous job painting the exterior of my home. There aren't many quality companies like this anymore, and I really appreciate the value of their work.
I hired Peter and his crew to paint my master bedroom and bath. OMG! The paint job was meticulous! Perfect! Flawless! How many adjectives can I come up with? It was not only the paint job that was meticulous. They arrived precisely on time, even a little early. When they replaced the furniture, it was perfectly placed under where they knew the pictures would go. The hung back up the crazy flower garland around my windows. I swear to you that they even polished the metal switchplates in my master bath before they replaced them. Their attention to detail is amazing. .. amazing! Peter obviously takes a great amount of pride in his workmanship and that of his crew, and justifiably so. If I ever need any more painting done, I would not even think about hiring anybody else. Nope. I wouldn't even think about it!
Jonathan Cordero
06/10/2022
I own a large charter boat business and needed my heads(bathrooms) painted. They did a fantastic job and knocked out the project in less than 2 days. With marine paint things can get a little delicate. Peter and his team were very professional and aware of what my questions/needs were. Thanks for the great job!
Peter and the rest of the crew at Multi Color Painting were fantastic to work with. We would definitely recommend them to anyone. They were very professional and we are extremely pleased with the work they performed. Peter, the owner, could have very easily charged us more money for a couple of things that weren't anticipated after the job started but he did not. (We even tried to pay him more and he said "no thank you") We trust this company and would hire them again.
Awesome job painting my kitchen cabinets Great service, super nice and professional
I used Multi Color Painting to paint the majority of my home. Peter was great from the beginning and was very helpful in deciding the stylistic direction I wanted to go in terms of color. The finished product exceeded my expectations and I definitely recommend you give them a try. His team was also happy to come back and do a few touch ups in some small areas I noticed to ensure I was 100% satisfied.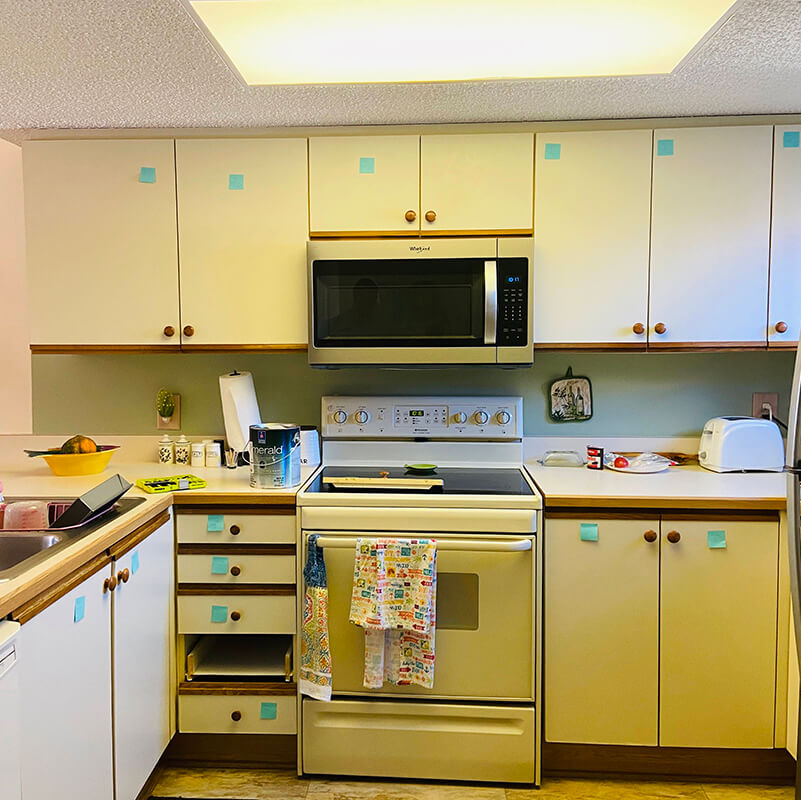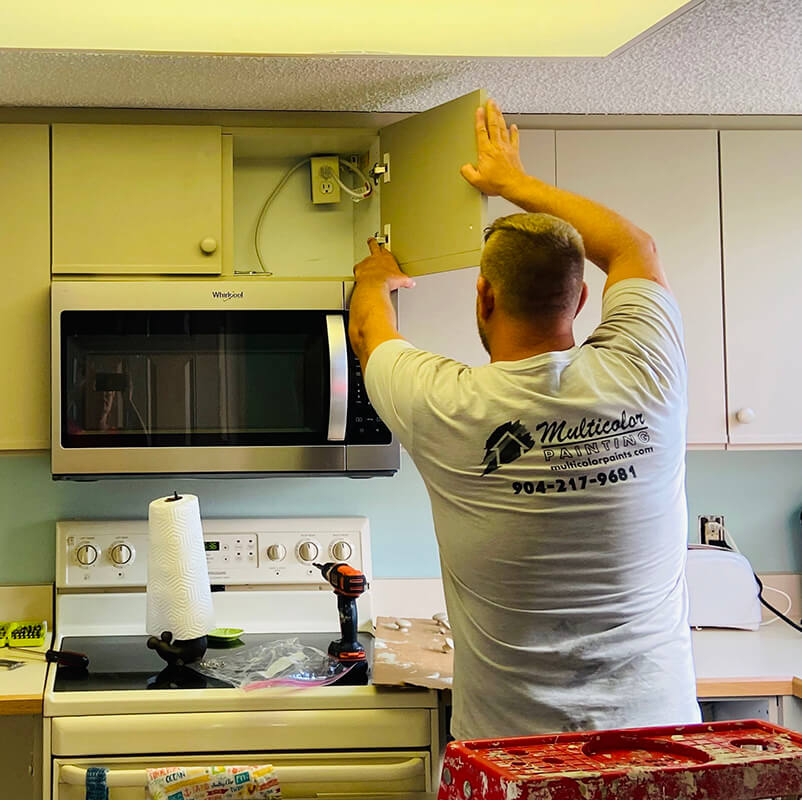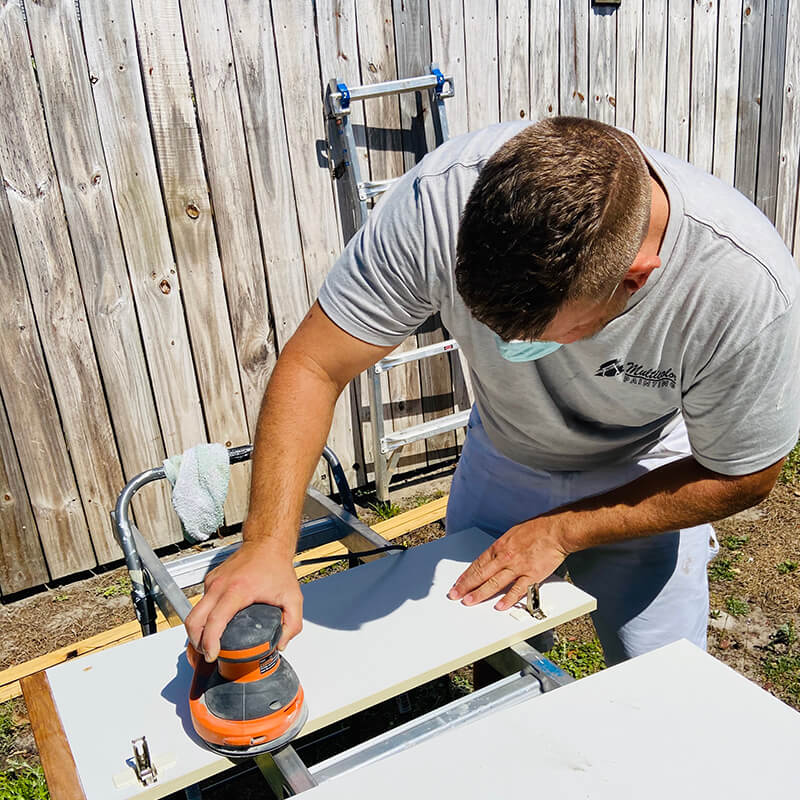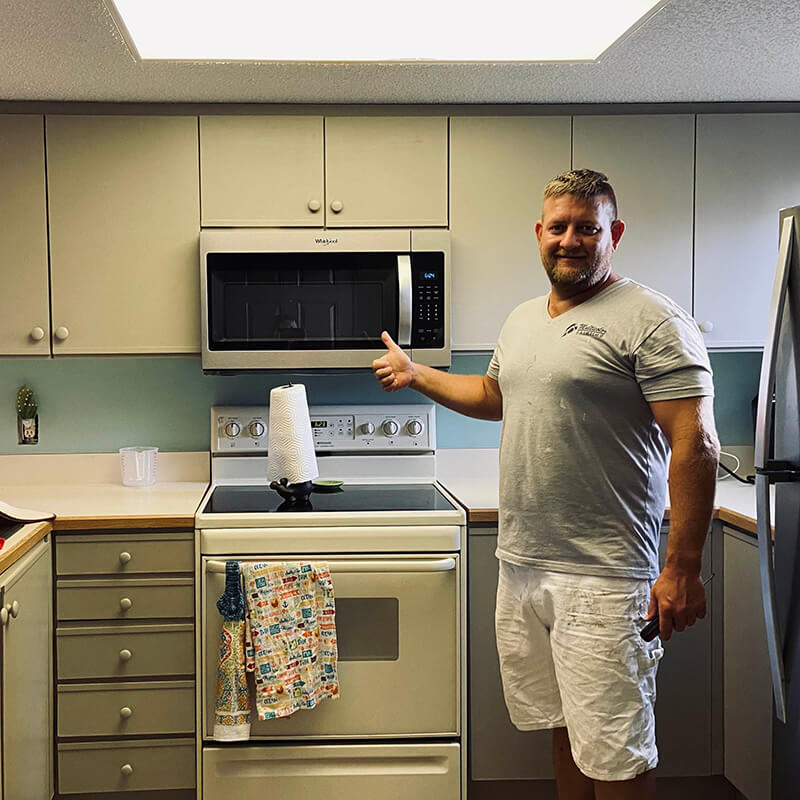 It is a good idea to give our walls, ceilings, and furniture a new coat of paint from time to time. Maybe we yearn for a new color – a bit of a transformation, or we just want out home to feel clean after years of accumulated dirt on the walls. One of the most frequently used areas in our homes is the kitchen and the cabinets which tend to show smudges and grease stains. Due to this exact reason, these kitchen cabinets received a fresh coat of paint keeping the previous color, so now our client can enjoy a kitchen that feels as good as new!
Kitchen cabinet refacing in progress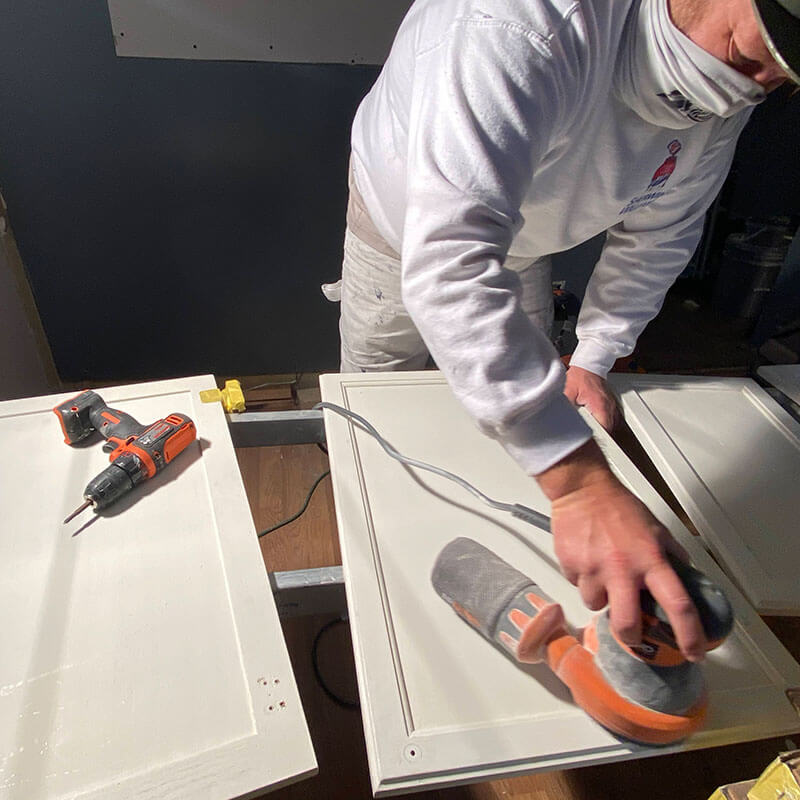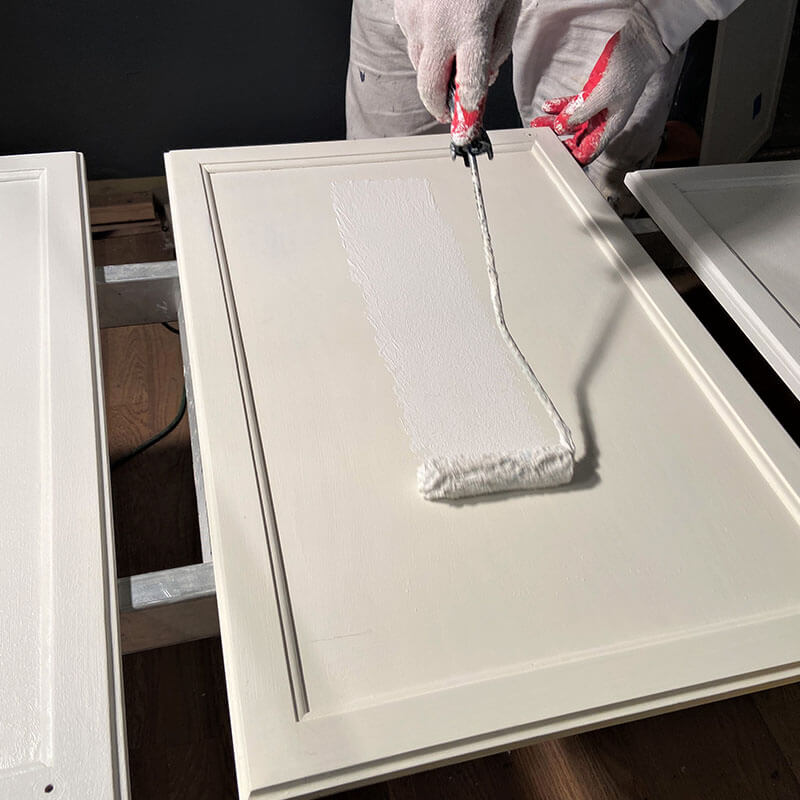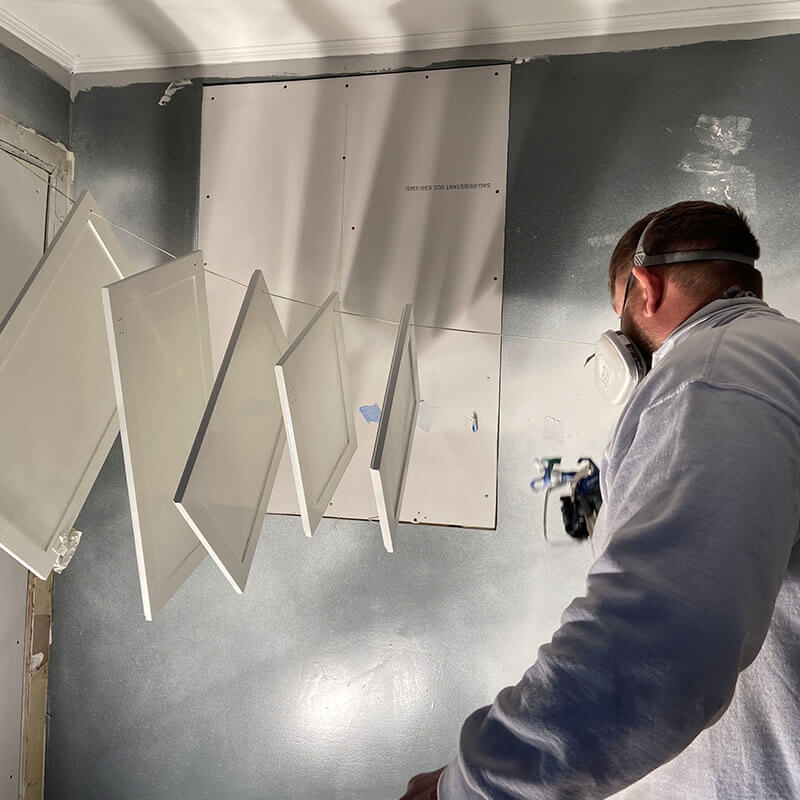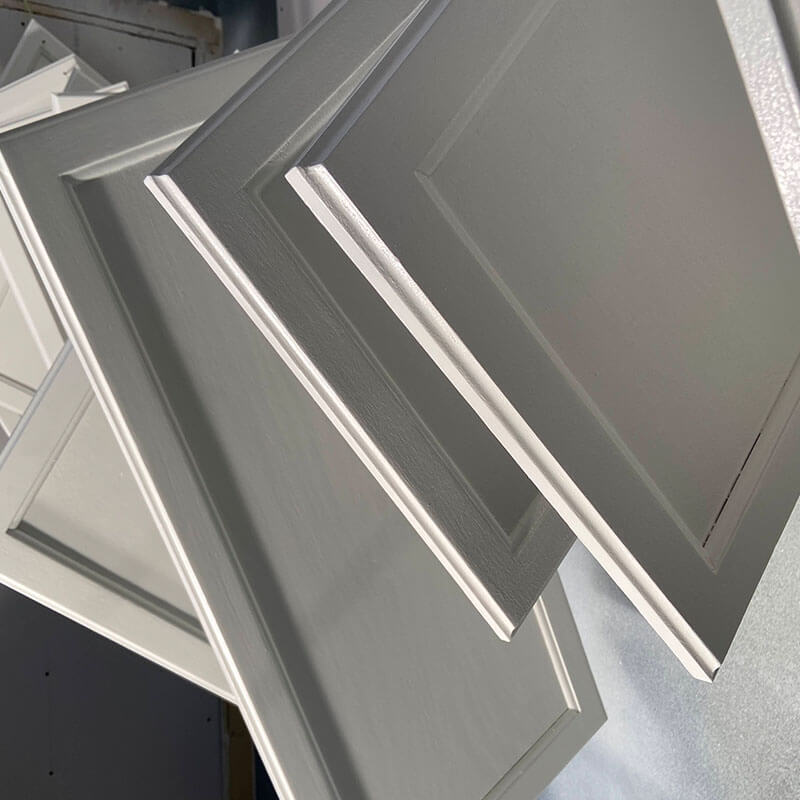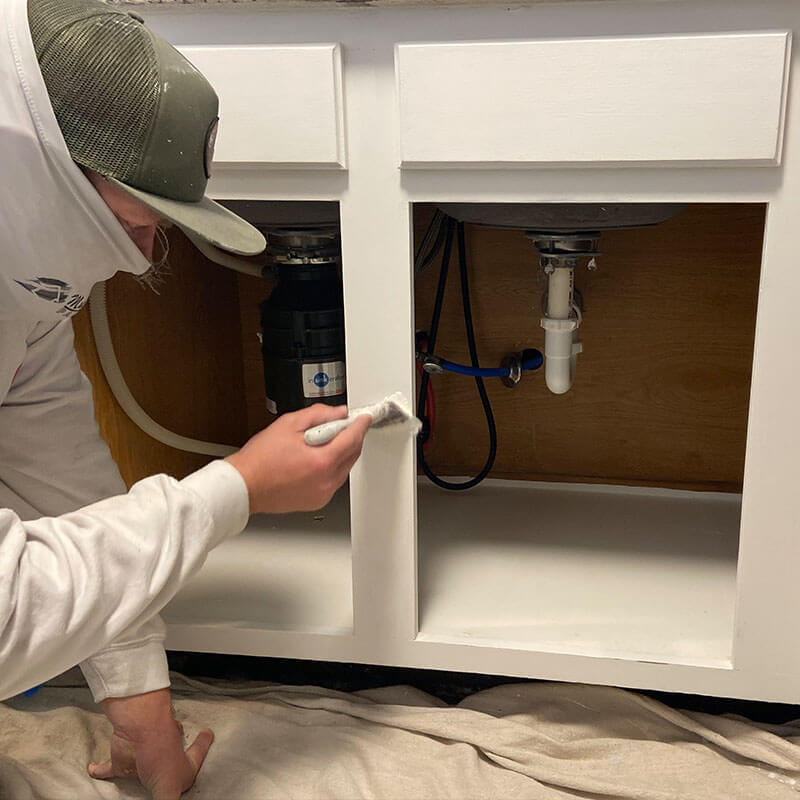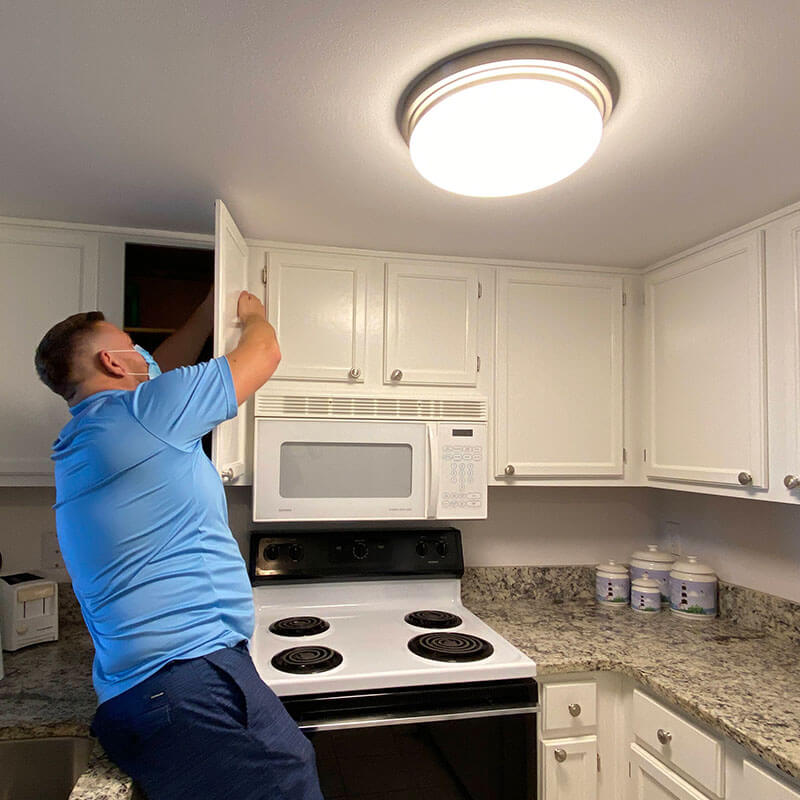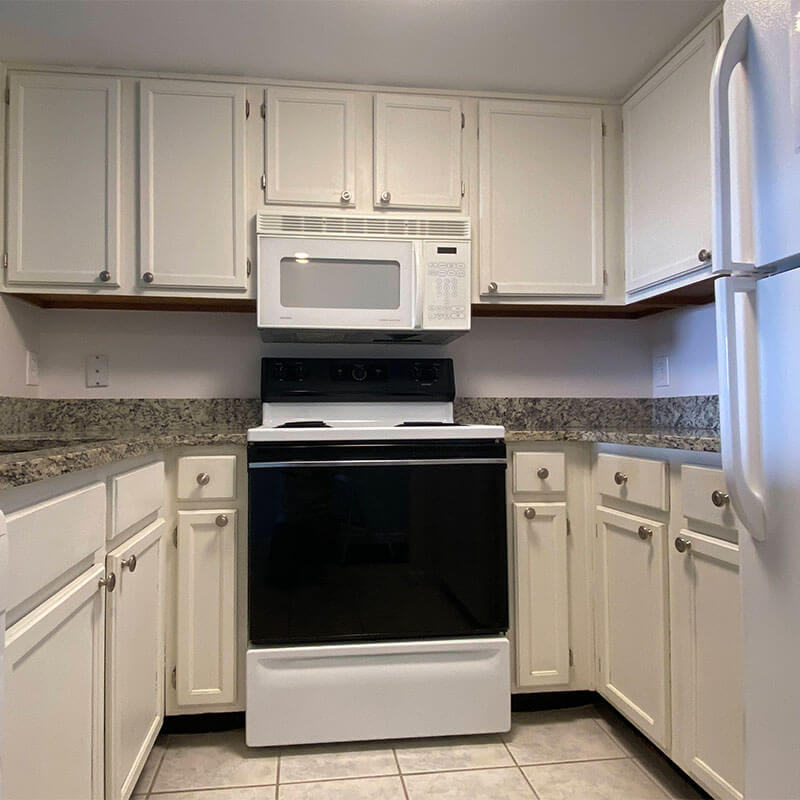 By painting the walls a different color, putting on fresh wallpaper, you can achieve a completely different look in your home. The restoration of your cabinets only adds to the wonderful transformation! Painting these is a little more time consuming because we need to take them apart piece by piece, put on protective covering, degrease, thoroughly sand, dust, apply a layer of primer, then finally paint the desired color. We have to put it all back together of course once all the pieces are dry. From the cherry-colored furniture we made gorgeous white cabinets in the kitchen, and elegant grey cabinets in the bathrooms.
Office Location
24206 Harbour Vista Cir, St. Augustine, Florida 32080
Hours
M-F: 7am - 5pm, S: 7am -5pm
Multicolorpaint does a wonderful job! My husband and I have used them on several occasions. First time was after the flood of 2016. They helped put our condo back together. Did all the finishing touches to make it look whole again. The second time they painted our upstairs balcony. Pete had it done in a single day! Very professional, proficient and trustworthy to have in our home. Thank you Peter and Petra for your excellent services.
I highly recommend Multicolor Paints. We recently had our whole interior repainted and couldn't be more pleased with the results. Peter and his team went above and beyond. Very punctual (started job on time and finished a day ahead of promised). The quality of paint used and attention to detail made a great difference. All for exactly what was estimated.
My friend recommended me to hire Multicolorpaint company for painting my kitchen which I was planning to paint myself. But thank God I hired Them! The job was done right on time, everything was covered with tape and plastic, so I didn't have to clean after. Just amazing! Would highly recommend this company.
My friend recommended me to hire Multicolorpaint company for painting my kitchen which I was planning to paint myself. But thank God I hired Them! The job was done right on time, everything was covered with tape and plastic, so I didn't have to clean after. Just amazing! Would highly recommend this company.
I usually don't write any reviews, but MULTICOLORPAINT LLC does deserve one for sure! I'm living in an old house which was painted for the last time like 30 years ago. But these guys did an amazing job in my living room! The house painting is so meticulous I can't be satisfied more! Plus the team is so neat and friendly, they work fast and efficient! Strongly recommend!
Peter and his crew did a beautiful job painting our living room. Very reasonable pricing and professional. Definitely will use them for future projects. Thanks guys.
Wow! Great communication and awesome souls. A pleasure to have them in my home. Punctual, clean with attention to detail. Thank you!
Message to peter
Get In touch below, ask a Question or start a free quote today
Call me: Peter Hando painter
1(904) 217-9681