My Painting  Projects
Here are pictures of a few of my projects. Let me introduce you to some of the colors and surfaces I have worked with in Saint Augustine FL.
I Paint as you like!
I have painted effectively everything in the Saint Augustine area, such as apartments and the complete exterior and interior of houses. I have also renovated kitchens and painted panelings in great numbers. I selected a few photos of some of my recent jobs in which you can see the before phase, the painting process, and the finished work. I hope you like what you see and please don't hesitate to turn to me with any questions. I am always happy to help and brainstorm together for your future painting project!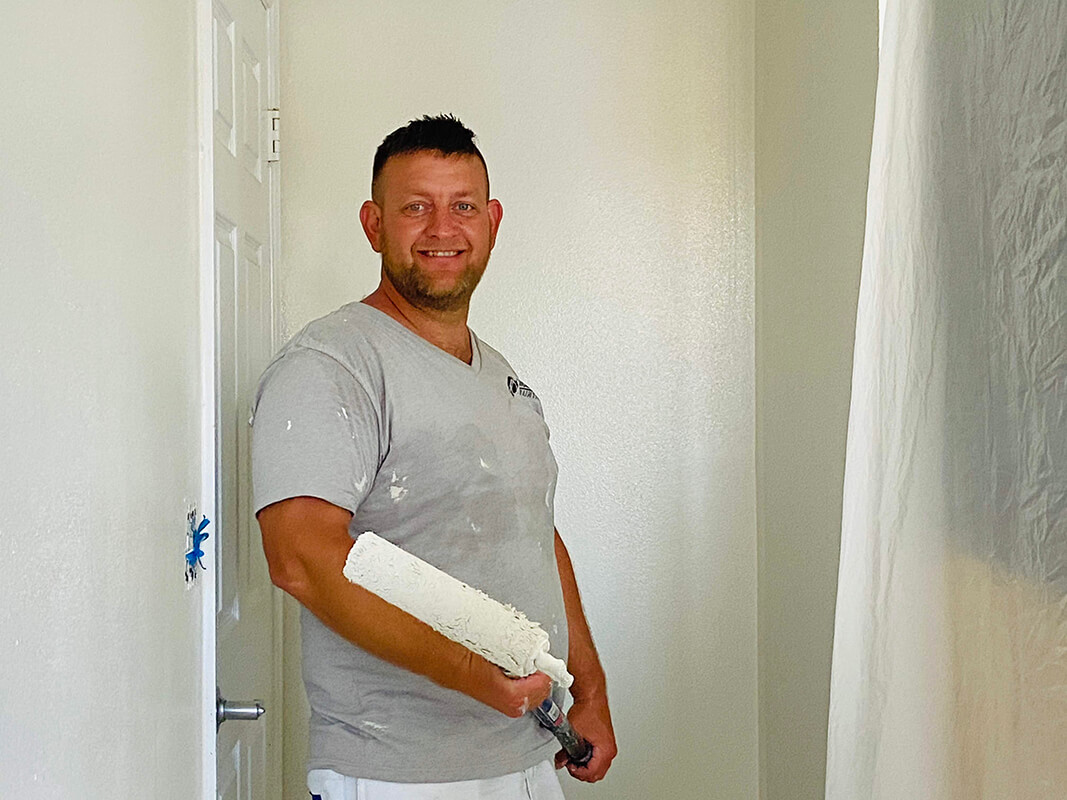 Peter Hando
– Local Painter in Saint Augustine, Florida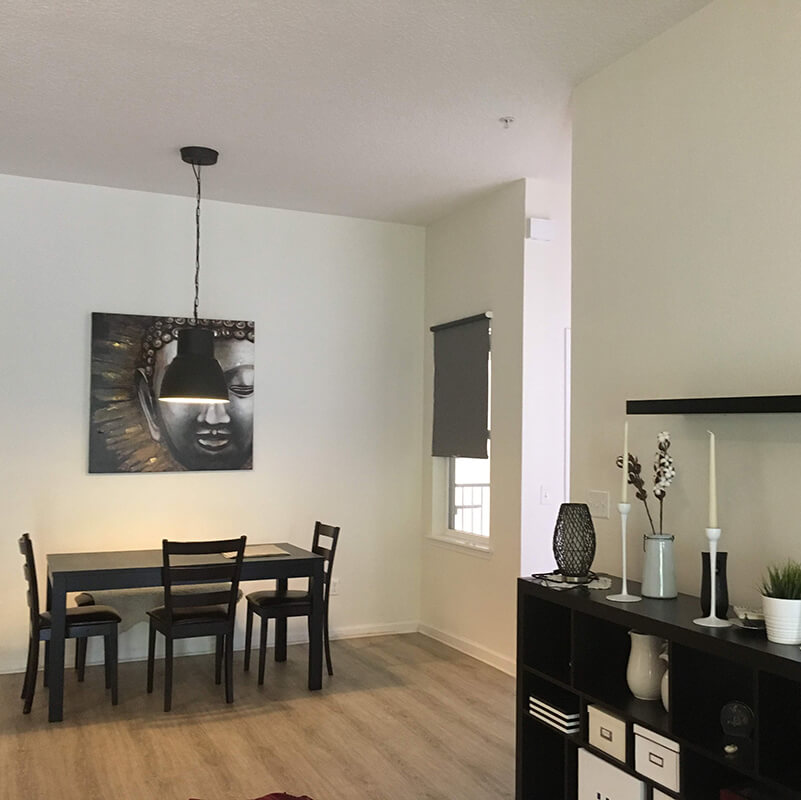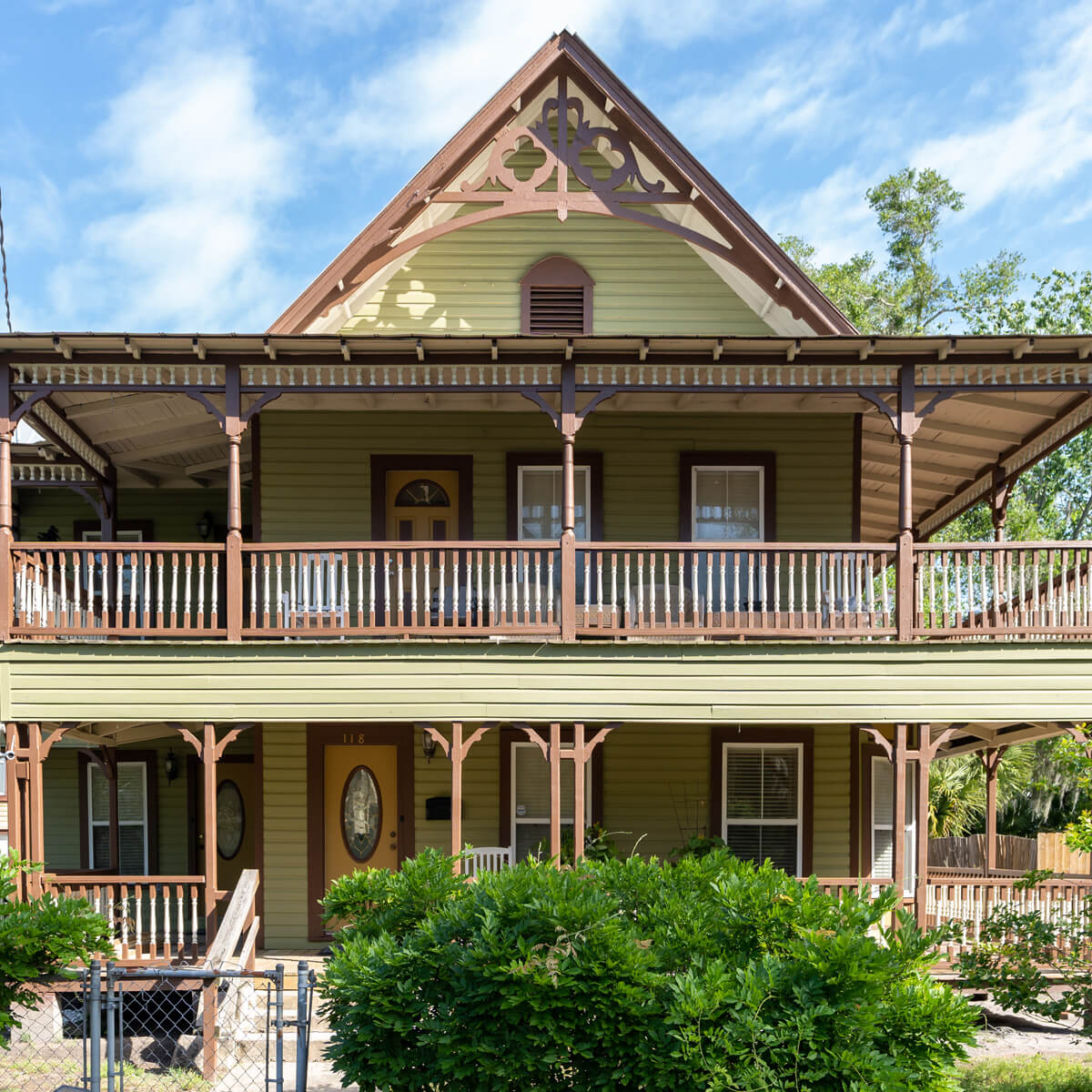 More Exterior House Painting »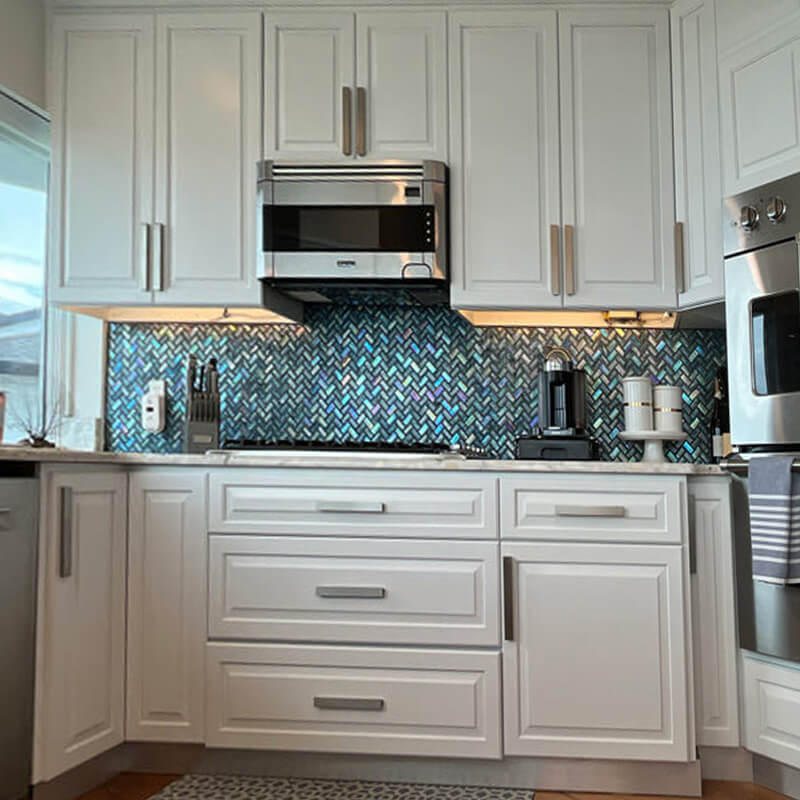 Kitchen Cabinet Painting »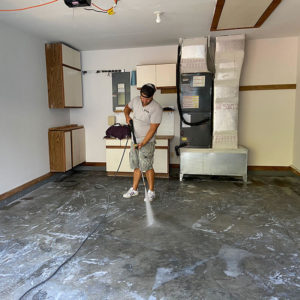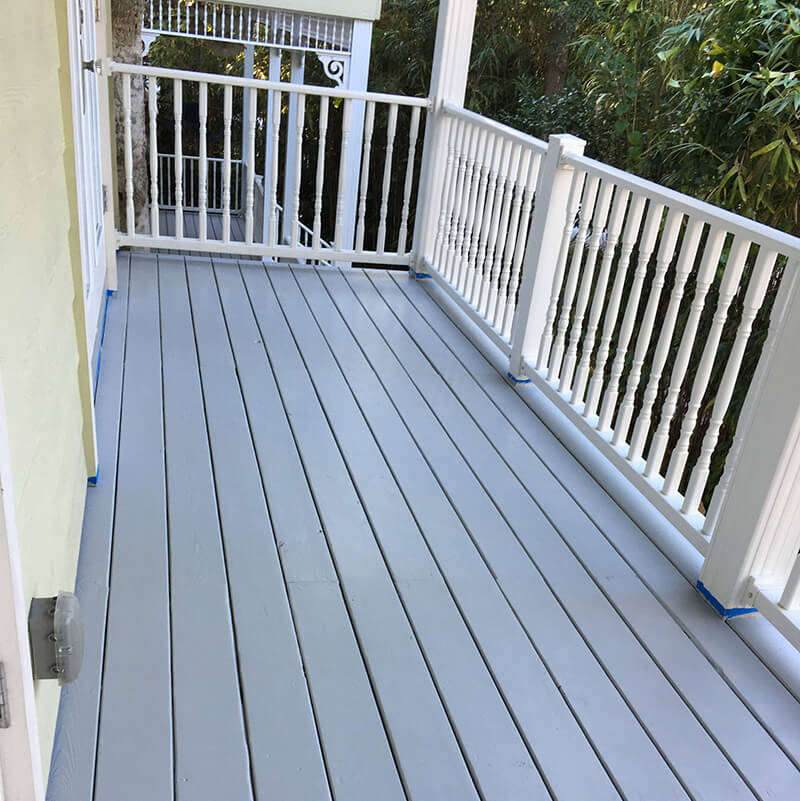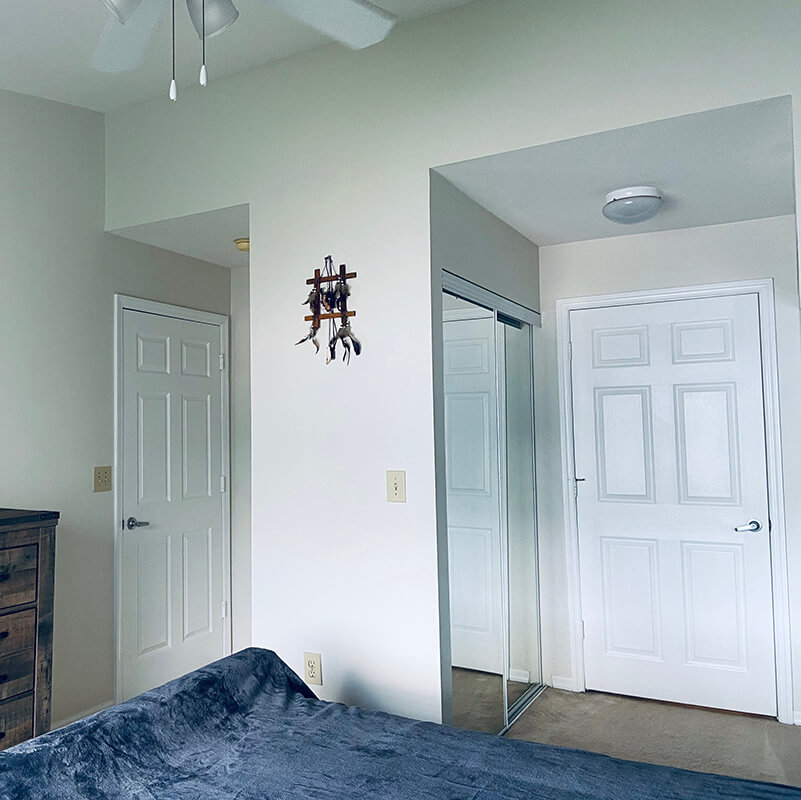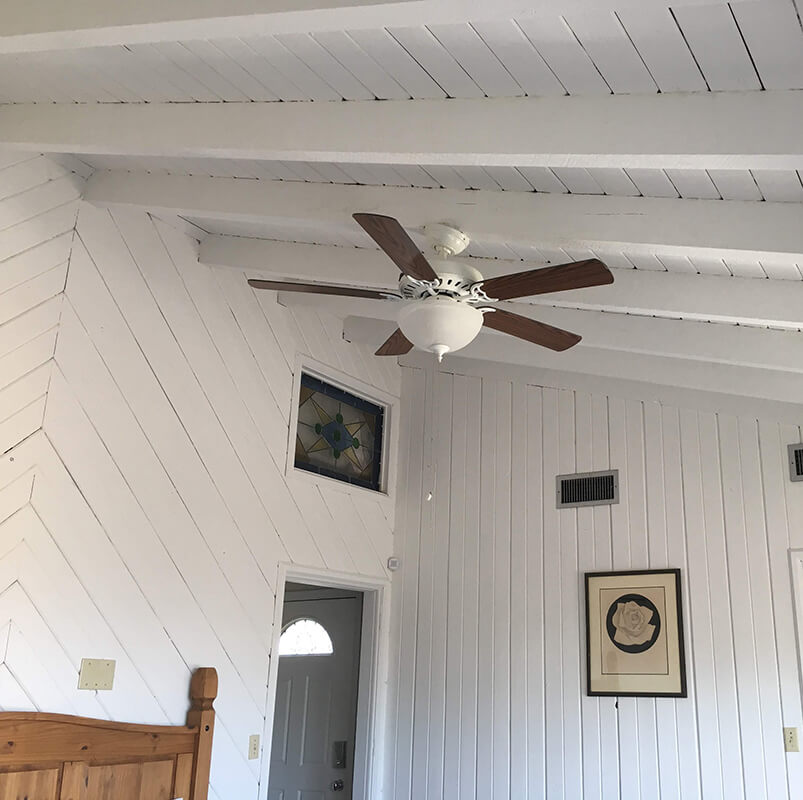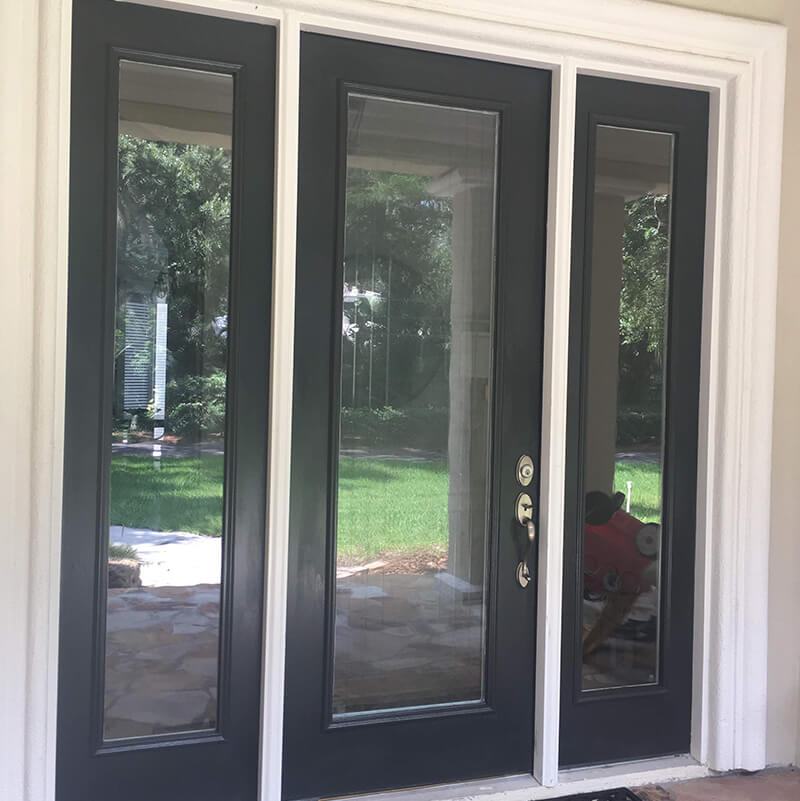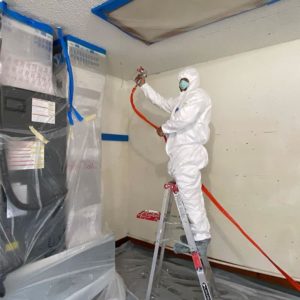 Interior Painting in saint augustine – 01.
One of our bigger projects turned out to be challenging considering the previous vivid colors on most of the interior walls. Our goal was Origami white, used in the living room, master bedroom, and kitchen area complemented with a bluebell color. Doors and windows were finished in a stunning emerald white. Carefully selected furniture and colors added a modern character to the home.
Doors and windows – emerald white
Bedroom and kitchen –  bluebell
Living room – origami white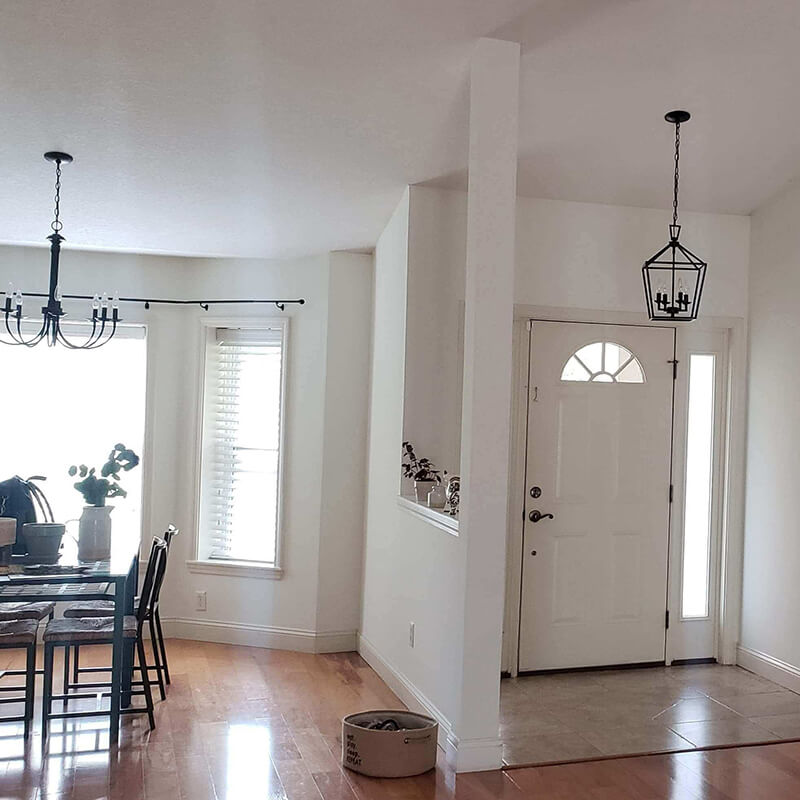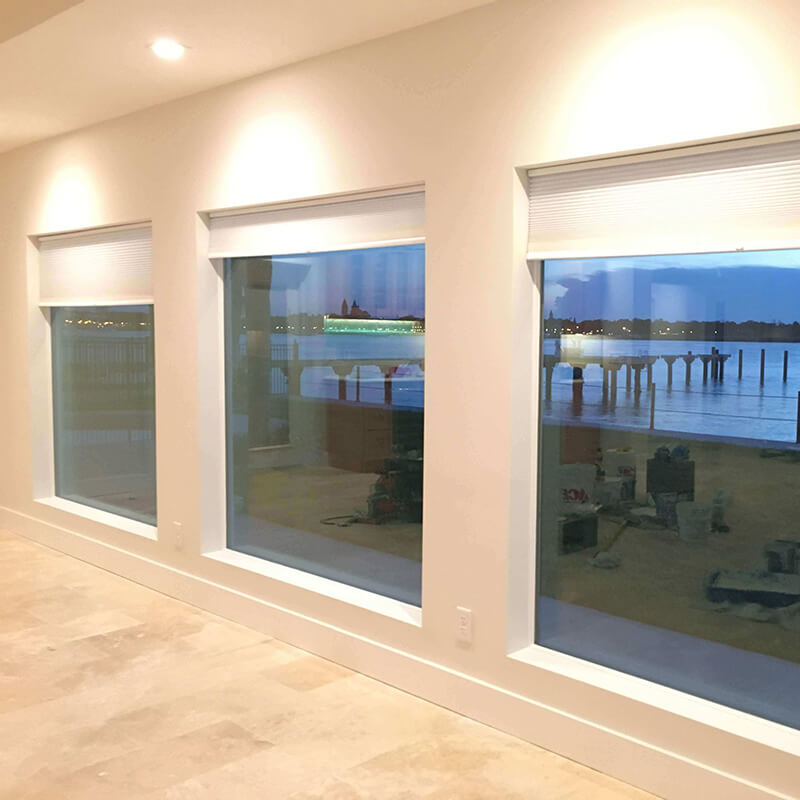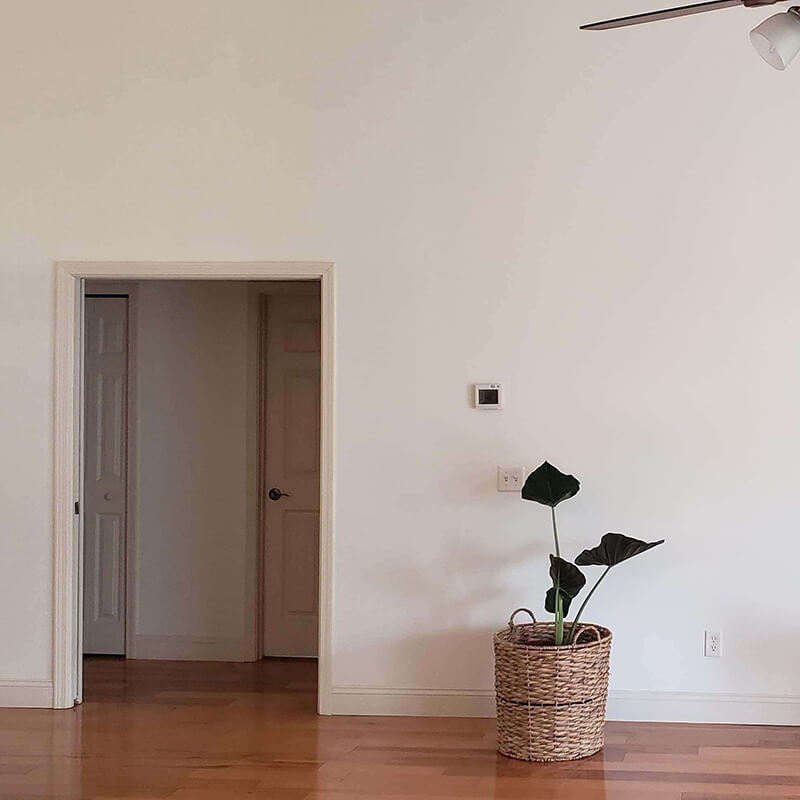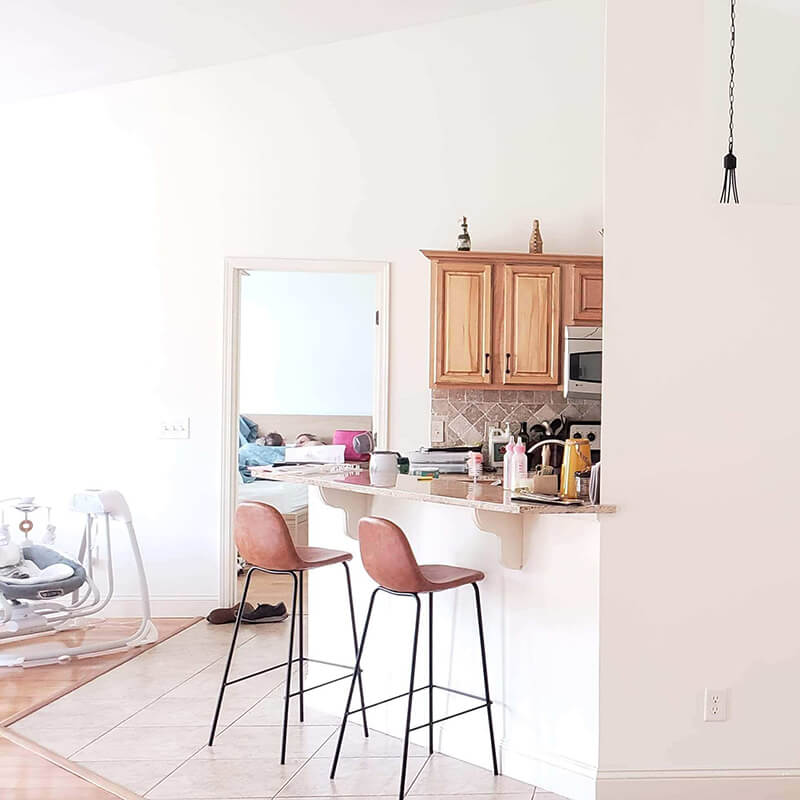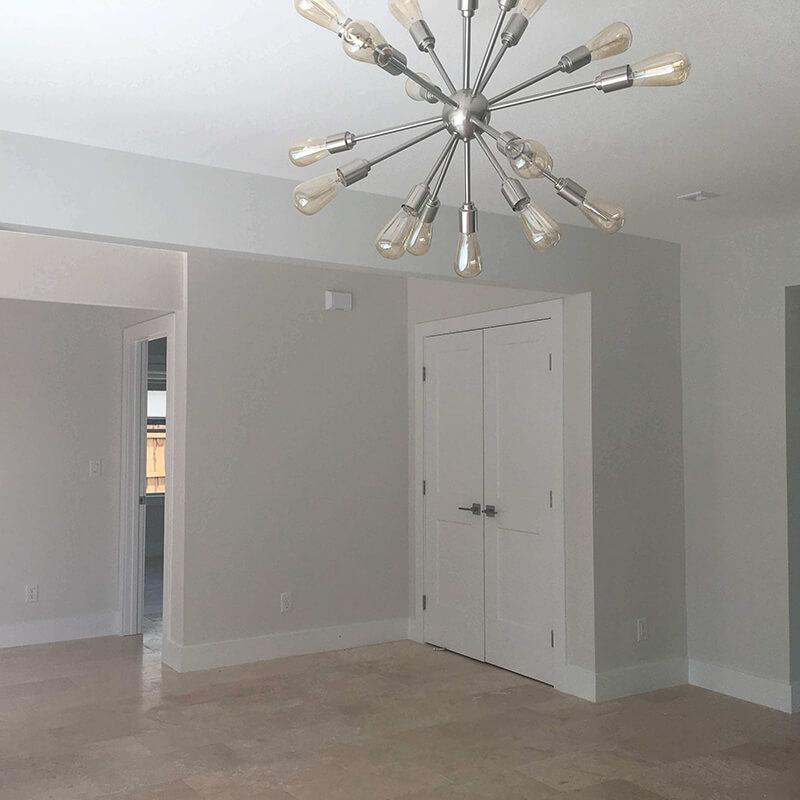 Interior Painting And Paint bathroom in saint augustine- 02.
The perfect color choice and a dazzling look! The color of Pale Oak can be compared to the diversity of a chameleon. Sometimes it provides a soft warm gray ambiance, but under different light conditions it can appear to be a warm cream color. We can even discover subtle purple-pink undertones if we look closely. This color reflects quiet elegance and a good sense of style. It is an appropriate choice for a stunning panorama.
The color of Pale Oak – Sherwin Williams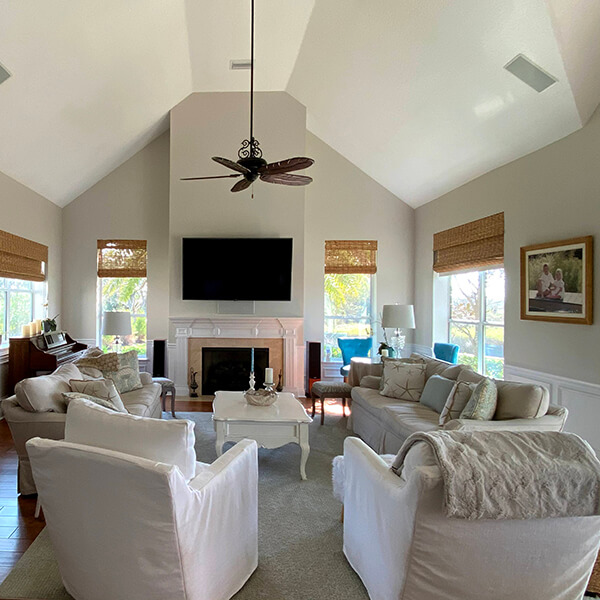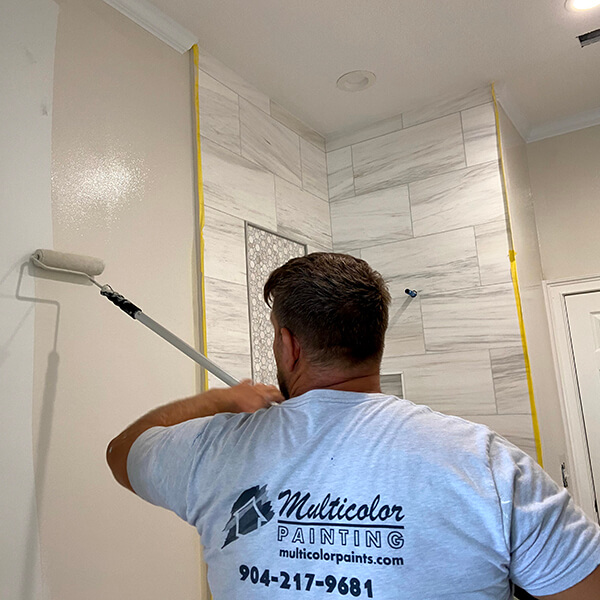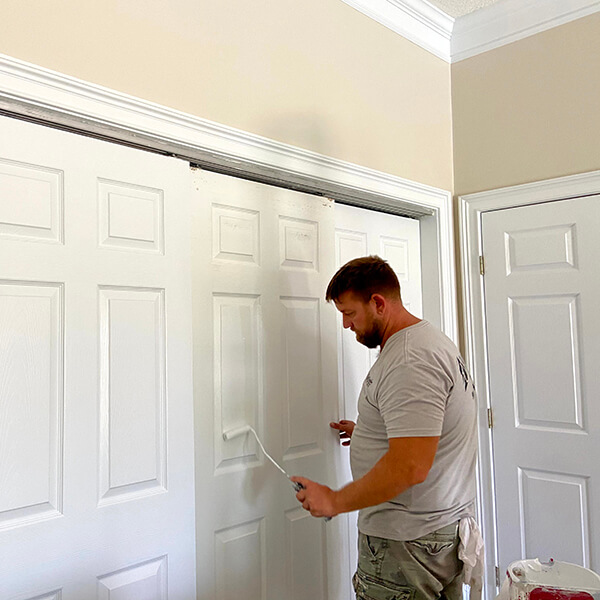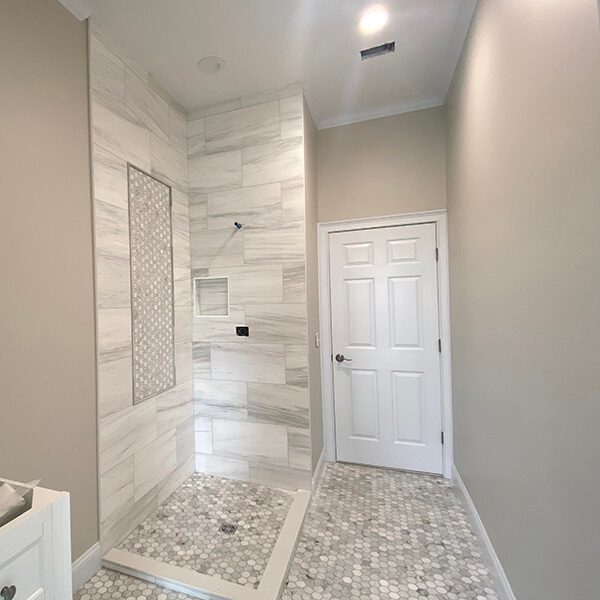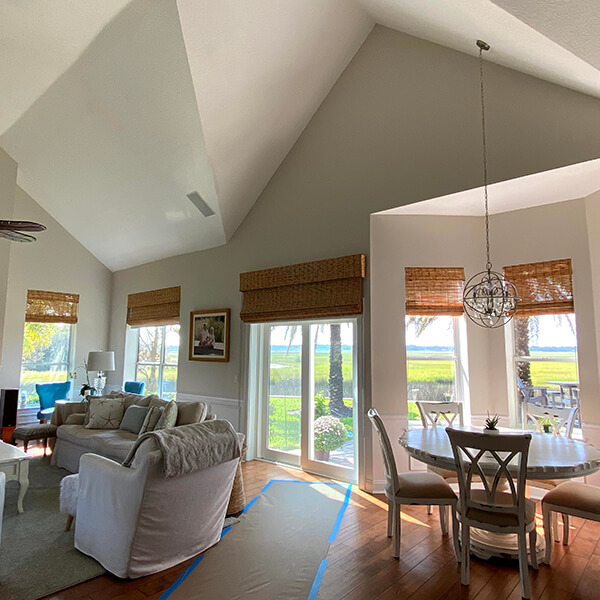 Remodell bathroom in Saint Augustine
Condominium painting – 01.
This is a 2 bedroom, 2 bathroom, 1200 sq. ft condominium. Our client requested a fresh coat of paint in the same color that was previously used, which is Sherwin Williams Master Hide – Duck white. It seems like long process, but only 72 hours later our client was able to sit back and enjoy his brand new walls.
Sherwin Williams Master Hide – Duck white
1200 sqft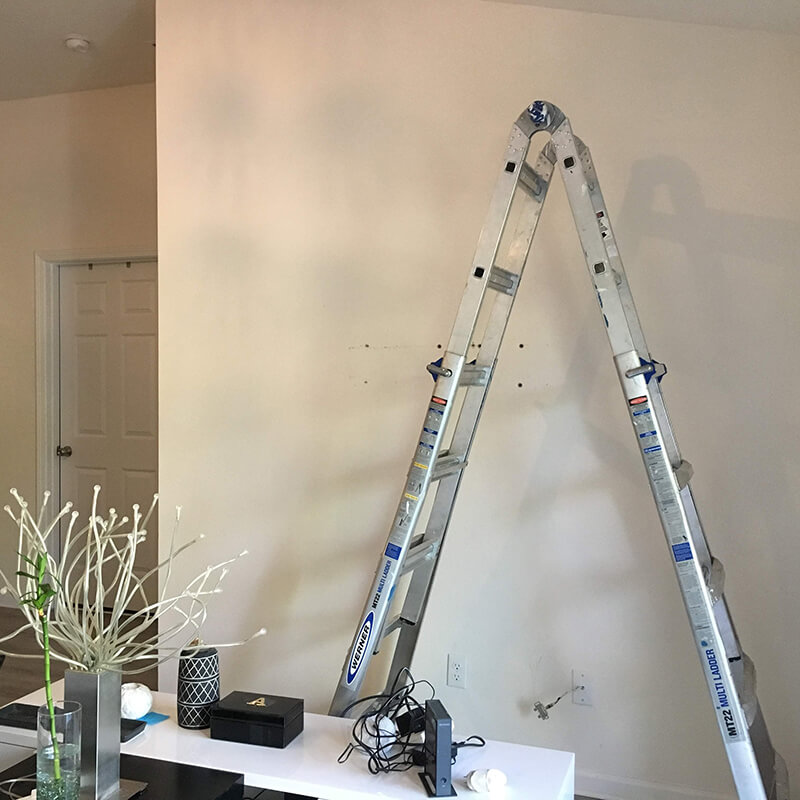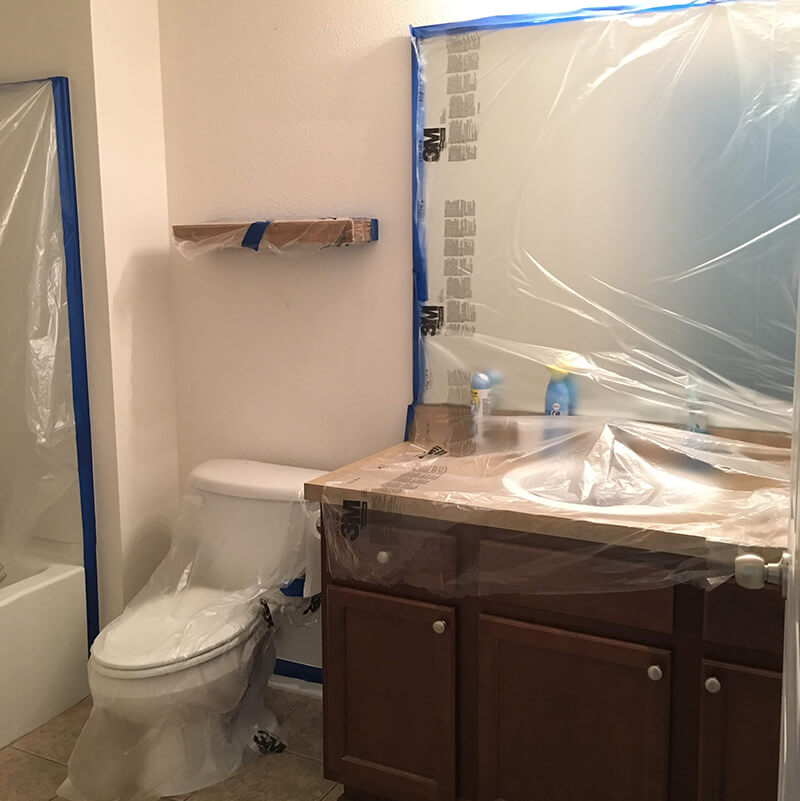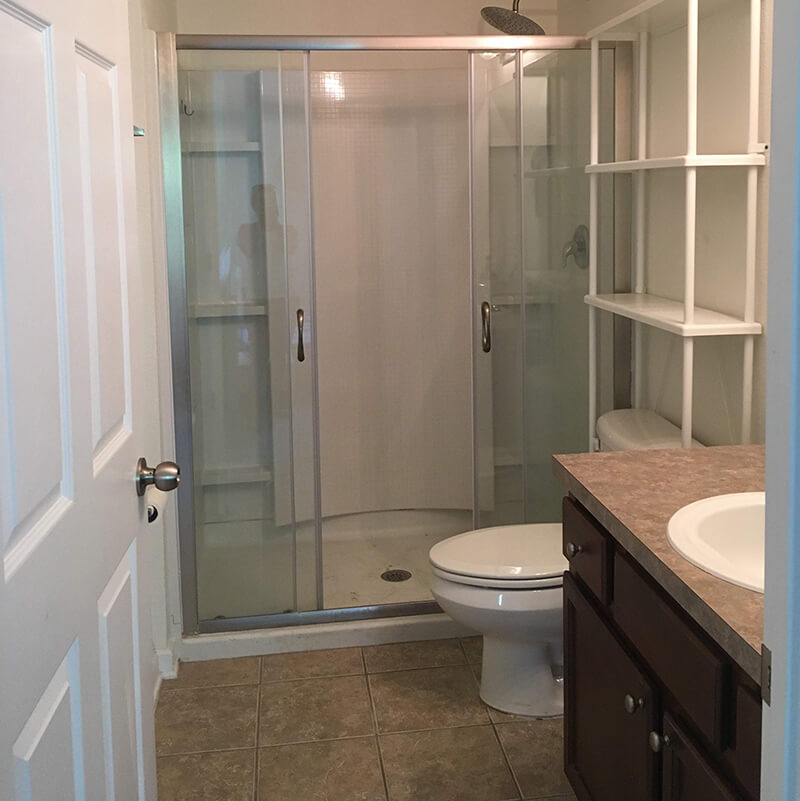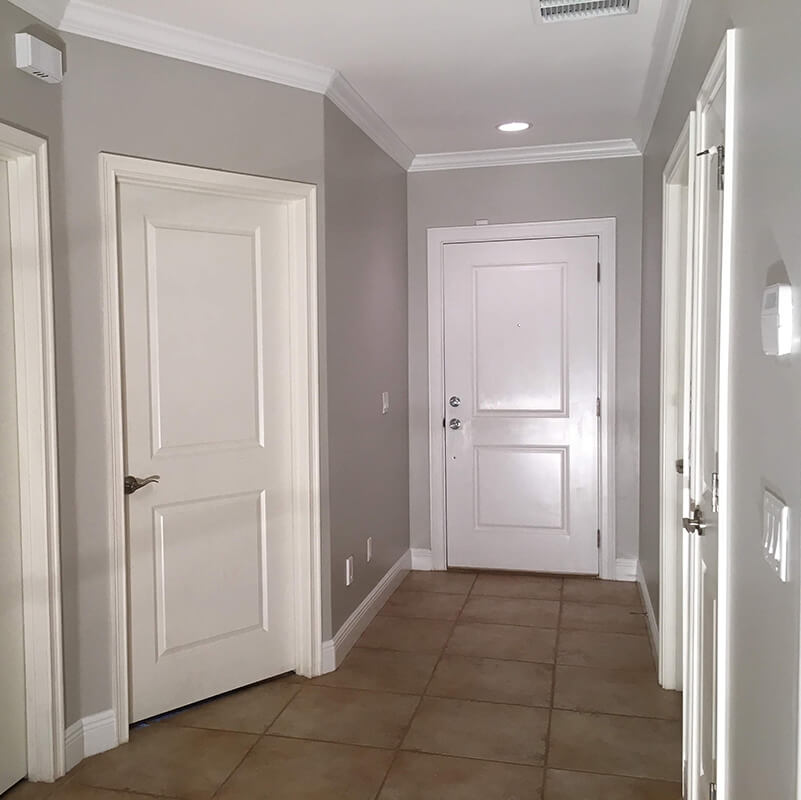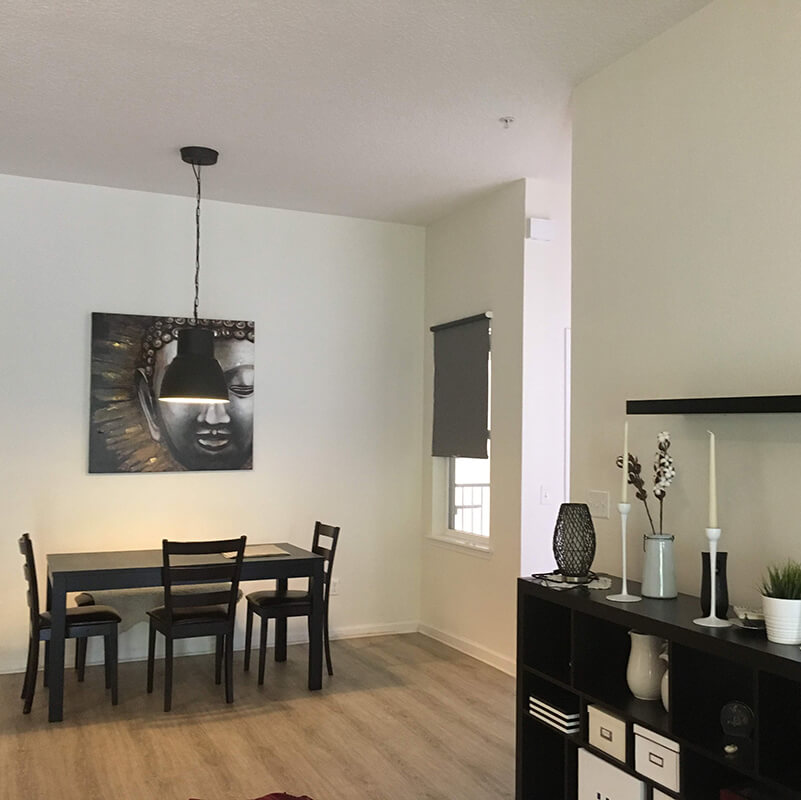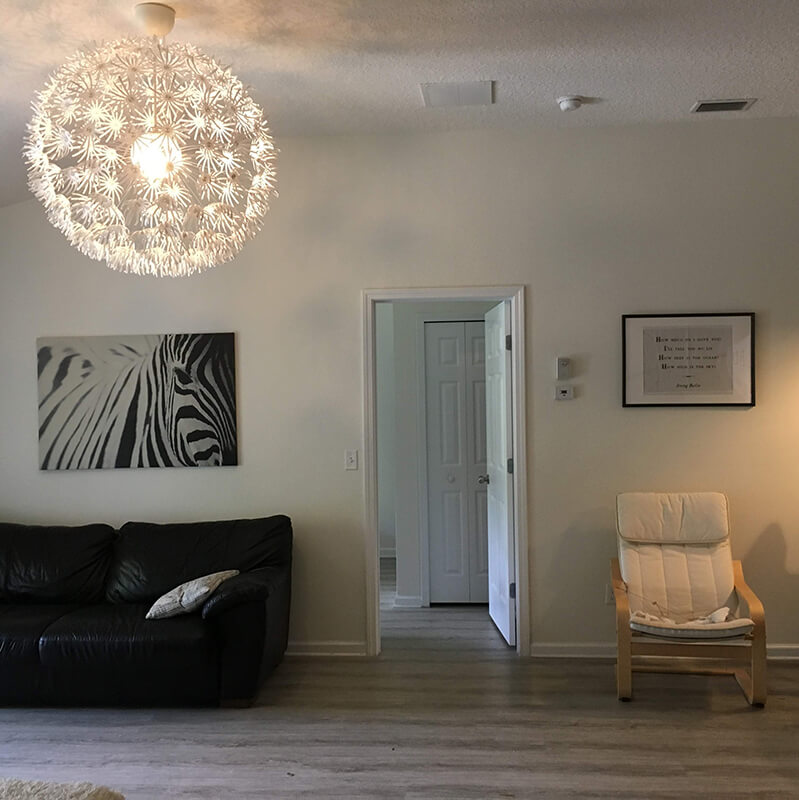 CONDOMINIUM PAINTING – 02.
This perfect size condo was the "victim" of some serious renovation. Besides installing new windows and new flooring, the popcorn ceiling was removed, and knockdown texture was applied to the drywall. 
The PrepRite ProBlock Interior Latex Primer and the Duration Home Interior Acrylic Latex Color Paint offered the perfect coverage and created a flawlessly smooth and even surface on the condo's old walls.
The Egret white and Icicle colors made the space look bigger and younger. As the last step, we repainted the trims with the very best ProClassic Interior Waterbased Acrylic-Alkyd Enamel in a beautiful bright white color. The results speak for themselves!
Sherwin Williams PrepRite ProBlock Interior/Exterior Latex Primer – 9 gallons, Duration Hime Interior Acrylic Latex Color paint – 9 gallons, Pro Classic Interior Waterbased Acrylic – Alkyd for trims
1500 square feet, 3 bedrooms – 2 bathrooms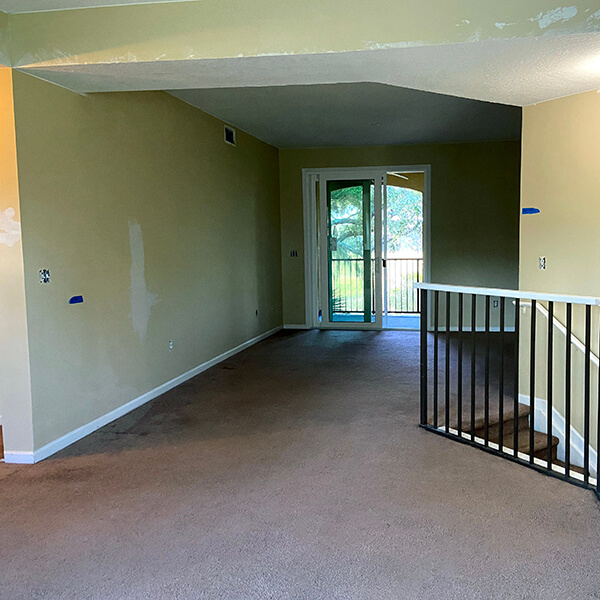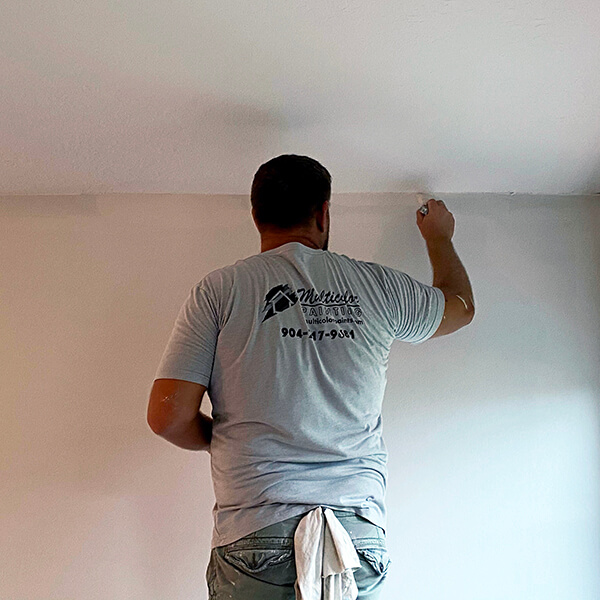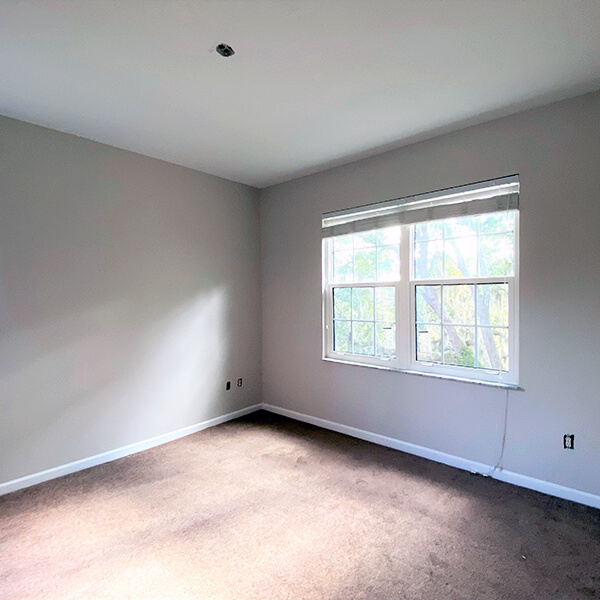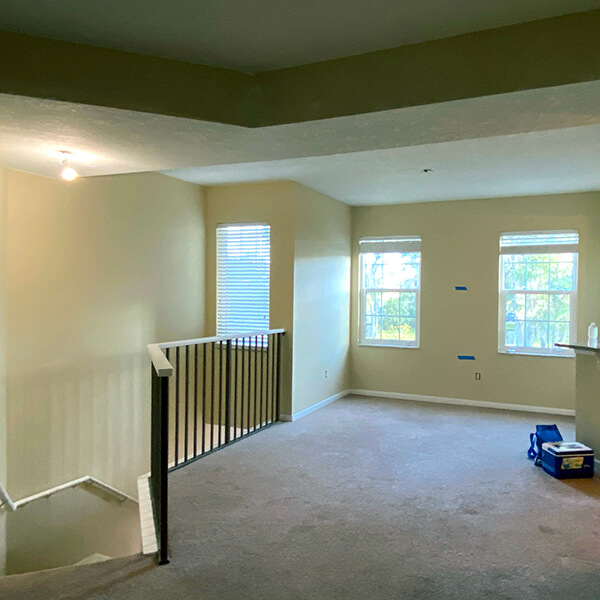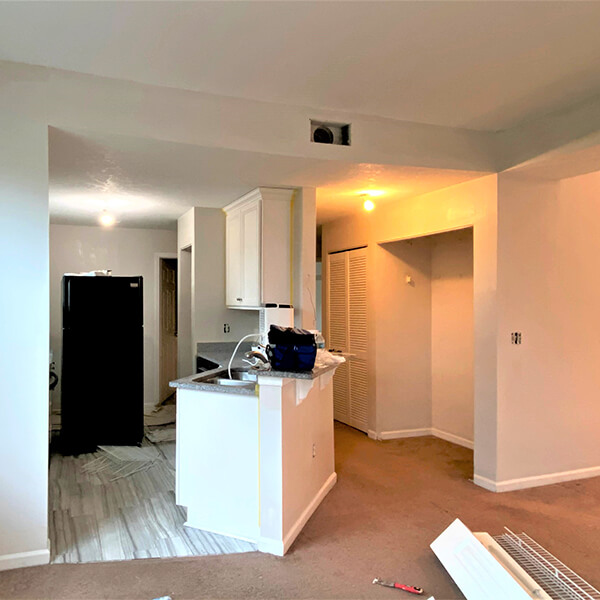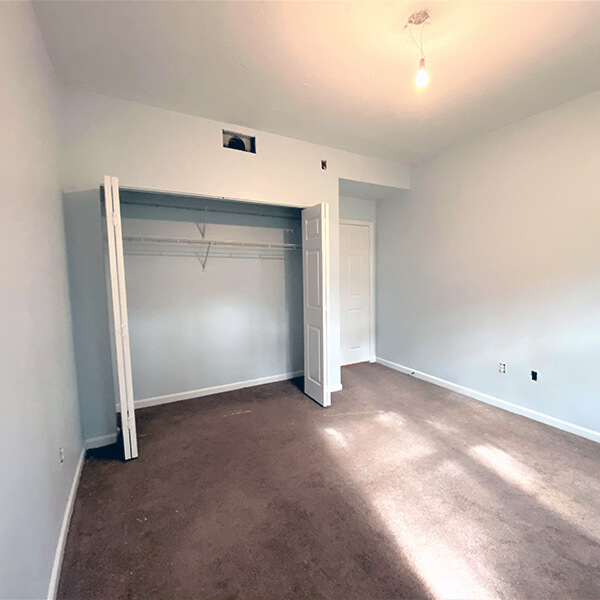 House exterior painting – 01
We completed an exterior renovation of a 2 story, 2300sq ft home, plus an additional side unit built in 1930. The old paint was removed, and new colors applied.
MATERILAS USED
Main color: Sheraton Sage SW0014
Soffit color: Downing Sand SW2822
Handrailing color:
Fairfax Brown SW2856
Downing Sand SW2822
Square areas color: Rookwood Antique Gold SW2814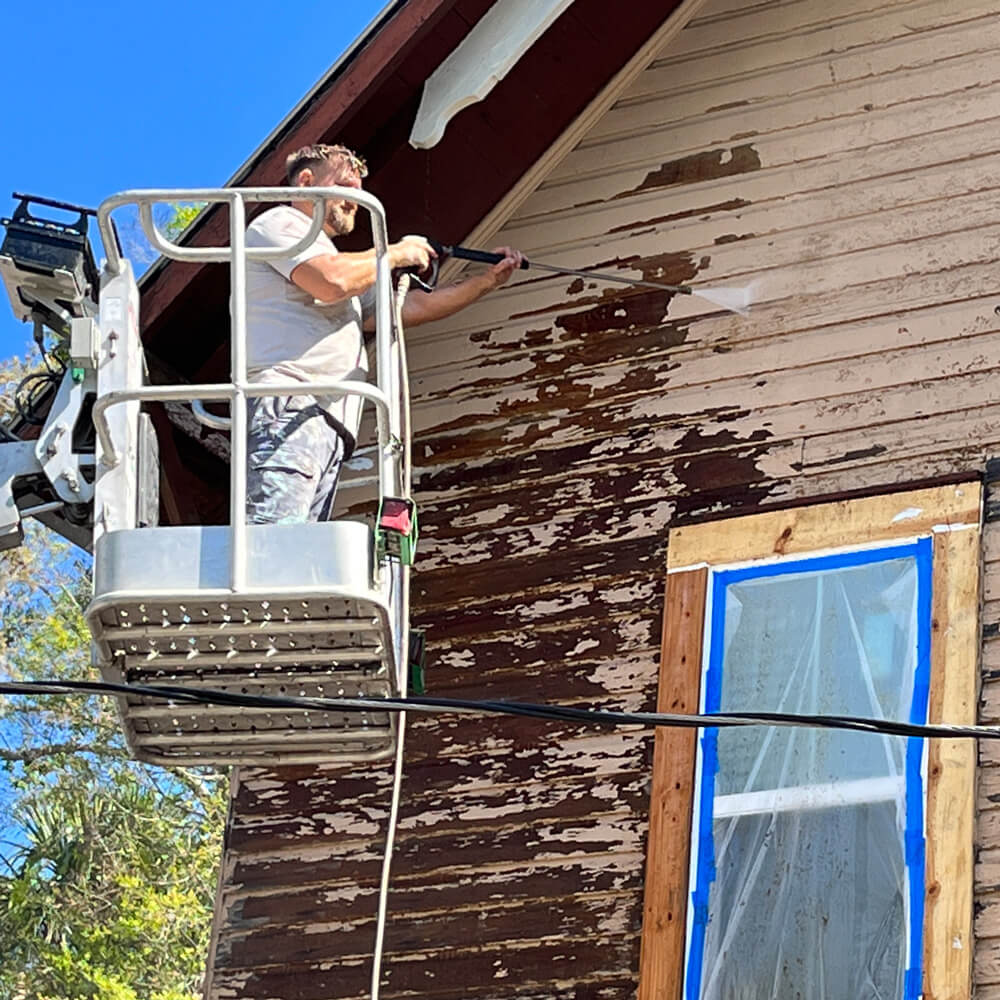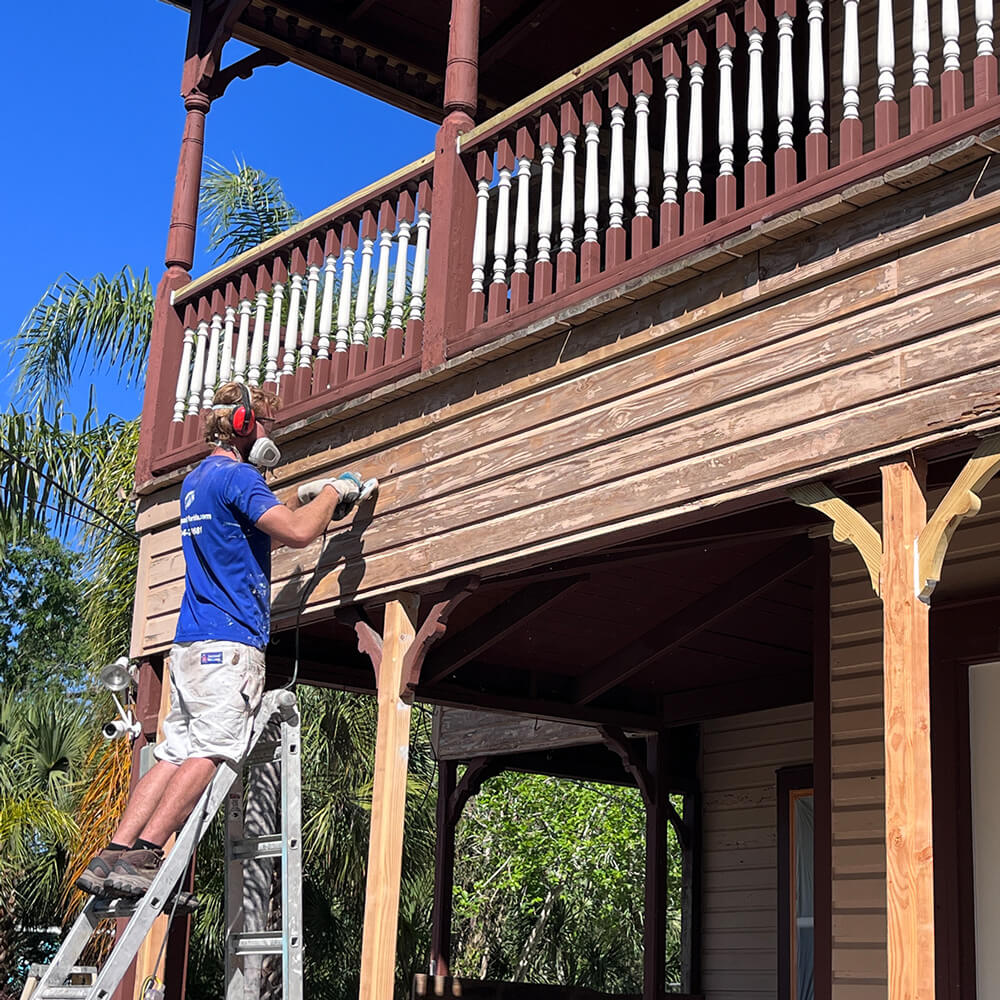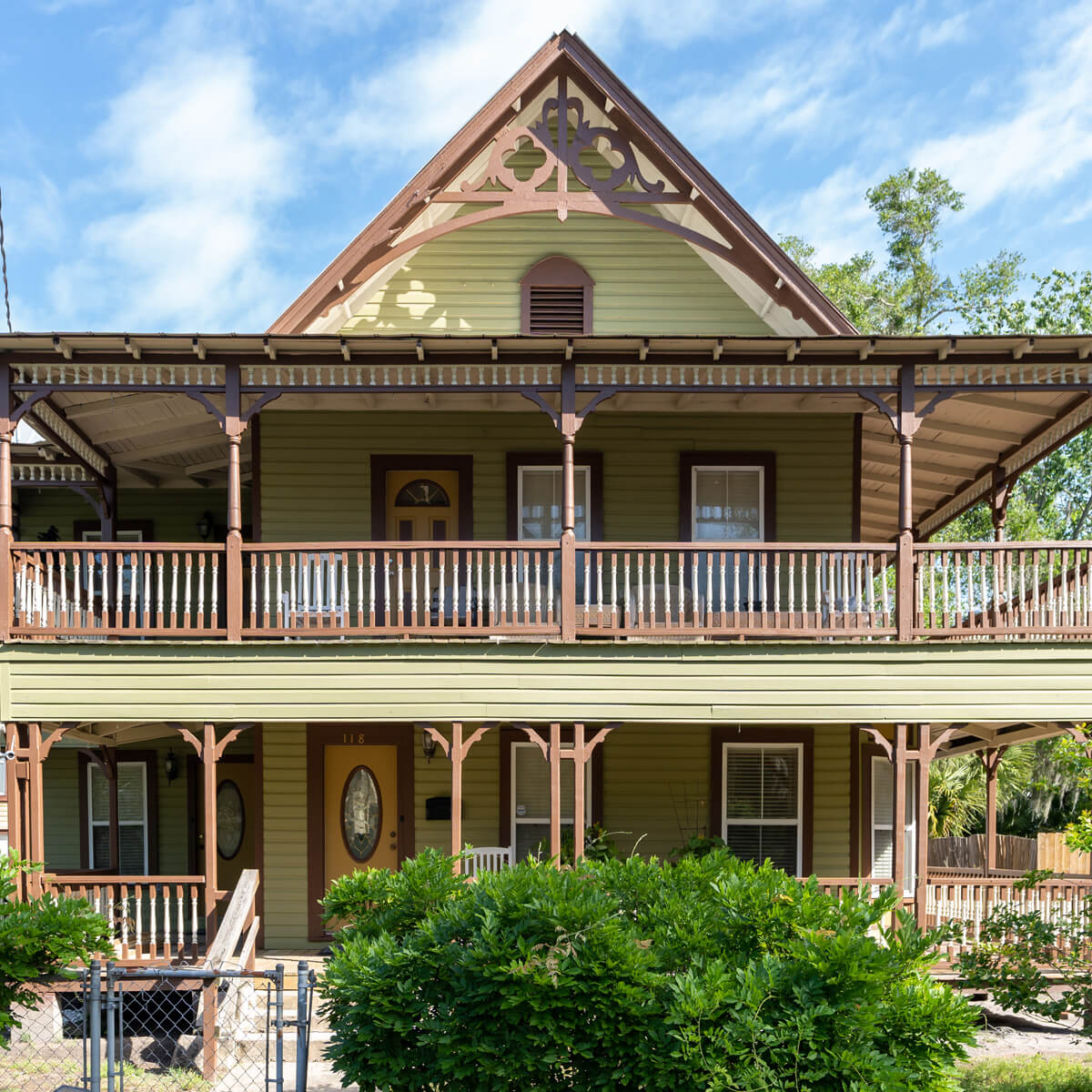 House exterior painting – 02
Beautiful day, gorgeous weather, a great neighborhood and a cozy tropical house. That particular week we worked on making the outside of this little gem look younger. Besides the walls, our job also included painting the soffit, doors, and garage door for the perfect final product!
MATERILAS USED
Wall:
SHERWIN-WILLIAMS + LOXON CONDITIONER

LOXON Concrete & Masonry Primer/Sealer

Duration® Exterior Acrylic Coating
Soffit: 
PrimeRx Peel Bonding Primer

Duration® Exterior Acrylic Coating
Doors: SnapDry Door & Trim Paint
Garage door:  Duration® Exterior Acrylic Coating
WORK PROCESS
Scraping the peeling and flaking paint

High-pressure cleaning the whole exterior of the house

Caulking all the window and door frames

Repairing all cracks in the walls

Spraying LOXON Acrylic Conditioner in one layer on the walls

Spraying LOXON Concrete & Masonry Primer/Sealer in one layer on the walls

Applying 2 coats of Duration Exterior Acrylic Coating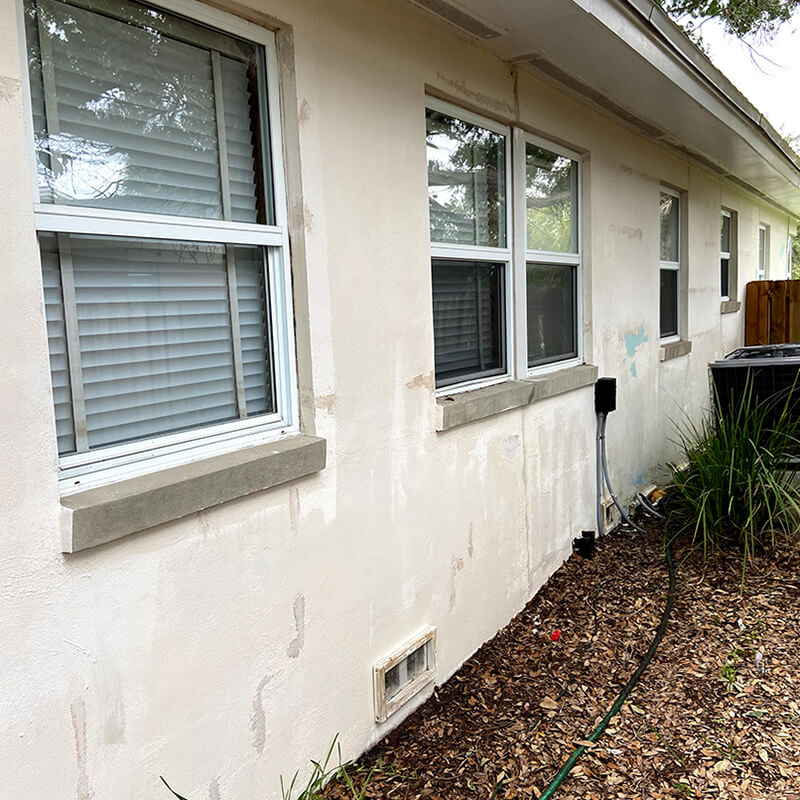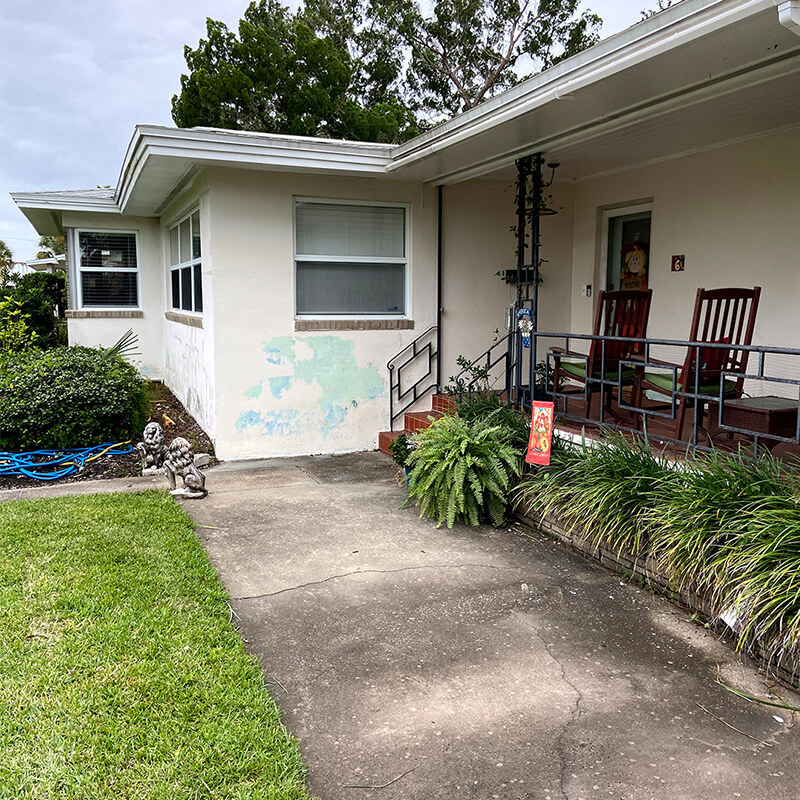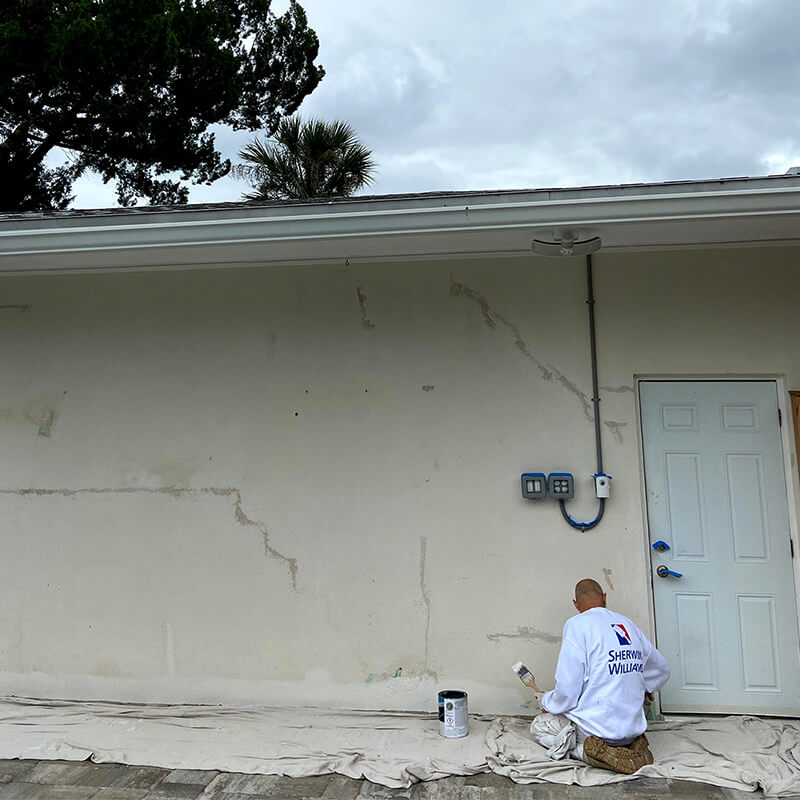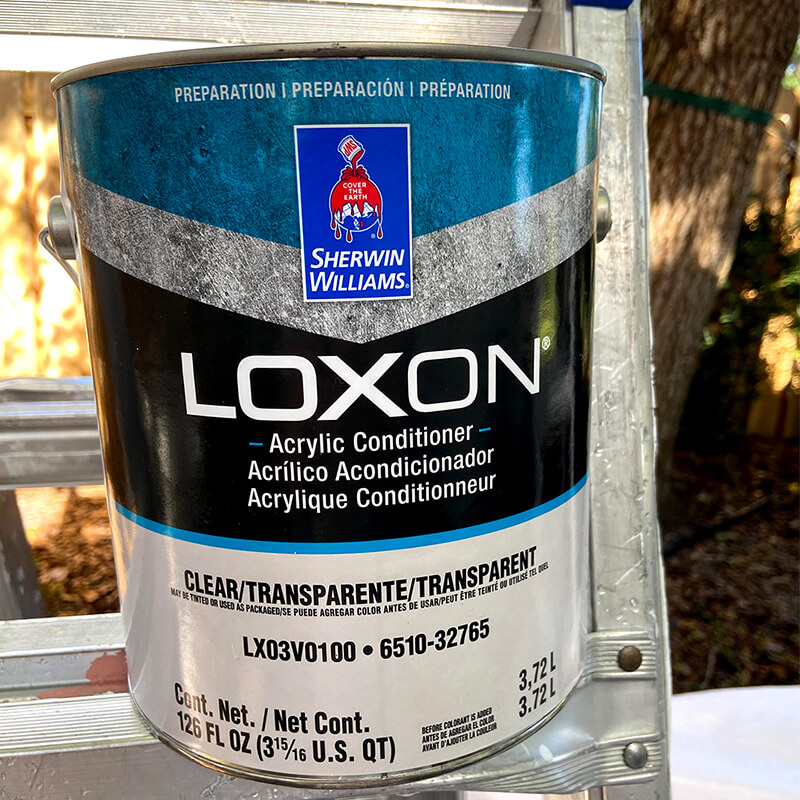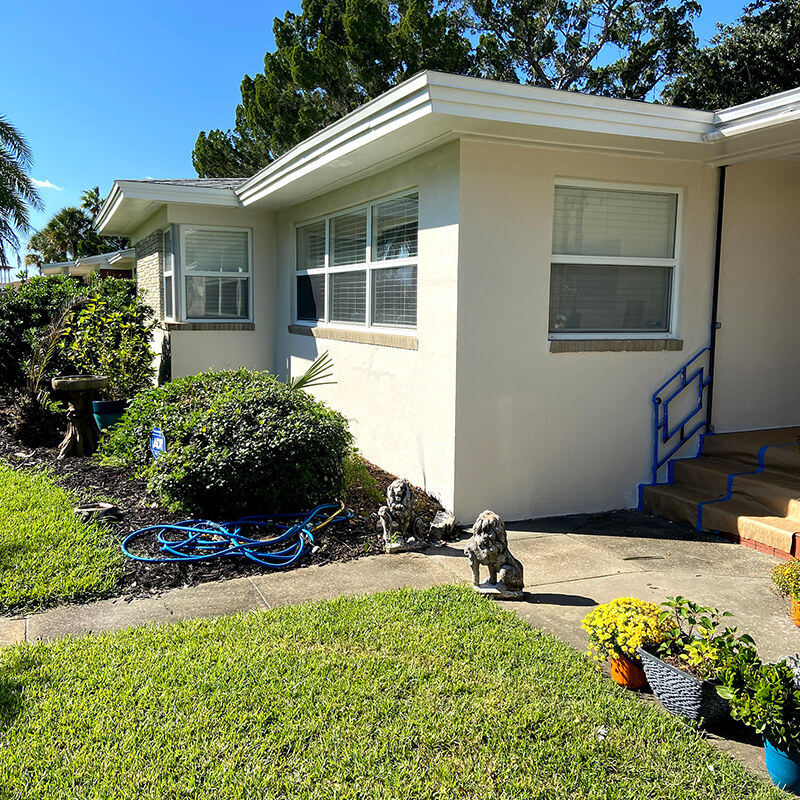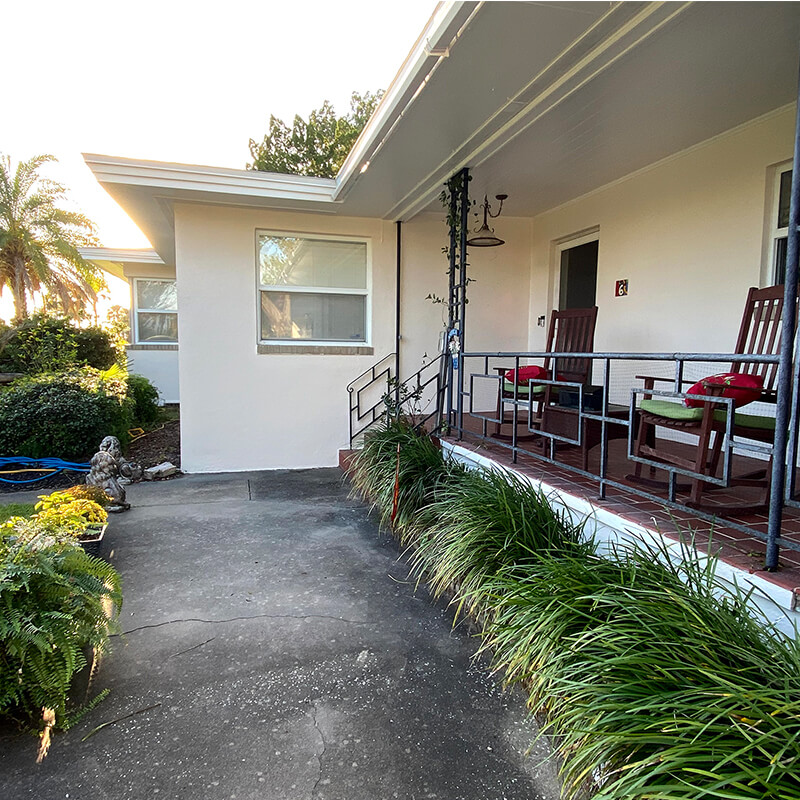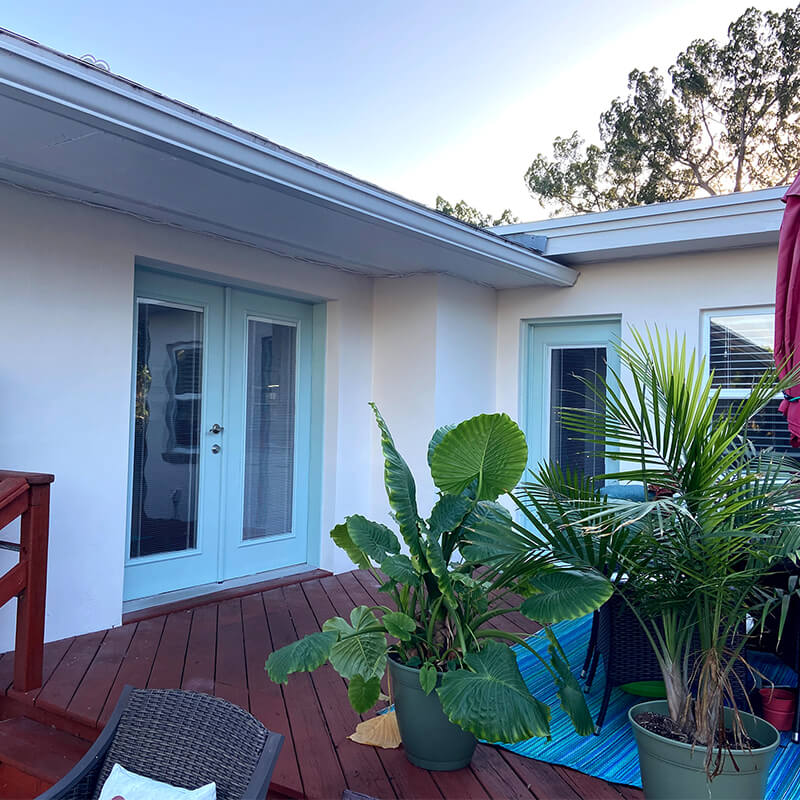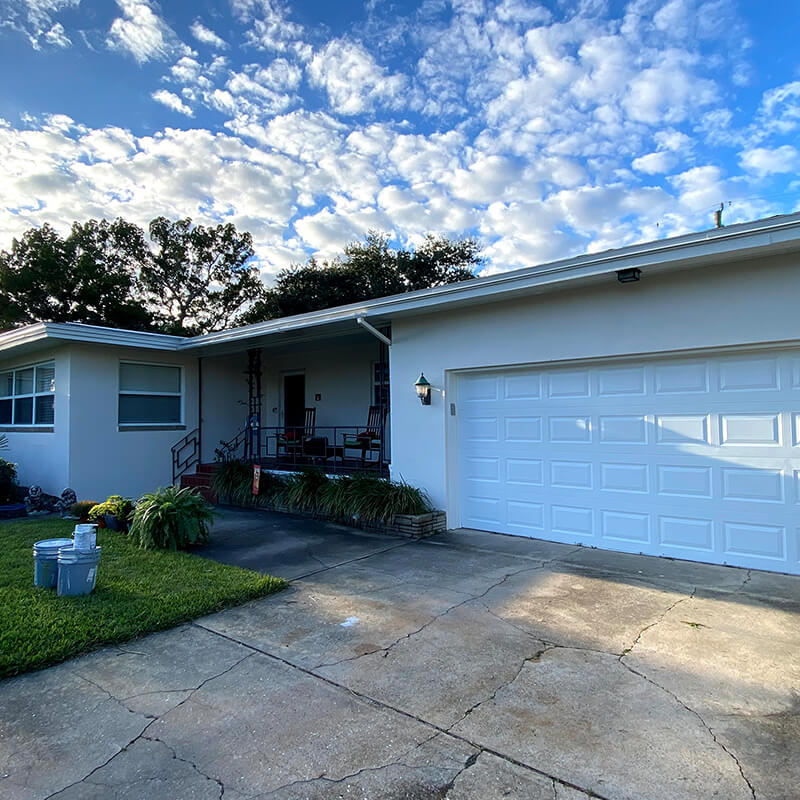 Exterior painting service in Saint Augustine – 03.
When the client picks the perfect color! 😊 White, but not harsh, nor cold, nor warm, just simply perfect. After having tried all possible colors on the color wheel and not finding a perfect match, came the idea of Sherwin Williams Duration exterior paint 7005, which is a simple, pure, and happy color easily paired with other colors and styles.
I love working with this color because the finished product's beauty speaks for itself and my clients are always satisfied!
As the first step in the work process, I rid the walls of years of accumulated dirt with a high-pressure cleaner and repaired all damages around the house. I treated rust stains, filled holes and gaps, sanded, and finally did a thorough cleaning of the glass and floors before applying primer and paint.
The weather was kind to us again so our clients were able to sit on their patio with champagne and enjoy the view of their home's new exterior in just a few days!
MATERILAS USED
House exterior wall:
Sherwin Williams Duration exterior paint 7005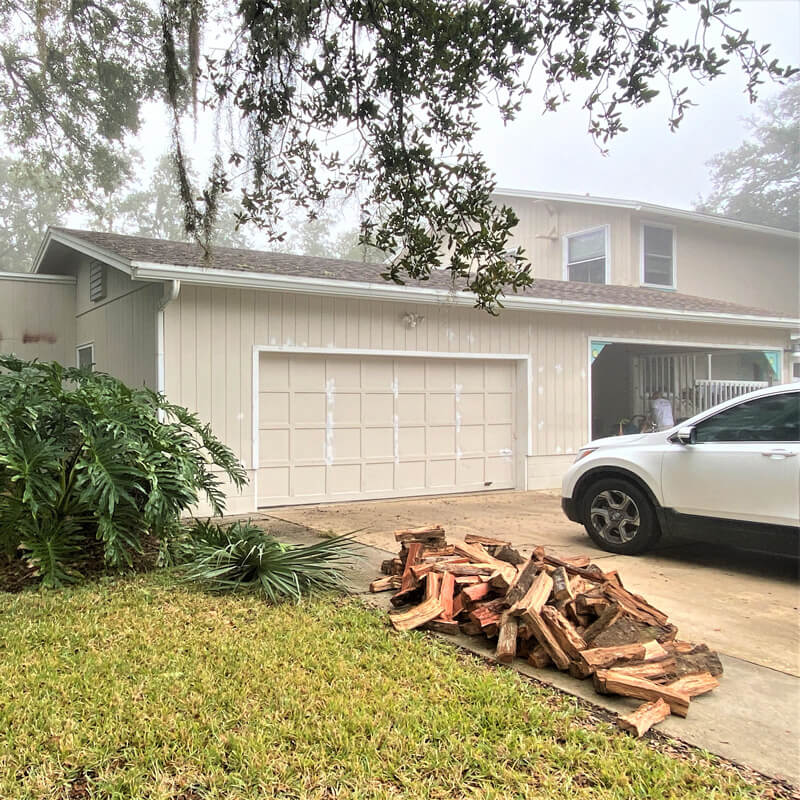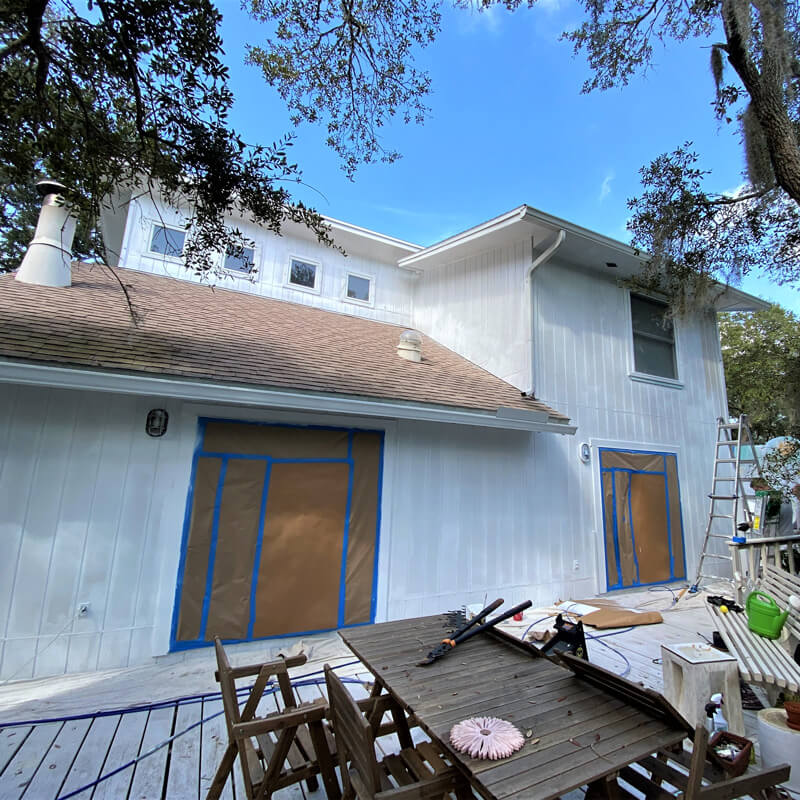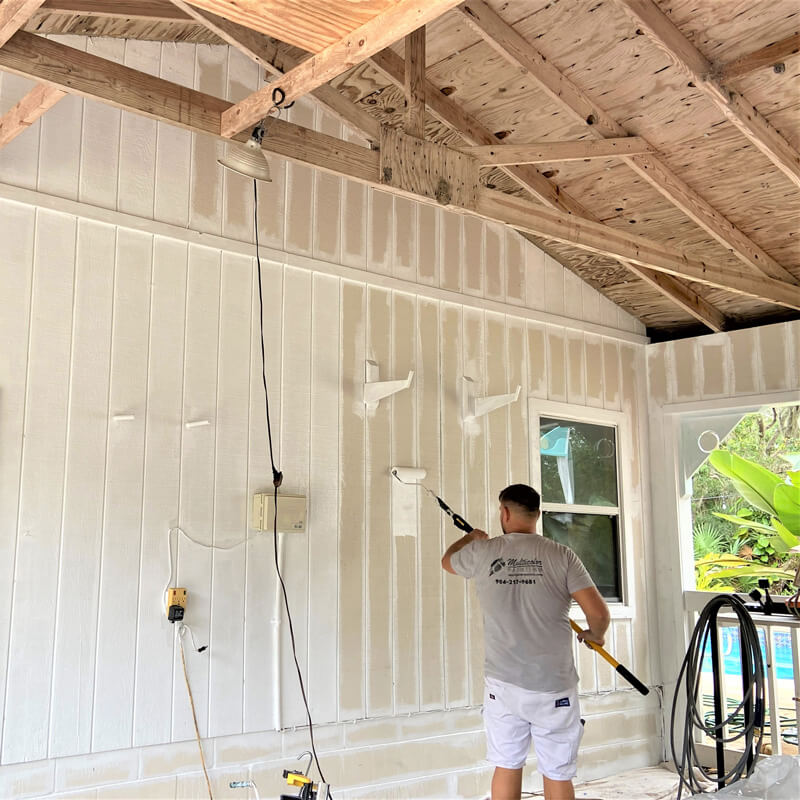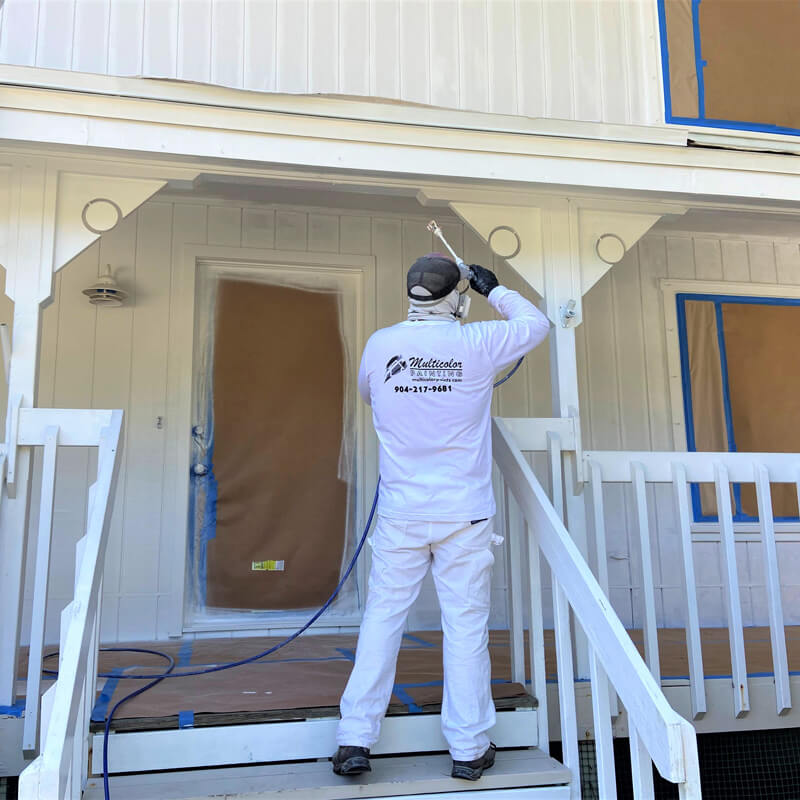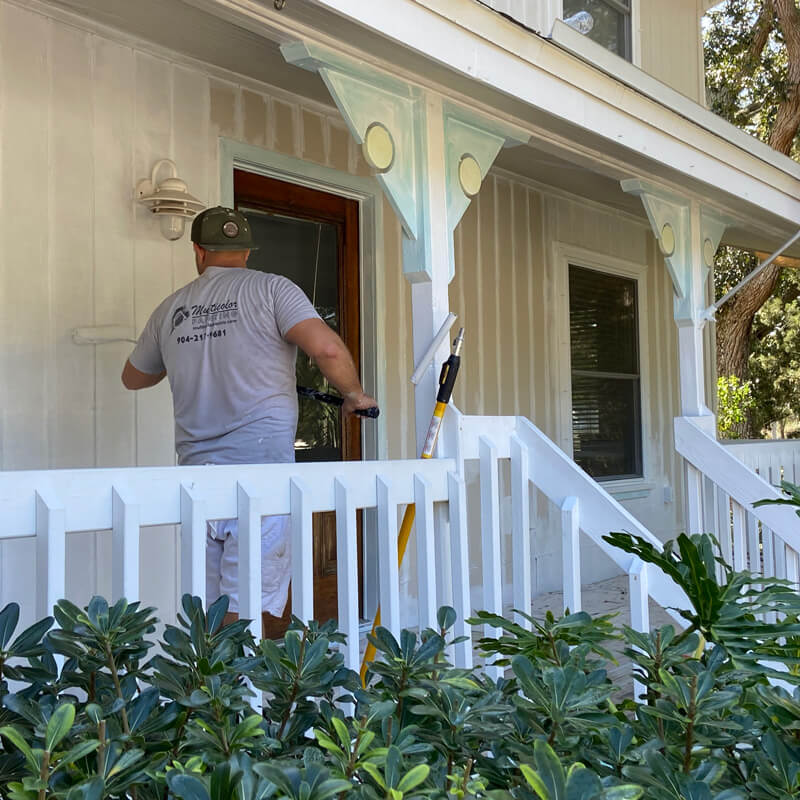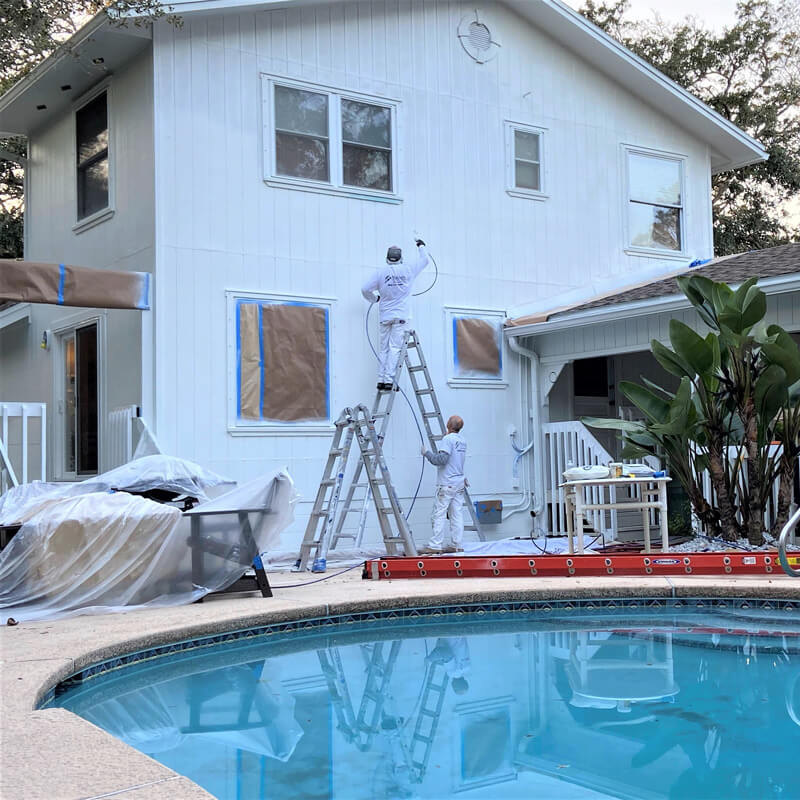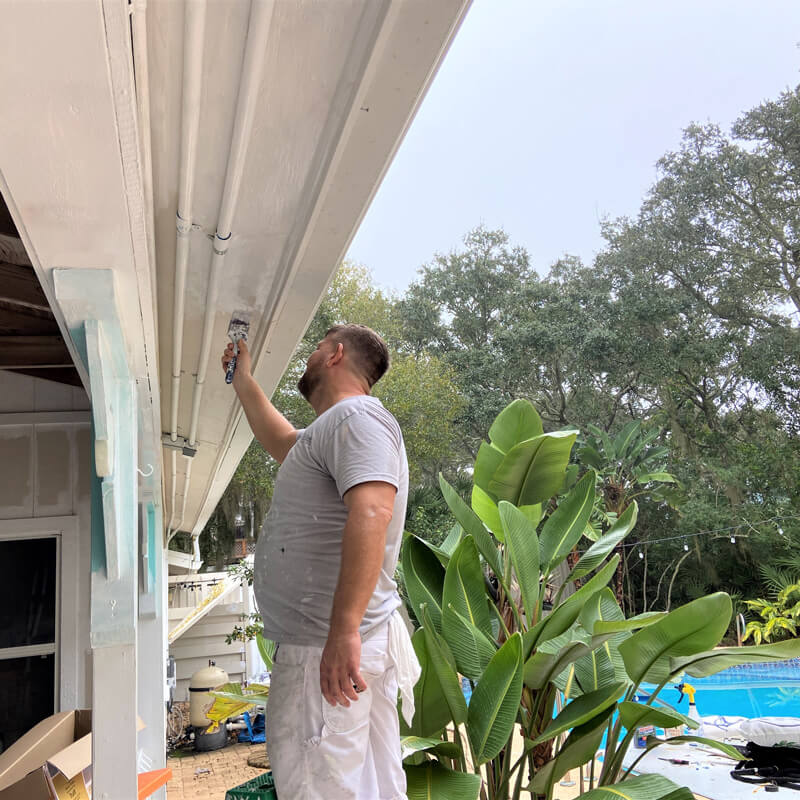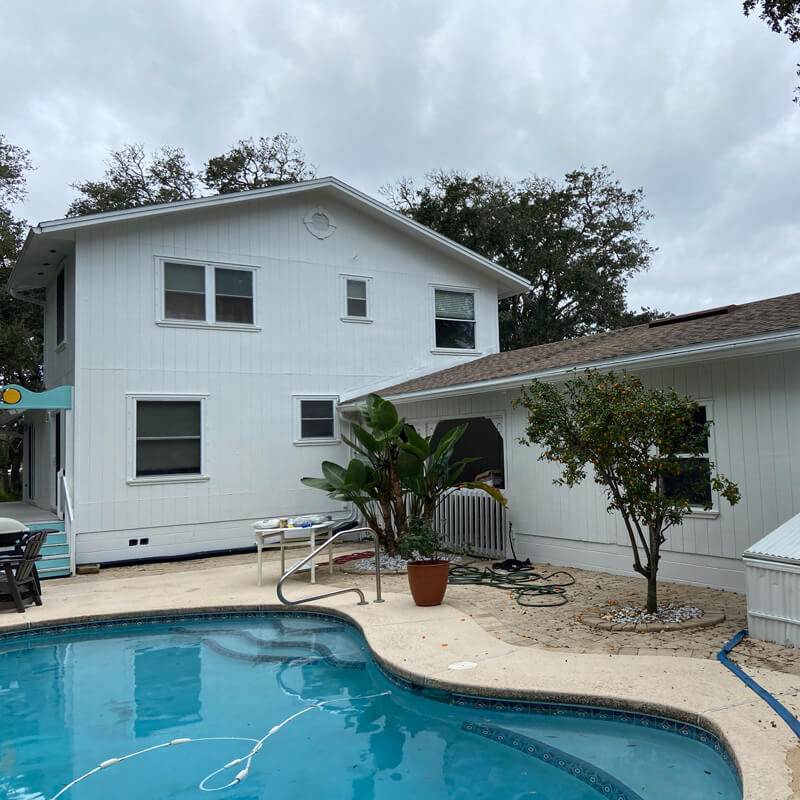 Exterior house painting – 04.
We had the opportunity to paint 2020's color in the last few weeks of the year on the exterior of one of our dear great clients' home.
Classic Blue was not only a delight to paint, but also challenging, since the edges between the dark wall color and the extra white frames had to be done with the outmost attention and precision to achieve perfection with this pronounced color contrast.
Blue walls, extra white main door and frames, and an African grey garage door and shutters => the overall effect is spectacular!
If you too want to enjoy this beautiful color in or on your home, please ask us for a complimentary quote!
Get a Quote: 
House painters near me: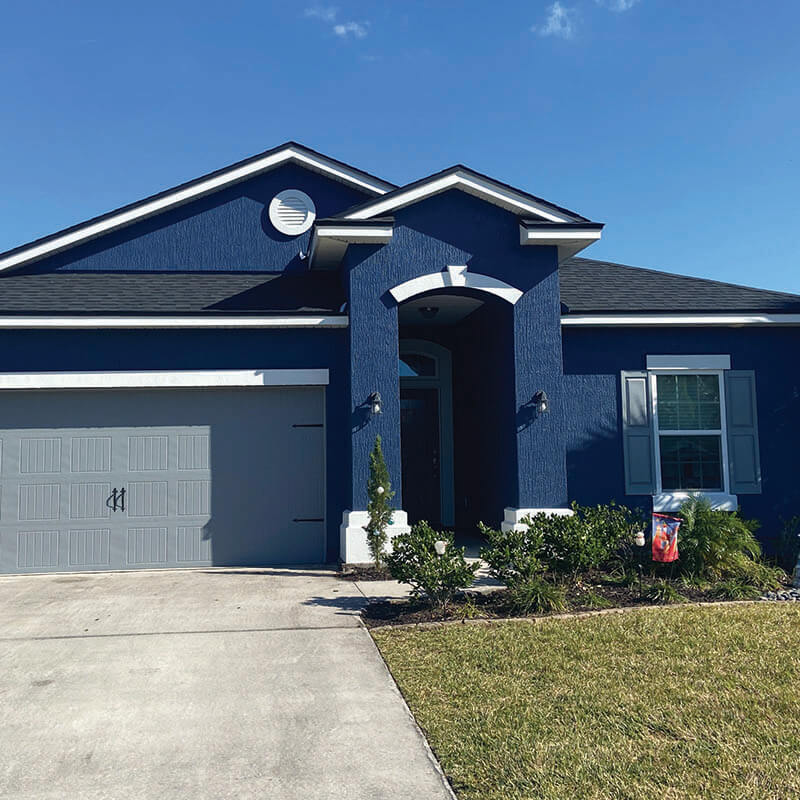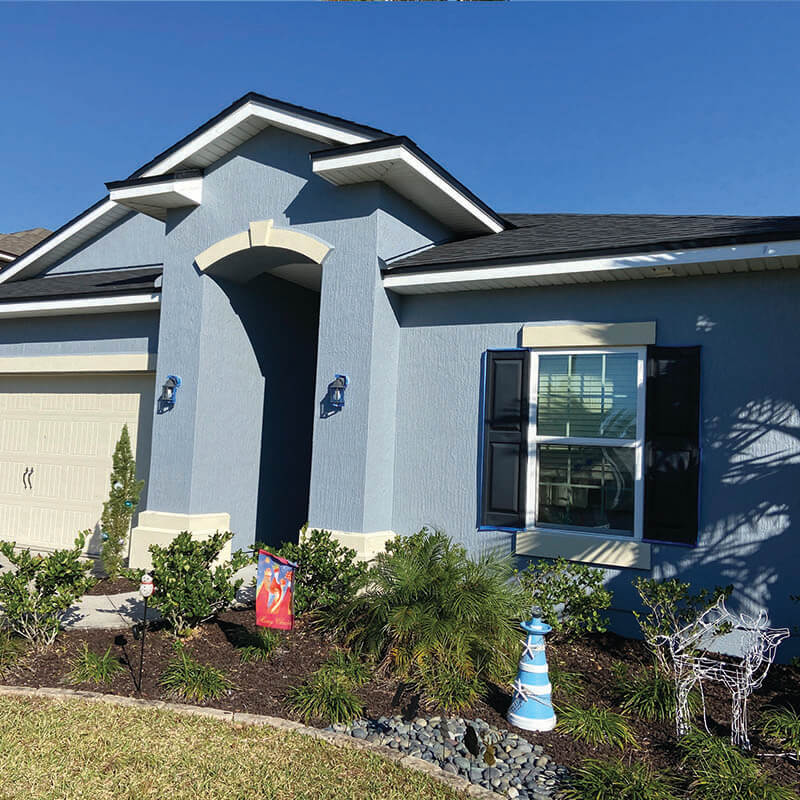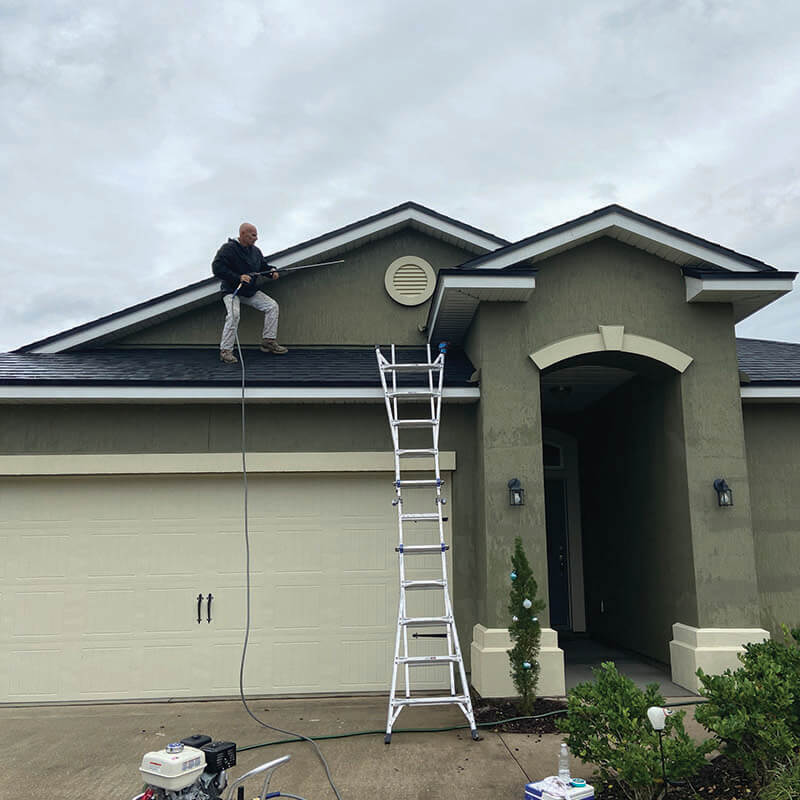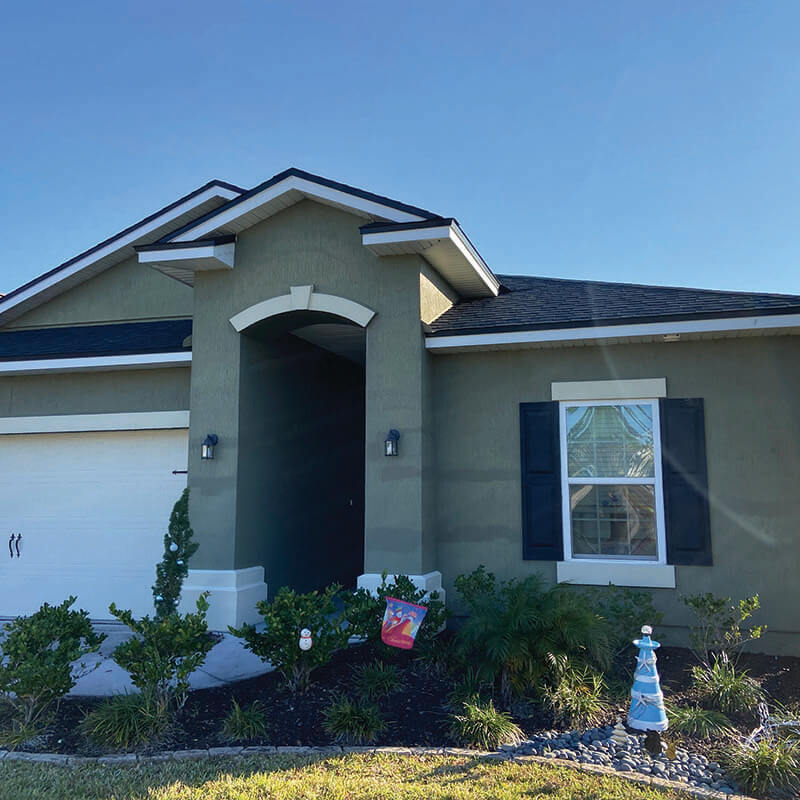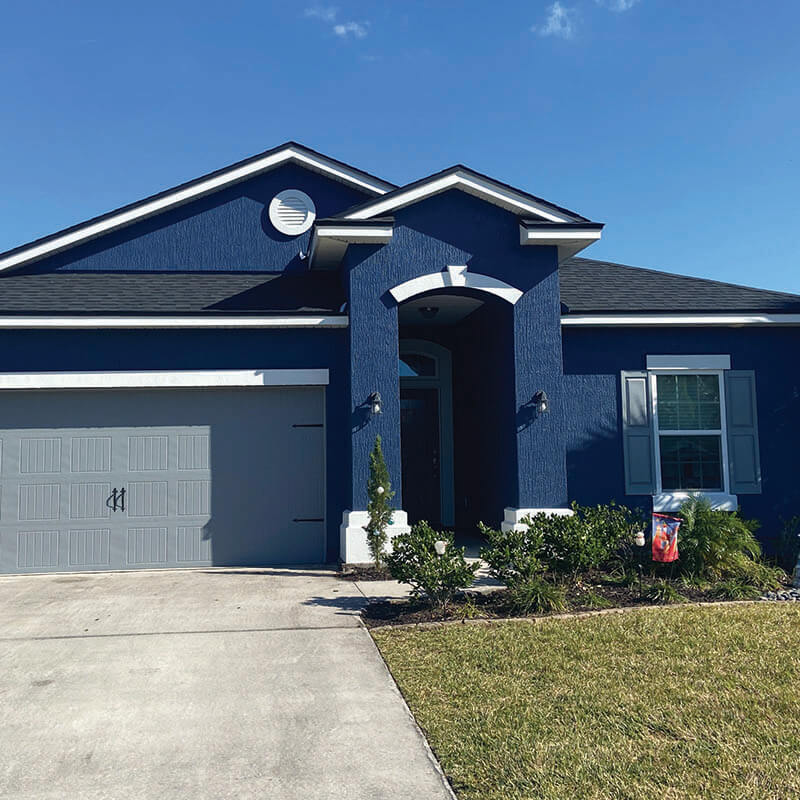 House exterior painting – 05
This house really deserved an exterior renovation. The whole 2000 sq ft wood-covered surface needed a thorough sanding and peeling prep work before applying Sherwin William's Exterior Latex Wood Primer, providing the best adherence, then the Duration Exterior Acrylic Latex White paint in 2 coats. The volatile and unpredictable Floridian weather can greatly influence the timeframe of exterior work.
Get a Quote: 
Exterior painters in Saint Augustine FL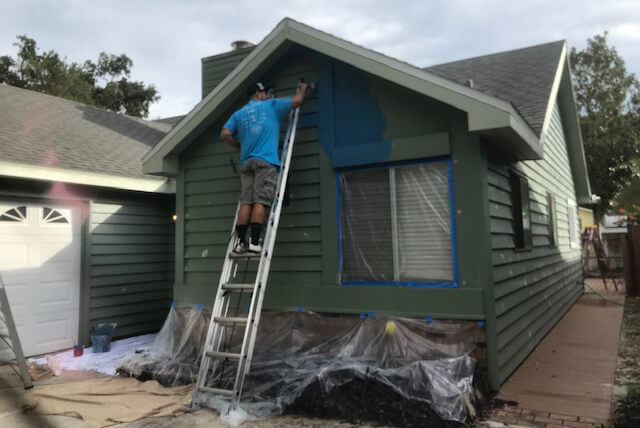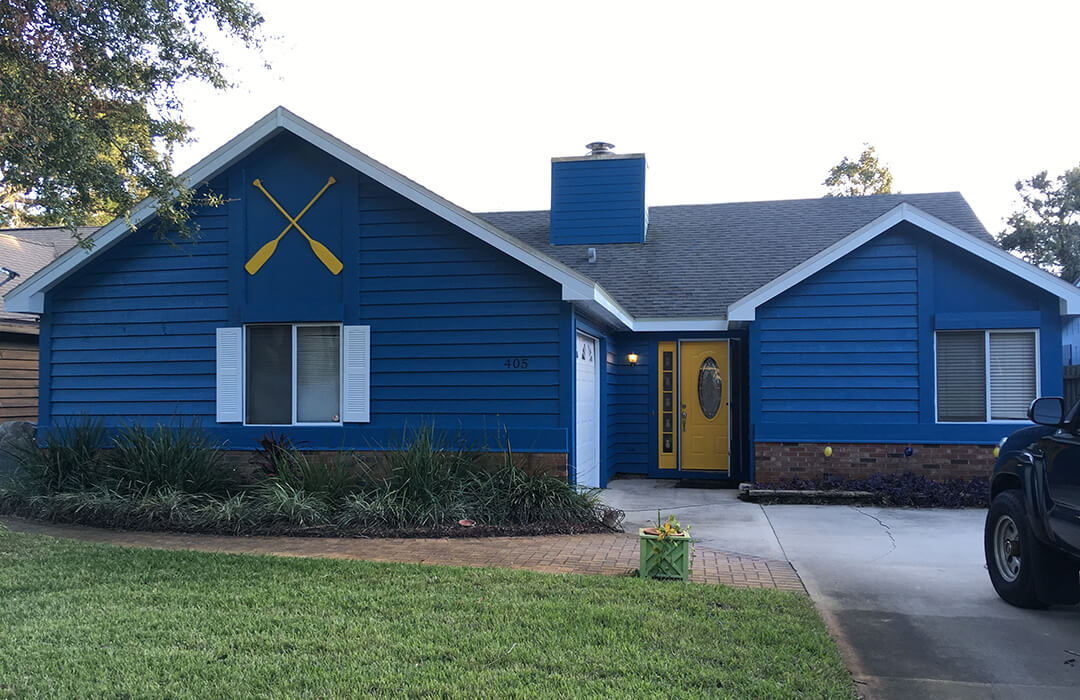 Kitchen cabinet painting
Here is our most recent addition to our work. Giving your kitchen cabinet a fresh new look does not require major investment nor does it take a long time. Only 72 hours later, here is the finished product with freshly painted walls. We exceeded our client`s expectations.
Get a Quote: 
Kitchen cabinet painter near me: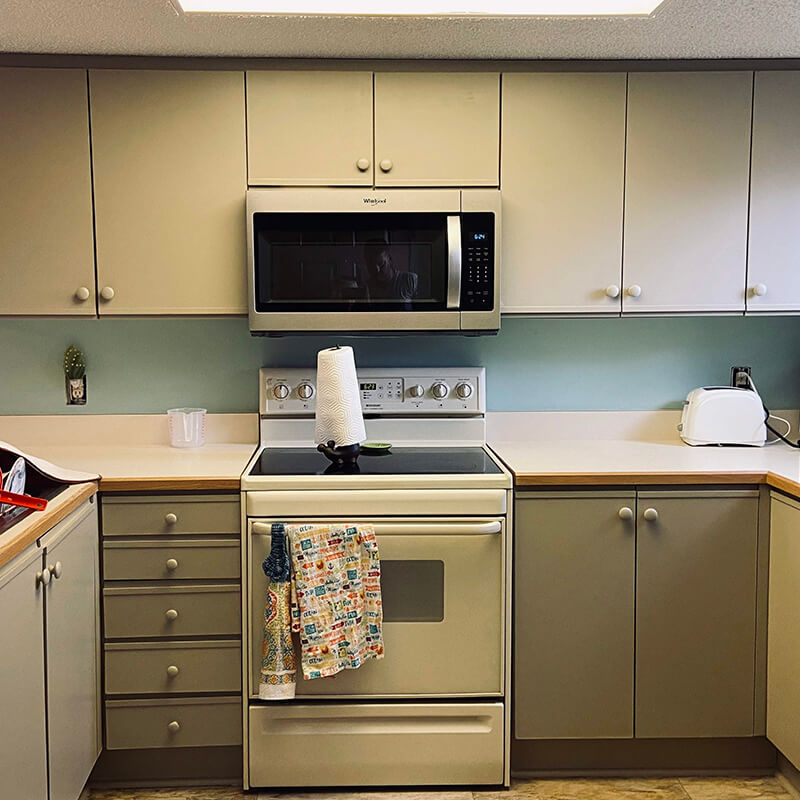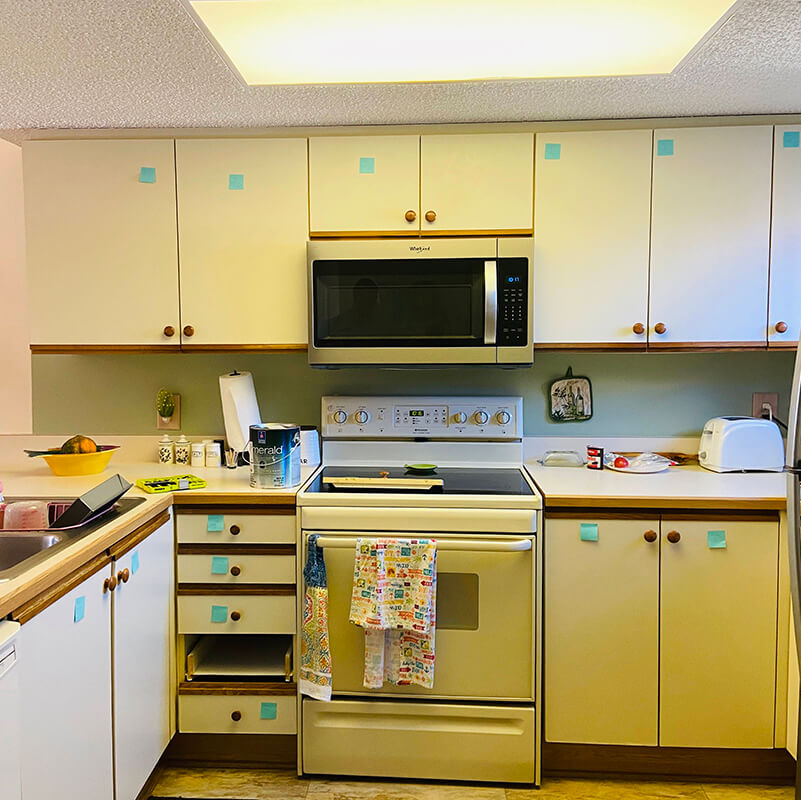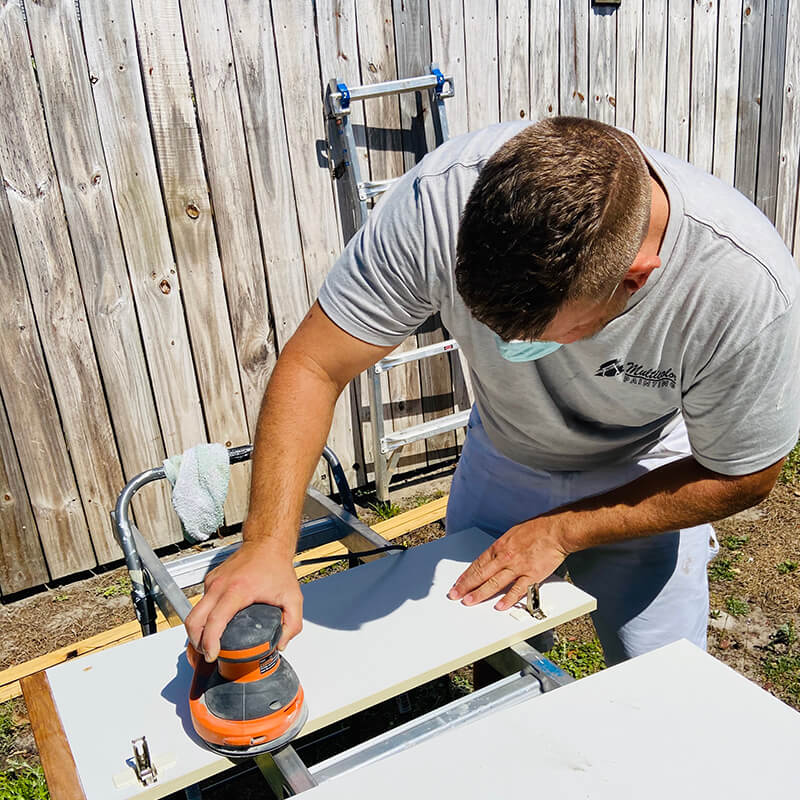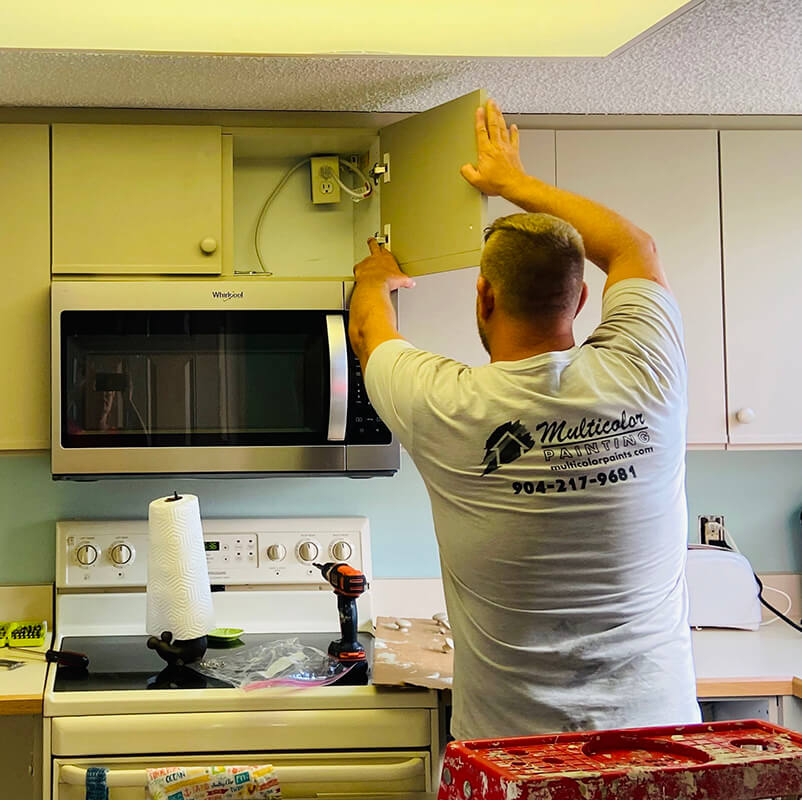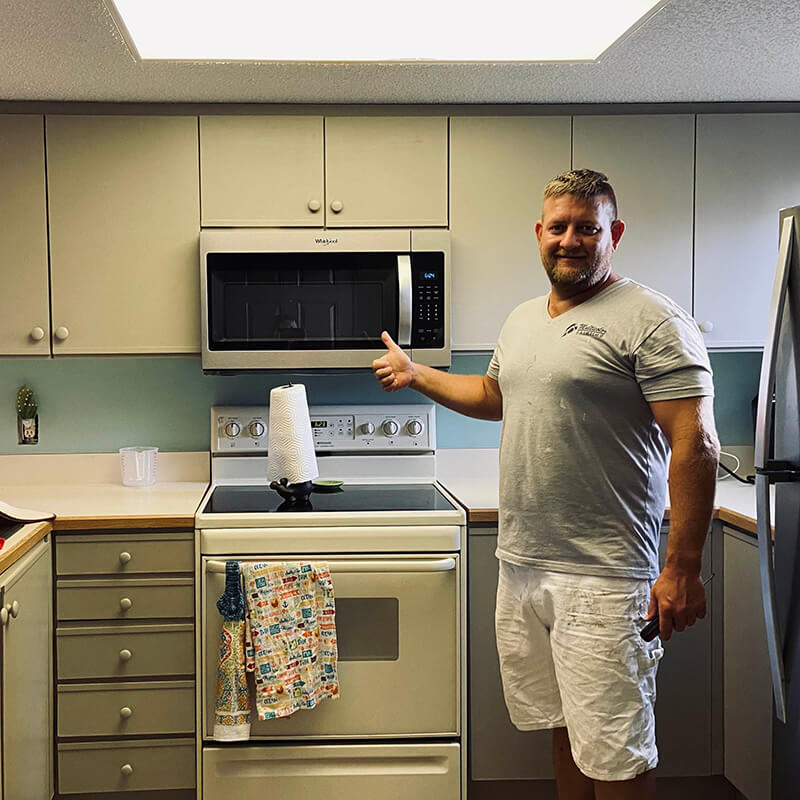 Porch painting
Another one of our exterior projects was the renovation of a porch. After an initial deep cleaning, sanding and patching, the entire surface was finished with grey heavy-duty alkyd Sherwin Williams paint.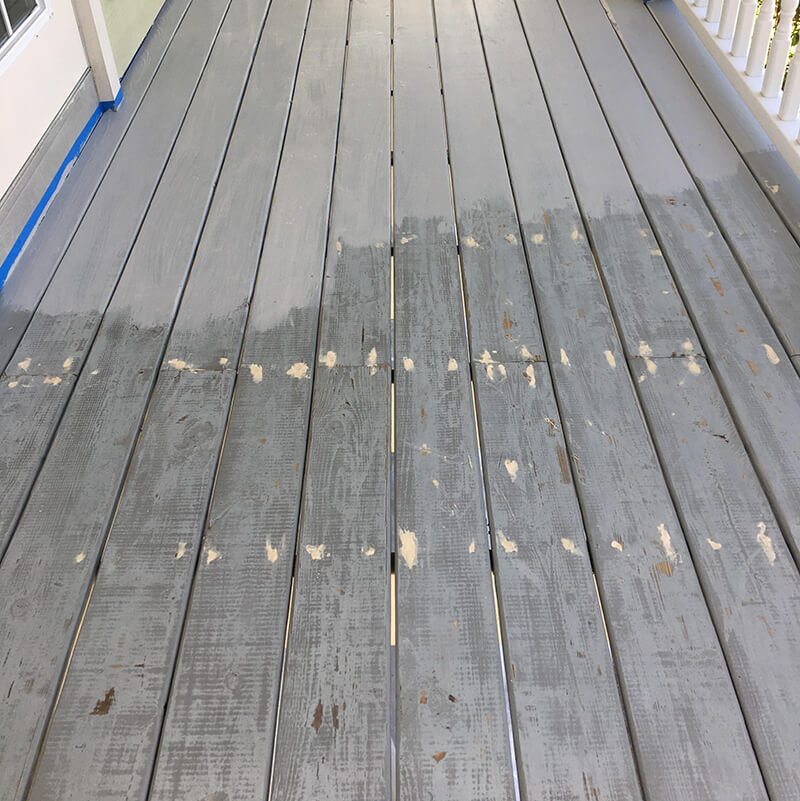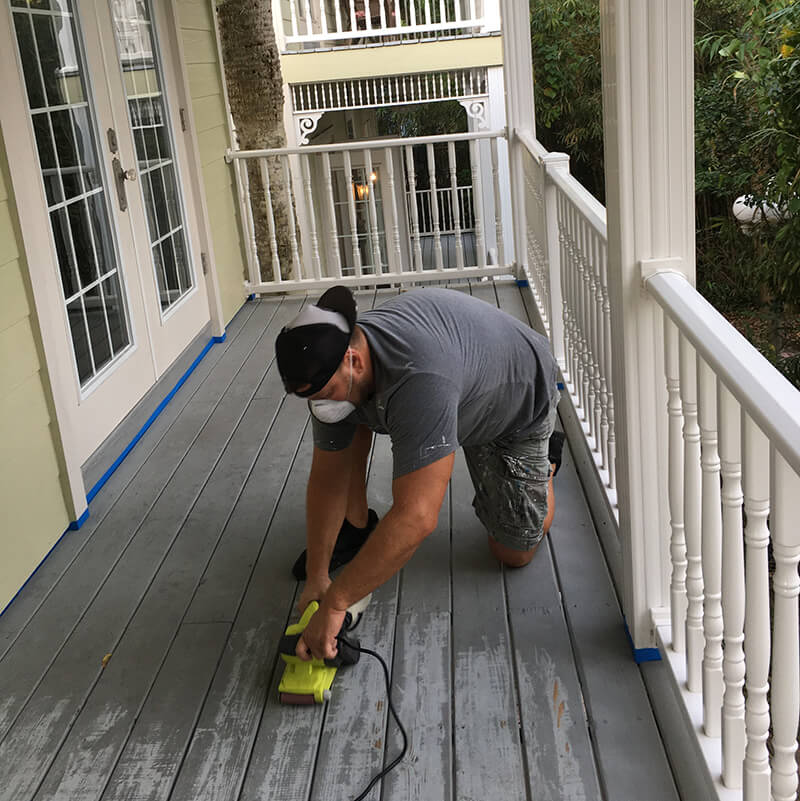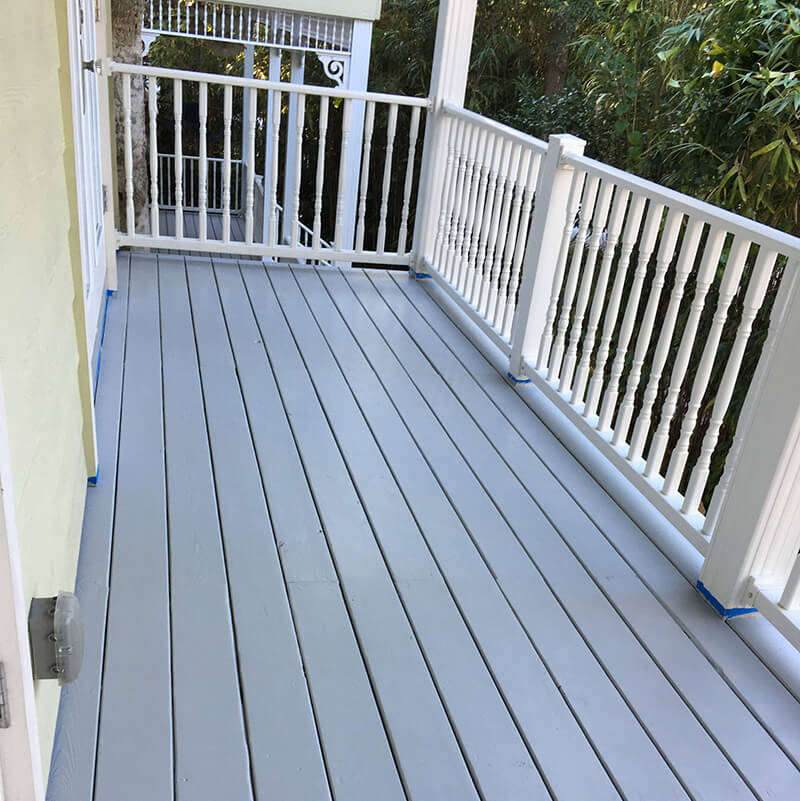 Room painting
The master bedroom with the two built-in mirrored wardrobe closets underwent a major transformation. After a careful preparation, the previously Balsam Green colored walls were replaced by a beautiful Duckwhite (SW7010) color. With the restored baseboards and doors as well, the finished bedroom looks spacious and clean and gives off a harmonious and modern vibe. It is easy to match with any style and color of furniture.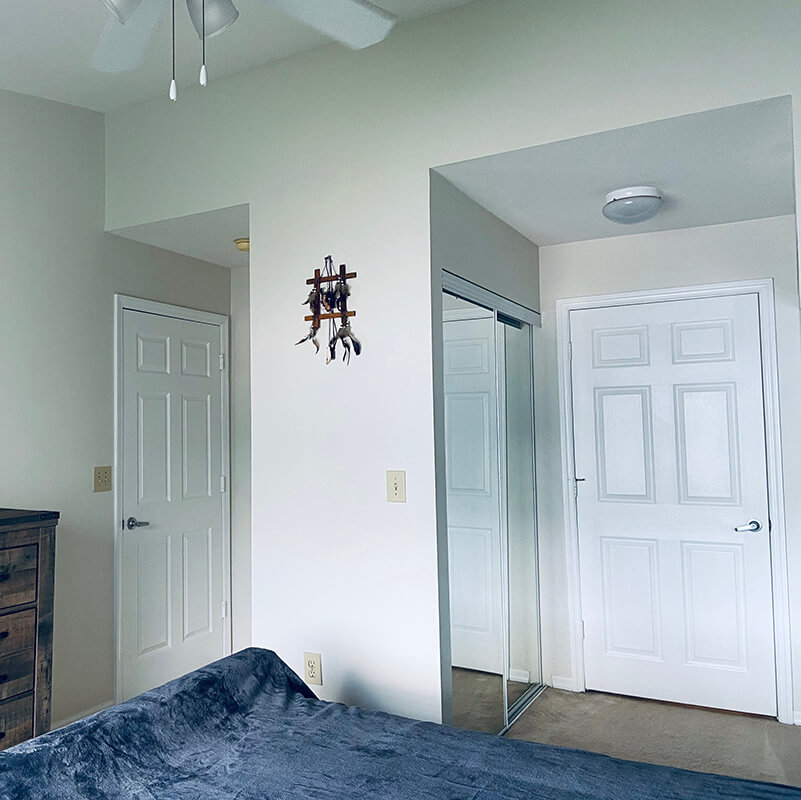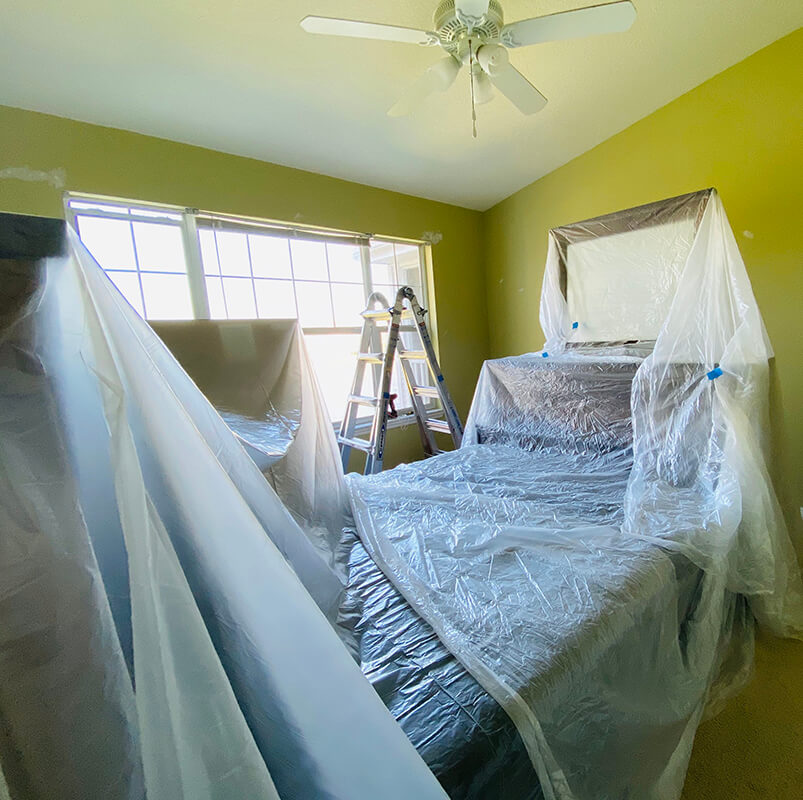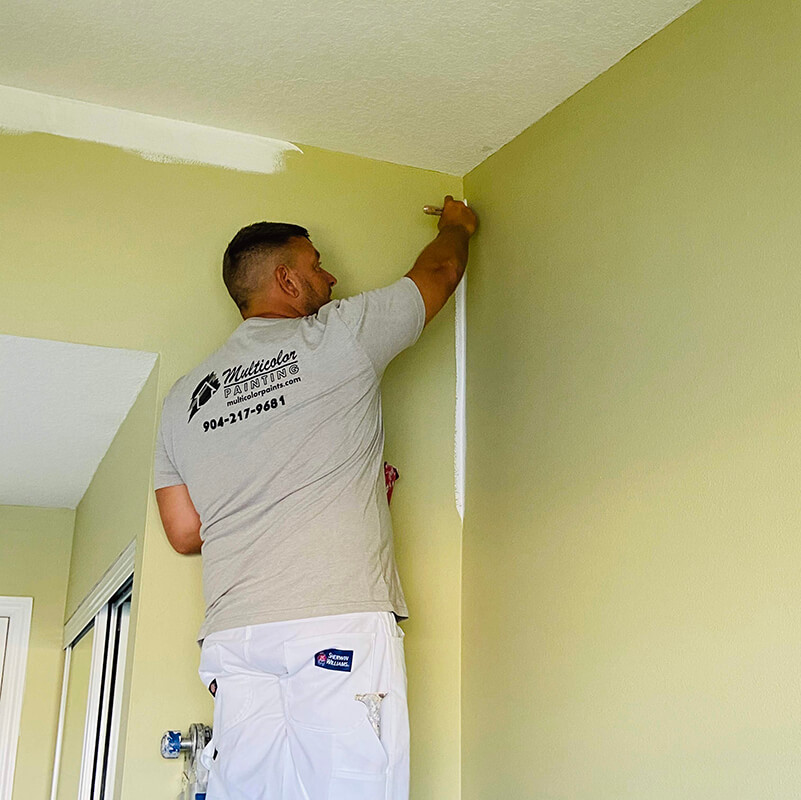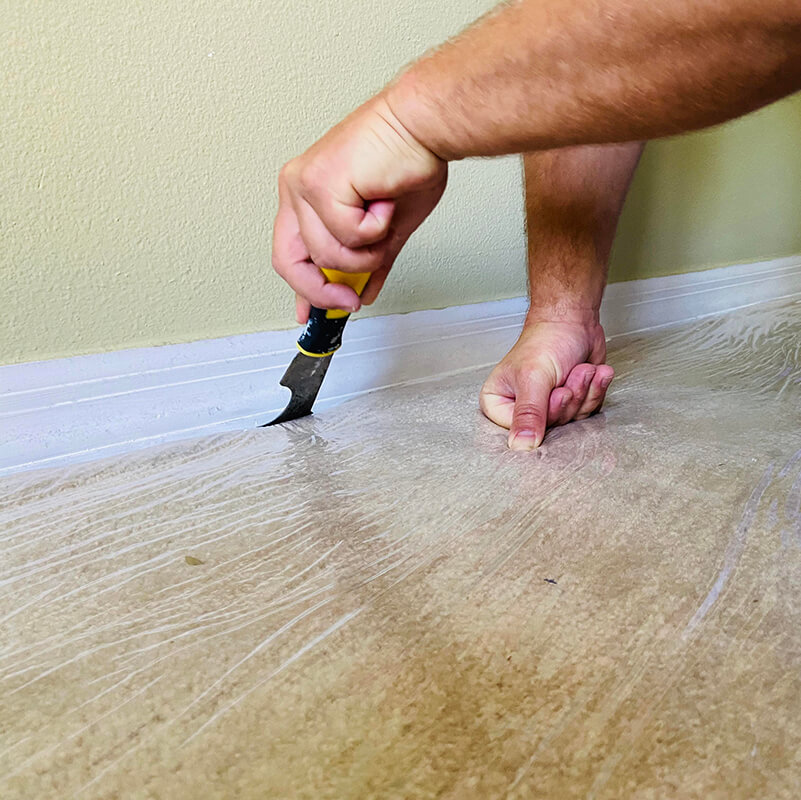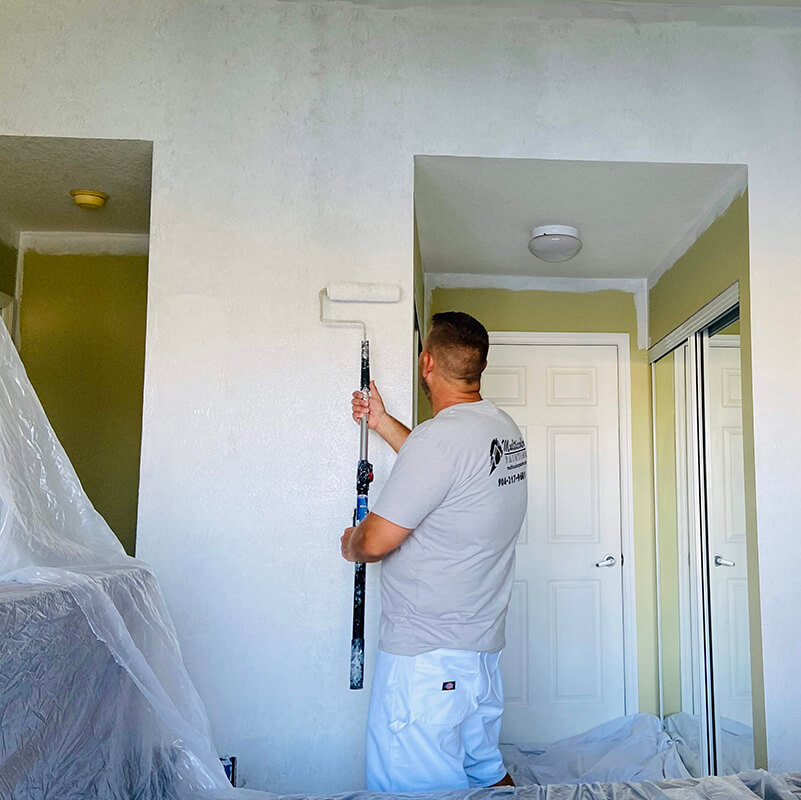 Wood staining
One of our recent assignments included restoring this pressure treated wooden room and kitchen area. After cleaning and preparing the whole surface, we used white oil paint per client's preference. As a result of using a bright color, we gave the room a fresh new pristine look.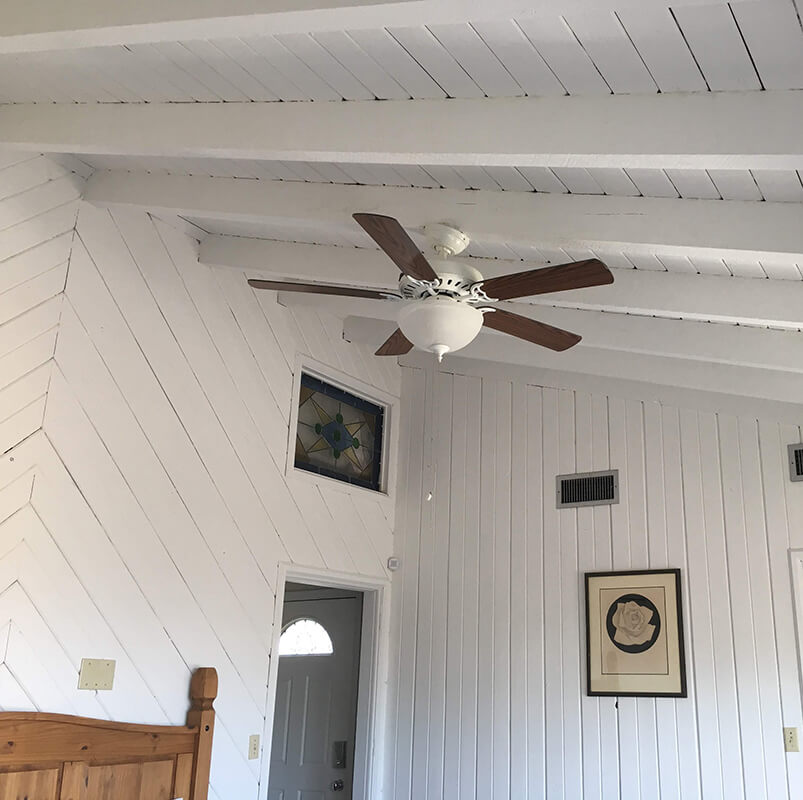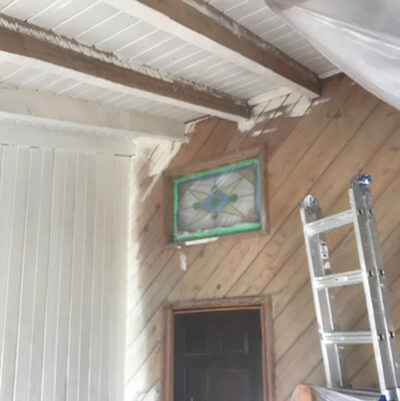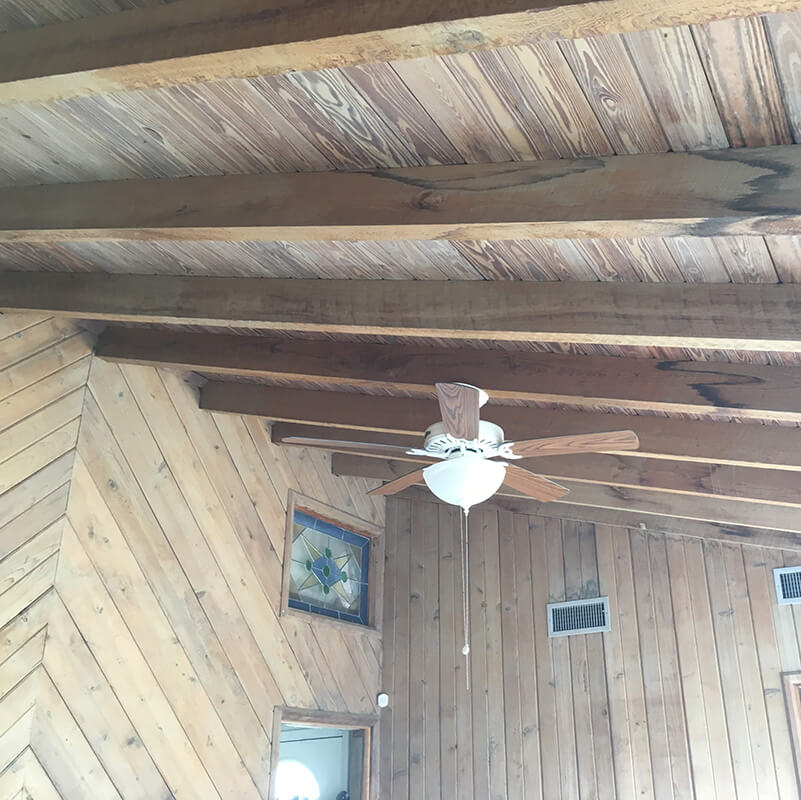 Garage floor painting
In this floor finishing technique we use Rust-Oleum epoxy paint in Mocha color complemented with decorative colored chips. It is a relatively easy material to work with that produces striking results. An area as big as a single car takes a few days of work, since it requires multiple layers of high-pressure cleaning, the treatment of muriatic acids, a 24-hour drying test, and finally the careful application of the product.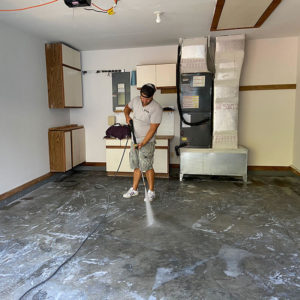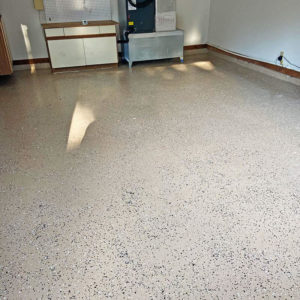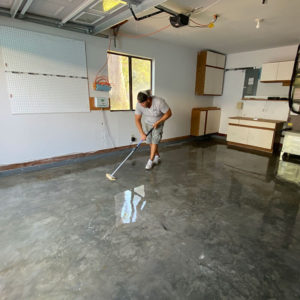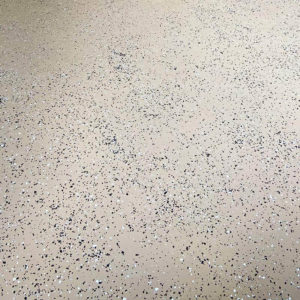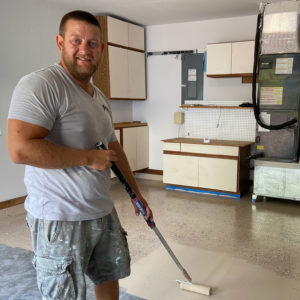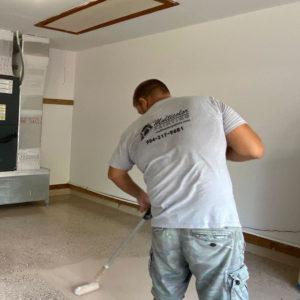 Spray painting
There are instances when it is better to spray paint an area instead of using a roller because it produces a more even and streak-free surface. Additionally, for certain surfaces, such as popcorn ceilings, it is the optimal solution since the roller cannot effectively get into the small crevices. When using spray paint, careful and thorough protection covering is essential.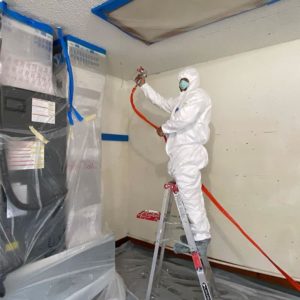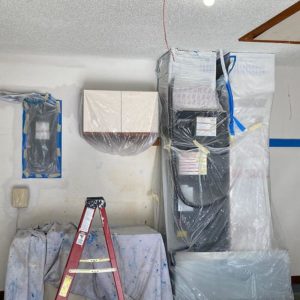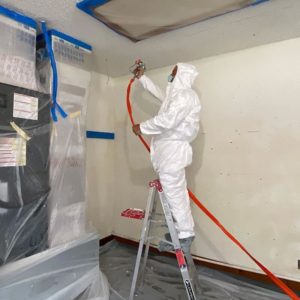 Door painting
At Multicolor Paints when it comes to doors, frames, baseboards, or crown molding we prefer to use high quality Sherwin-Williams SnapDry paint.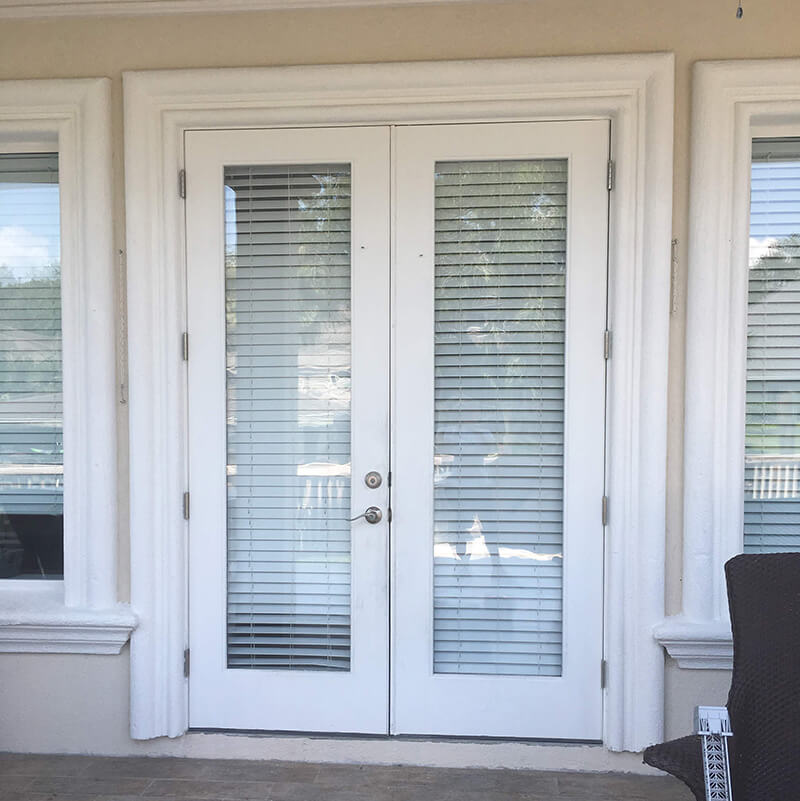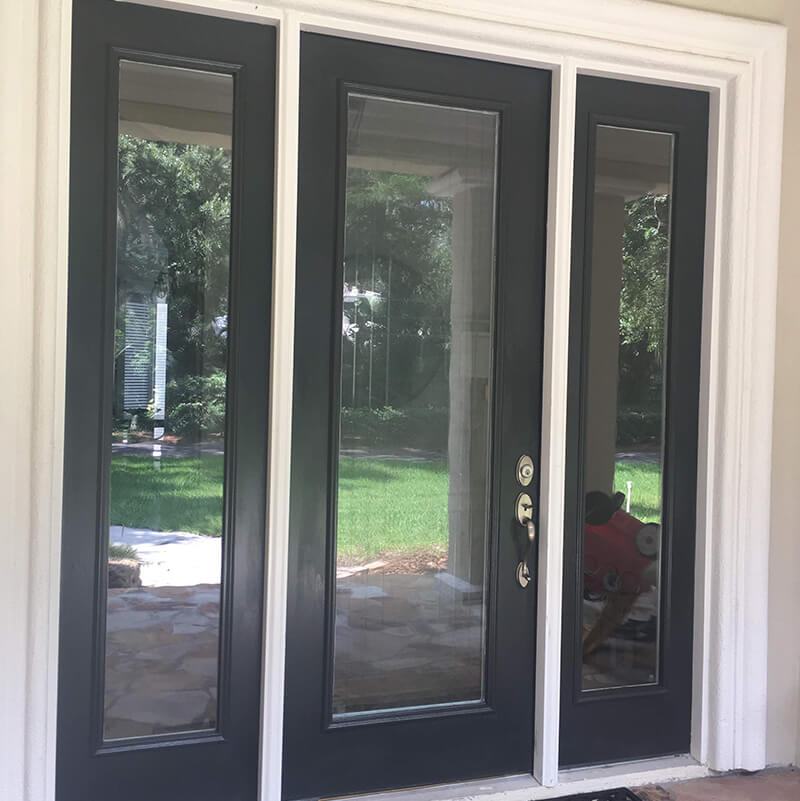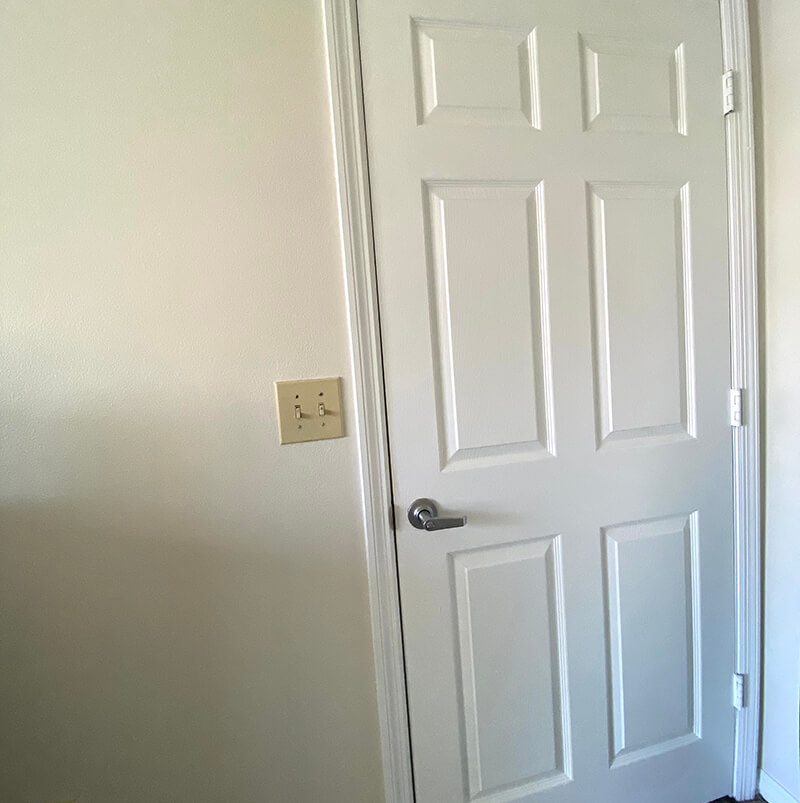 Message to peter
If you are planning a painting project, it is time to get to know me: I am Peter and I am a professional house painter. I can make your house remodeling project come true!
I have over 10 years of experience in the field and I will gladly answer all of your questions.
Call to schedule a time!
Office Location
24206 Harbour Vista Cir, St. Augustine, Florida 32080
Hours
M-F: 7am - 5pm, S: 7am -5pm
24206 Harbor Vista Cir. St.
Saint Augustine Floria 32080
HOURS:
M-F: 7 am - 5pm,
S: 7am - 5 pm
LISENSE: ST-9529