Interior painting projects 2022
Simple and elegant ocean view home repainted
This is one of my favorite and most exciting works. For once, we didn't play with the colors; we simply focused on high quality proudcts from Sherwin Williams. As you can see, the dominat white color is found thoughout the house: ceiling, door, door frames, windows, baseboard and other trims are the same shade of white. The kitchen completes the whole design, which you can read more about here: what can I do? 😊 I would love to watch the waves crash every day from this living room…
The white color creates a bright effect in your interior home
Like all colors, white has many tones, which can prove to be difficult when choosing the right white for your home.  For starters, we have to consider whether we prefer warmer or cooler tones.  After choosing a color, it is time to test it on the walls. The white hue we've chosen from the Sherwin Williams' pallette is SW 7005, Pure White in their Duration Home line of paint.
Newly purchased home got the entire interior repainting
The interior colors of our client's newly purchased home was different from room to room.  They were all dramatically dark colors – all of which had faded over the course of many years. The pre-move in renovation was done in only a few days 😊.  First the the walls of the entire house were repainted, then interior doors were properly sanded, sealed and repainted in addition to tearing down the entire living room ceiling and replaing it with a new textured knock-down ceiling. The color they chose is Sherwin Williams SW6505 Atmospheric. It is always a pleasure to return the keys to a satisfied customer.
You dream it, and I make it happen!
Some prefer a clean monochrome style, others a colorful variety. Whichever you choose, I'm happy to assist, help choose the right color, and paint the home of your dreams. You can read more about my color choices here.
In this four-bedroom, three-bathroom house, we experimented with multiple colors. While we used similar shades, there were a total of five different shades creatively combined into one space, making good use of the light coming into the rooms to portray the right color. The accent wall in the living room was a clever solution to finish the space. The colors used include 7646 first star, 7002 downy, 7015 repose gray, 7013 ivory lace, and 6217 topsail.
Install the Shiplap ceiling
One of the secrets to a lasting paint job is proper preparation. To make your work last, it's essential to not only properly install the Shiplap ceiling, but also to prime it. After Shellac stain blocker primer, you can ensure that stubborn wood stains won't show through. 
Our client contacted us with a complaint that the Shiplap on the ceiling of every room had yellow stains running through it. Shiplap ceilings are an extremely eye-catching solution, but the woodnuts can quickly become over-drawn and highly visible without proper priming. Double Shellac stain blocker primer helps to prevent these from reappearing. From there, you can seal the surface with the chosen color. 
Affordable smart home
Once again, we have the pleasure of working together on JC South Electric's next affordable smart home. The city of St. Augustine has continued to grow in recent months, with more and more beautiful homes being built. It's always a pleasure to paint the entire exterior and interior walls of a new, professionally designed and built house to make it look like home. Sherwin Williams Duration's high-quality paint gives lasting quality, so your new or first homeowner will enjoy a newly painted house for many years to come.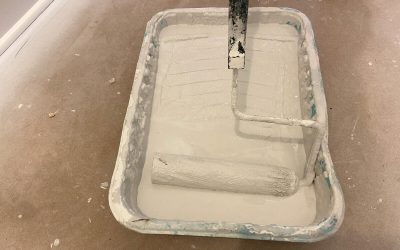 Cleaning up spilled paint is not impossible. As a painter, I know all the trick of the trade in which all types of surfaces can be cleaned. I'll share some pointers in this article!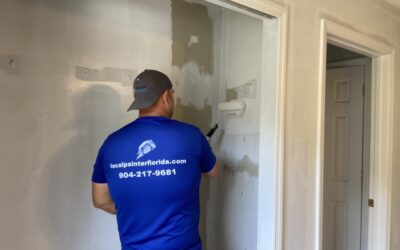 It depends on your lifestyle, your family, and the function of the room; how much wear and tear or dirt gets put on the walls. Let's look at the factors that shape the need to repaint from room to room.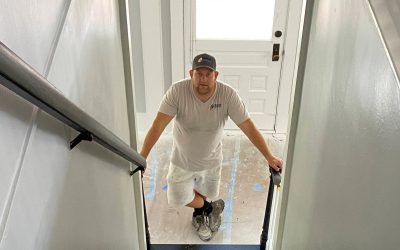 How long should I wait and what is the optimum interior paint drying time between coats? I will provide you with these answers and tips.
24206 Harbor Vista Cir. St.
Saint Augustine Floria 32080
HOURS:
M-F: 7 am - 5pm,
S: 7am - 5 pm
LISENSE: ST-9529