House Painting Projects 2022
Here are more pictures of a few of my exterior house painting projects in Saint Augustine. Let me introduce you to some of the colors and surfaces I have worked with.
Let me liven up the exterior of your home with a brand new color palette!
How about this color? It is SW 6256, Serious Gray, and it's one of my most popular colors of 2021/2022. Let's face it, this modern, cool gray tone gives the house an elegant look. Exterior work is always pressure washed thoroughly, carefully prepped to prevent paint from touching unwanted areas, and then applied in several coats.
Get a Quote: 
Exterior house painting near me:
Good mix of happy colors for your house
The only way to propertly paint a coquina shell surface is by spraying.  This way the paint will be applied perfectly and evenly on the very textured surface.
Sherwin Williams Loxon Primer is perfect for sealing and conditioning porous and highly textured masonry surfaces. Priming will also ensure a uniform look and long-lasting finish.
This example was completed with 2 coats of Sherwin Williams Emerald Exterior Acrylic Latex Paint in the color SW 6672, Morning Sun.
The main door color is SW 6757 Tame Teal
Trim color: SW 7005 Pure White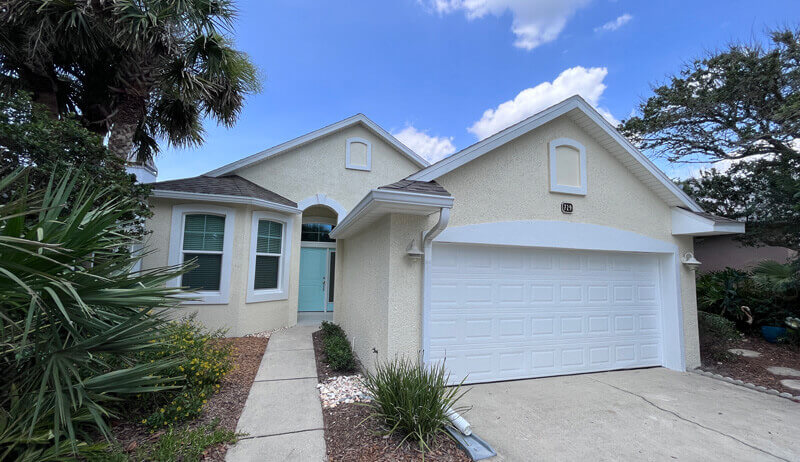 Get a Quote: 
Exterior house painting near me:
2-story, 1600 sq ft timber frame cottage
When it comes to painting newly built homes, being as precise and thorough as possible is essential. For example, using a good primer on your properly prepared wall will promote good adhesion and extend the life of the finished product. At the same time, careful filing and filling of holes will improve aesthetics and prevent water infiltration. Call me if your home needs painting. 
This 2-story, 1600 sq ft timber frame cottage was painted entirely by hand, per the client's request. This project required was finished by applying three coats on the walls with a brush and roller, along with Duration extra white glossy finish.
Get a Quote: 
Exterior house painting near me:
Restoring an older house
Restoring an older house always produces a spectacular result. This specific building required a longer preparation process before the final color could be applied. With the help of a Festool Rotex sander, we used Sherwin Williams PrimeRX peel bonding primer to even the surface, and then after one coat of oil, Duration topcoat in Sea Foam Green was applied. The entrance door and mosquito nets were painted in an indigo batic color, serving as a perfect accent wall.
Get a Quote: 
Exterior house painting near me:
One of the jewels of your house is your garage door
One of the jewels of your house is your garage door! However, daily use and exposure to weather conditions will wear it out over time. In this case, the entire building had undergone exterior painting, including the garage door. The grey color with white accessories is still a trendy choice. However, the renovation of your garage door does not always have to be done in conjunction with a full-house paint job. Instead, you can freshen your garage door up with a color-matched repaint or even an accent color.
Get a Quote: 
Exterior house painting near me:
Affordable smart home
Once again, we have the pleasure of working together on JC South Electric's next affordable smart home. The city of St. Augustine has continued to grow in recent months, with more and more beautiful homes being built. It's always a pleasure to paint the entire exterior and interior walls of a new, professionally designed and built house to make it look like home. Sherwin Williams Duration's high-quality paint gives lasting quality, so your new or first homeowner will enjoy a newly painted house for many years to come.
Get a Quote: 
Exterior house painting near me: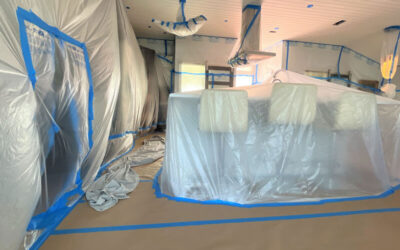 Floors and furniture should be protected when painting. I would like to share with you which plastic and masking paper to choose for your project.
read more
Message to peter
If you are planning a painting project, it is time to get to know me: I am Peter and I am a professional house painter. I can make your house remodeling project come true!
I have over 10 years of experience in the field and I will gladly answer all of your questions.
Call to schedule a time!
Office Location
24206 Harbour Vista Cir, St. Augustine, Florida 32080
Hours
M-F: 7am - 5pm, S: 7am -5pm
24206 Harbor Vista Cir. St.
Saint Augustine Floria 32080
HOURS:
M-F: 7 am - 5pm,
S: 7am - 5 pm
LISENSE: ST-9529