Furnishing a bathroom to be practical and look good at the same time is not an easy task: we have to create a little island of peace and tranquility where we can go to freshen up. With the help of colors, we can easily transform an even small bathroom lacking natural light into a pleasant space. Let's paint the bathroom!
We can actually achieve the biggest change with the color of the walls: let's alternate between white and pastel colors! White alone may be too cold and uninviting, but the color white reflects the most light, so we like using it in most bathrooms. The best choice for a small bathroom is always white.
If we complement it with a modern color of our choosing, we can immediately give the space some style and personality. Light and pastel colors are optimal, earthy shades of green and beige, or blue and grey tints also create and air of relaxation.
What's the best wall paint for the bathroom?
We recommend using wall paint that not only produces a lasting and pretty surface in the bathroom but is also suitable for moist conditions.
Sherwin Williams bathroom paints are specially designed for such surfaces. They are mold and mildew resistant and hold up well in humid environments. They don't stain, can be easily washed and scrubbed, and are available in a variety of colors. I think these are the best paints to use in the bathroom.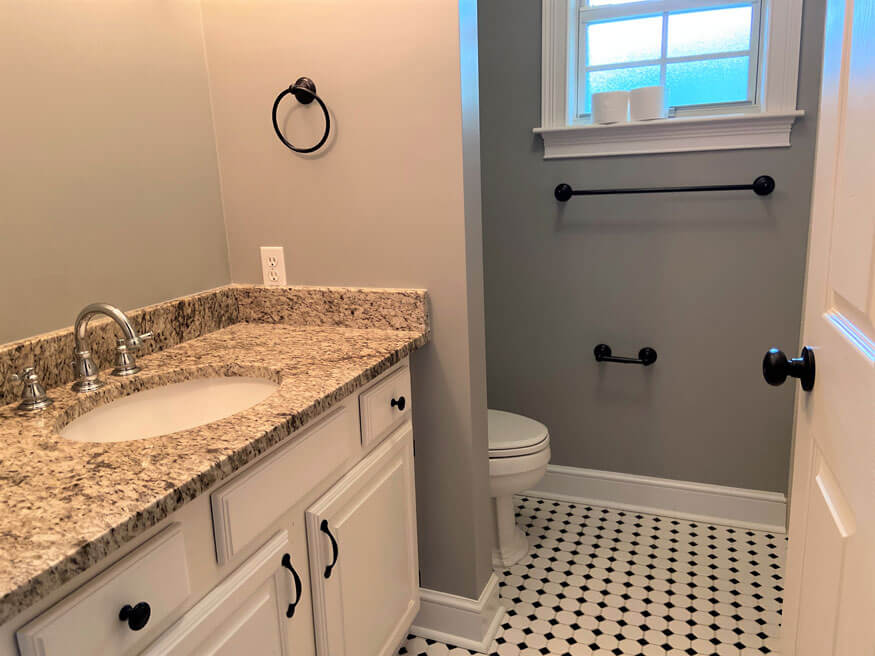 Popular Sherwin Williams bathroom paint colors
I made a list for you of the most popular colors from Sherwin Williams that people choose in their bathrooms, the colors most frequently requested in my work. There are of course many different shades to choose from but if you don't have any ideas, looking at these color combinations is a good place to start.
Extra White: this is a must in every bathroom as a complementary color, at least on the ceiling. It's a perfectly clean white shade that I especially recommend for bathrooms.
On the Rocks: this light shade of grey speaks of elegance and modern touches, and it pairs really well with the Extra White color.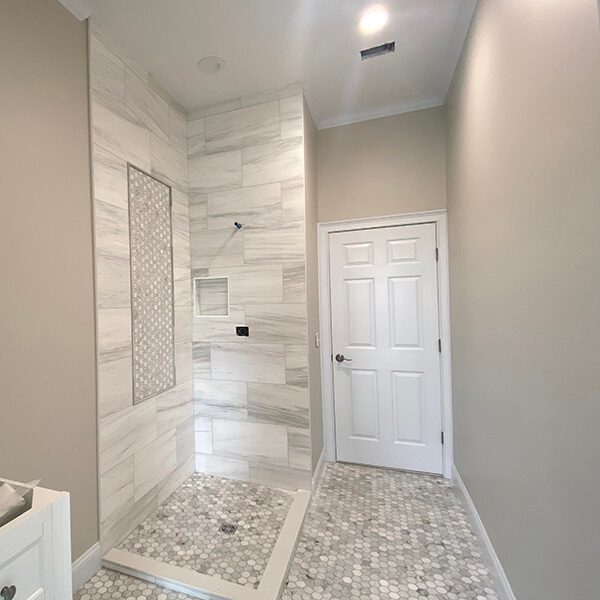 Alabaster: if you want to pick a light and muted color but still bring a little excitement into your bathroom then alabaster is a great choice. Mainly on baseboards, this color is well distinguished next to the On the Rocks shade.
Window Pane: if you are not a fan of grey but want to add a touch of color to your white bathroom, then the light green Window Pane shade may be the right choice for you. It is a pleasant pastel color that also pairs well with Extra White.
You can find more ideas to inspire you on the Sherwin Williams website, so we recommend taking a look around!
If you have found the perfect color or you are still looking and need some help, don't hesitate to give me a call! I would love to help you renovate your bathroom! Call now: 1(904)217-9681
More Interior painting service
How Can I Clean Walls With Flat Paint?
Daryl Perritt6
27/11/2023
I was skeptical when he said "my cabinets would come out like new". But he was right on
Everything about the work Multicolor did in my new home was professional. Communication was timely; the work Peter and his team did was meticulous. And they did a spacious condo in less than three days. Could not have been a better experience. And the cost was very reasonable. Thank you to Peter and his team.
Carol Carnicelli
11/09/2023
Multicolor Painting did a great job. I asked about moving furniture – Peter said they will take care of it all – even removed my blinds, drapes … professional and very nice people. And they stick to their schedule! I can't take the credit for finding them, my neighbors highly recommended them. He even set me up with someone to do my chair rails in the hall and he did a great job also. I am doing the happy dance.
Peter came and gave me a very fair quote and detailed both verbally and in writing exactly how his Team would accomplish the task. His Team was extremely professional and very respectful the entire time they were in my condo. I have not seen customer service like this in probably 20 plus years and especially since the pandemic. I would highly recommend Multicolor for any of your painting needs! I have attached a picture of just oneroom, but Peter and his Team painted the entire inside of the condo. Thanks for the great work!
Zachary Boucher
14/08/2023
Extremely professional, fair pricing, very satisfied with end result. Went above and beyond to get the job done and impressive attention to detail. Impeccable cleanup, excellent experience all around.
We live out of town but have a condo at the beach. We had to coordinate the painting with various other services and Peter was incredibly responsive and punctual. He was a pleasure to work with and most importantly did a superb job!! Don't think twice about hiring him.
I used Multicolor to paint my house trim. When I called, a real person answered the phone. That was a pleasant surprise. I told them what I needed. Within a day or so Peter, the owner, came out to estimate the job. He looked closely at the condition of the trim to understand what was needed. I got a very reasonable price and we scheduled the work to start within a couple of days. The painter Peter sent out knew his business and was well organized. He was very easy and pleasant to work with. This painter was unable to work the second day, but a different man came out and finished the job. He was as professional as the first one. I never saw either man take a break. Maybe they did, but not long enough for me to notice. They finished the job a day early. It looks great. My wife loves the way the house looks. I'm very happy with the job and will use Multicolor Paints for future jobs. Also, I never knew anything about this company, the owner, or employees before I called them. I choose them based on a recommendation from a Jacksonville company that did not want to travel this far except for a full house painting job.
Dianne Norquist
02/02/2023
No words to express my gratitude to Peter, Eric and Benny for the professional. Amazing job they did on our exterior. My husband has been a builder for many years and he is very impressed with the workmanship. We had a difficult two-story new home in treasure Beach that needed a lot of caulking. They did a great job putting on primary and two coats of color that will last way after I'm gone... They were courteous and kind from the very beginning to the final cleanup. No need to look any further. I did a lot of research. They are the best around and more than fair in their pricing thank you again Peter, Eric and Benny. God bless.. photos can be seen on the website 🙂
If you want a quality job done on time by a responsible crew, then you should hire Multicolor. Peter and crew showed up when they said they would and did a meticulous job painting the exterior of my home. There aren't many quality companies like this anymore, and I really appreciate the value of their work.