When you think of a clear coat, the first thing that comes to mind is likely flat pain. However, in order to make the right choice, it is worth knowing the properties of Satin Paint and Eggshell Paint in addition to the properties of matt paint to make sure you're making the right decision for your next home project. In this article, we'll break down everything you need to know to help you decide.
Should I Use Flat Or Satin for Interior Walls?
The most crucial feature of flat paint, as the name suggests, is that it is matte. This means that it does not reflect light like satin or eggshell paint. Flat paints are usually very good opacifiers because they have a high pigment content, giving perfect coverage with only 1-2 coats.
A wall painted with matt paint will look good if painted on a perfectly flat surface. For this reason, it's imperative that the prep work, such as correcting wall imperfections and smoothing, is precise and well done. Matte walls give a stunning impression because of the even color effect. Here, you don't have to consider the change in color effect due to changes in natural light. In addition, they are cheaper in price than Satin or Eggshell paints.
Use Flat Paint For The Living Room And Satin Paint For The Kitchen
Walls painted with flat paint are more difficult to clean and wash than those painted with gloss paint, making scratches more visible in heavily used rooms. Therefore, it's worth choosing matte paint for living rooms or study rooms. However, if the living room is a favorite play area for children, using satin or eggshell paint will be a better choice.
Washing walls painted with semi-gloss paint is much easier. While they are more expensive and require more coats than matte paint, they're more durable and resistant.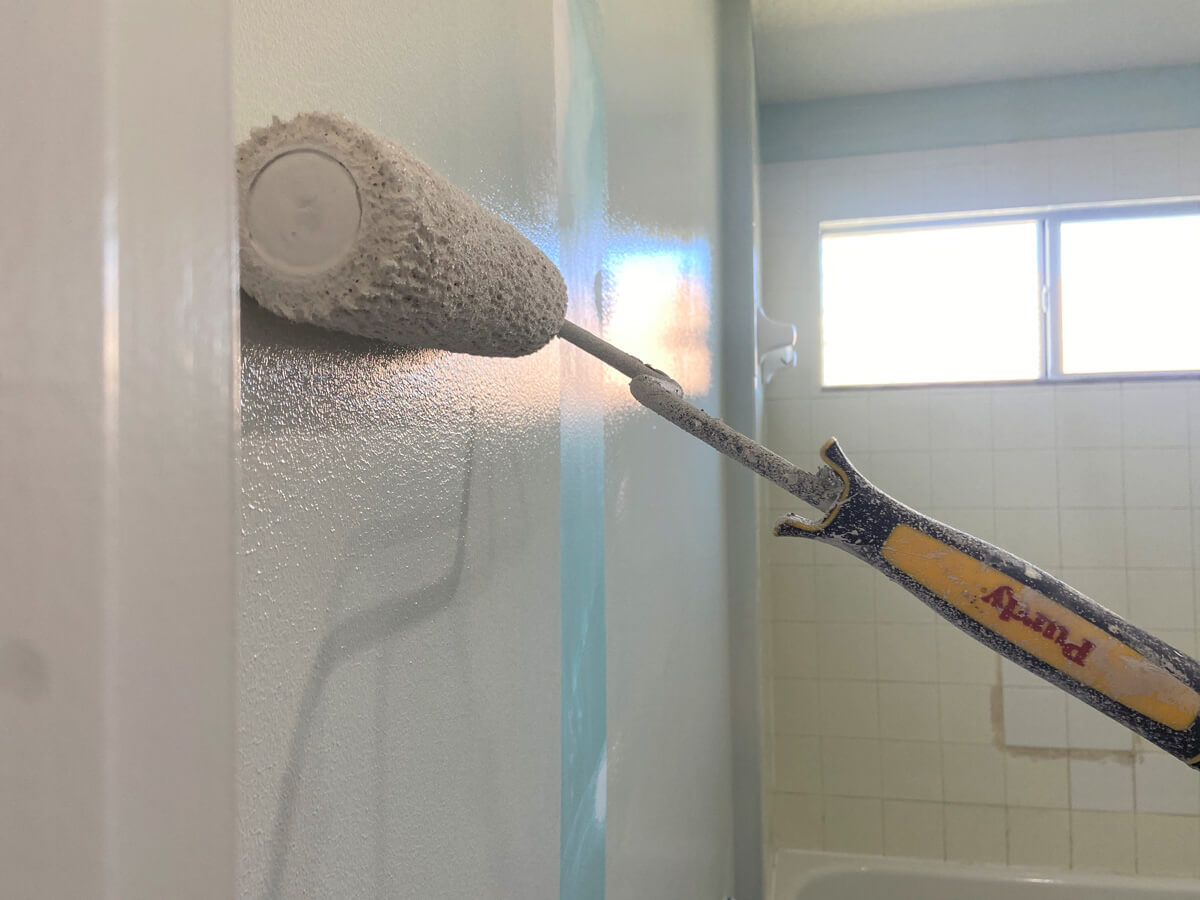 If you need to clean the walls of a room often, you should choose accordingly:
Satin paint is recommended for rooms that need to be wiped down daily, such as bathrooms, kitchens, dining rooms, and children's rooms.
Eggshell paint is ideal for rooms that need occasional cleaning, such as hallways.
Flat paint is a good choice for exposed living rooms, study rooms, or any area that doesn't receive much foot traffic or needs constant cleaning.
How To Paint Flat Over Eggshell?
If you want to apply matte paint to a wall that has previously been painted with satin or eggshell paint, you will need to sand the previous gloss paint off the wall thoroughly beforehand. Unfortunately, you won't be able to paint over it.
Gloss paints give a slippery finish, which is why they are easier to wash off. On the other hand, matt paint will stick to a slippery surface, which is why it needs thorough sanding. You'll know your wall is ready to be painted when you no longer see the wall as glossy and the surface is slightly rough.
A great way to achieve this is to use 180-grit sandpaper for sanding and finish by dusting the surface with a broom. After masking the adjacent wall surfaces, you can apply matte paint to the wall with a paint roller. I usually recommend two coats of paint for full coverage. Allow the first coat to dry for at least 2 hours before applying the second coat.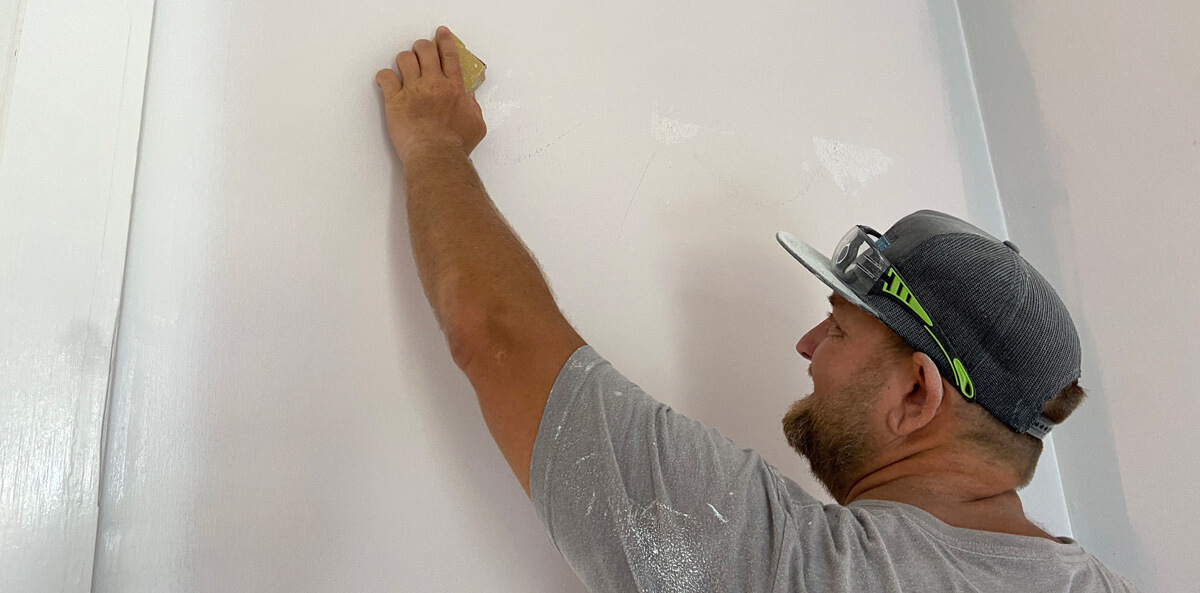 Is It A Good Idea To Mix Flat And Satin Paint?
Different paints can be mixed if they have the same base material. In general, satin and eggshell paints can certainly be mixed. There will be no difference. However, before mixing a flat paint, it is worth checking whether it is water-based or oil-based. For example, gloss paints may be oil-based.
But mixing is primarily unnecessary if you choose the right paint. Today, you can choose from a wide range of gloss paints in the shops. For example, if you are hesitant to choose a semi-gloss or satin paint, start with an eggshell paint first. This will give you a subtle soft sheen while giving you a durable and washable wall finish.
How Do I Clean Flat Paint Walls?
Cleaning walls painted with flat paint requires care, as we wrote at the beginning of this article. In all cases, you'll want to clean gradually. By this, I mean first that you'll want to wipe the wall with a clean, damp, and soft cloth such as a microfibre cloth.
For more stubborn stains, mix a little vinegar in the water, dip the cloth, and then wring it out. If wiping with vinegar doesn't help, try using an eraser or magic sponge to remove the stain from the wall. Again, make sure not to rub too hard to ensure the best results.
How Can I Clean Flat Paint Walls Without Streaks?
Walls will streak if they're not cleaned properly. If you follow the above method, your walls will not be streaked after cleaning. To make sure this doesn't happen, here are a few things you should never do.
Make sure not to vigorously rub with a cloth that is too wet as this often causes streaks on the walls.
Using strong cleaners, such as detergent, as it can cause streaks because they can dissolve the paint.
Water running or dripping from a cloth that is too wet can also cause streaks on the wall.
How to clean walls with flat paint?
For best results, use a slightly damp cloth. Change the cleaning water frequently to avoid carrying dirt back to the wall. Make sure not to scrub the wall, just wipe! Vigorous scrubbing can cause mechanical damage, meaning that it can wear away the paint layer, which will also cause streaks.
While you can tackle this project on your own, it may turn out to take a lot longer and require a lot more work than expected. If you'd rather leave the assessment, repair, and painting of your walls to a professional, call us. 1(904)217-9681
I perform a quick on-site survey with my team and give you a personalized quote in no time for your planned restoration.
I work quickly and reliably! I will quickly take care of your indoor painting needs with quality materials and more than 10+ years of experience!
Daryl Perritt6
27/11/2023
I was skeptical when he said "my cabinets would come out like new". But he was right on
Everything about the work Multicolor did in my new home was professional. Communication was timely; the work Peter and his team did was meticulous. And they did a spacious condo in less than three days. Could not have been a better experience. And the cost was very reasonable. Thank you to Peter and his team.
Carol Carnicelli
11/09/2023
Multicolor Painting did a great job. I asked about moving furniture – Peter said they will take care of it all – even removed my blinds, drapes … professional and very nice people. And they stick to their schedule! I can't take the credit for finding them, my neighbors highly recommended them. He even set me up with someone to do my chair rails in the hall and he did a great job also. I am doing the happy dance.
Peter came and gave me a very fair quote and detailed both verbally and in writing exactly how his Team would accomplish the task. His Team was extremely professional and very respectful the entire time they were in my condo. I have not seen customer service like this in probably 20 plus years and especially since the pandemic. I would highly recommend Multicolor for any of your painting needs! I have attached a picture of just oneroom, but Peter and his Team painted the entire inside of the condo. Thanks for the great work!
Zachary Boucher
14/08/2023
Extremely professional, fair pricing, very satisfied with end result. Went above and beyond to get the job done and impressive attention to detail. Impeccable cleanup, excellent experience all around.
We live out of town but have a condo at the beach. We had to coordinate the painting with various other services and Peter was incredibly responsive and punctual. He was a pleasure to work with and most importantly did a superb job!! Don't think twice about hiring him.
I used Multicolor to paint my house trim. When I called, a real person answered the phone. That was a pleasant surprise. I told them what I needed. Within a day or so Peter, the owner, came out to estimate the job. He looked closely at the condition of the trim to understand what was needed. I got a very reasonable price and we scheduled the work to start within a couple of days. The painter Peter sent out knew his business and was well organized. He was very easy and pleasant to work with. This painter was unable to work the second day, but a different man came out and finished the job. He was as professional as the first one. I never saw either man take a break. Maybe they did, but not long enough for me to notice. They finished the job a day early. It looks great. My wife loves the way the house looks. I'm very happy with the job and will use Multicolor Paints for future jobs. Also, I never knew anything about this company, the owner, or employees before I called them. I choose them based on a recommendation from a Jacksonville company that did not want to travel this far except for a full house painting job.
Dianne Norquist
02/02/2023
No words to express my gratitude to Peter, Eric and Benny for the professional. Amazing job they did on our exterior. My husband has been a builder for many years and he is very impressed with the workmanship. We had a difficult two-story new home in treasure Beach that needed a lot of caulking. They did a great job putting on primary and two coats of color that will last way after I'm gone... They were courteous and kind from the very beginning to the final cleanup. No need to look any further. I did a lot of research. They are the best around and more than fair in their pricing thank you again Peter, Eric and Benny. God bless.. photos can be seen on the website 🙂
If you want a quality job done on time by a responsible crew, then you should hire Multicolor. Peter and crew showed up when they said they would and did a meticulous job painting the exterior of my home. There aren't many quality companies like this anymore, and I really appreciate the value of their work.
Related blog aritcles: Three Steps to a Successful Home Renovation
Wall Painting Tools And Equipment – What You Will Need For Interior Wall Painting
Paint Sprayer vs Roller? Pros and cons