You should consider three things before embarking on your home renovation journey: exactly what, with whom, and how much. For accurate financial planning and a realistic timeline, you have to take these necessary preparatory steps. If you take an afternoon to think through these three areas of concern you will save yourself the headache of going over budget and you will also receive a quote more quickly. Following our useful tips, you can prepare for a full house renovation over one Sunday afternoon.
First step:
Accurately assess what home renovations you want to make
Get yourself a measuring tape and take exact measurements on everything you need or would like to have restored. For example, if you are planning a complete interior painting, take measurements of the width and height of all your walls. You can also use a laser distance measurer to make your life a little easier.
Besides painting, think about any other projects, or any other items around the house in need of a makeover. It may be a good idea to do an inspection of all the systems in the walls:
cooling and heating systems, condition of air conditioning
all electrical work
tiling, condition of floors
If you find yourself needing to repair of any of the above, you should start your renovation project with it. The electrician, air conditioning company, and the tiler will drill and leave a big cloud of dust in their wake, which you do not want on your freshly painted walls. Ask the rest of your family if they prefer any additional outlets or switches in the house. If you make these changes after already having painted your home, you will have to make some additional repairs afterwards.
Projects requiring construction
Start your renovations with any construction work. While your handyman works on your home, go to the hardware store and pick out your new flooring, so when your handyman is done, you can have the tiler continue the renovations.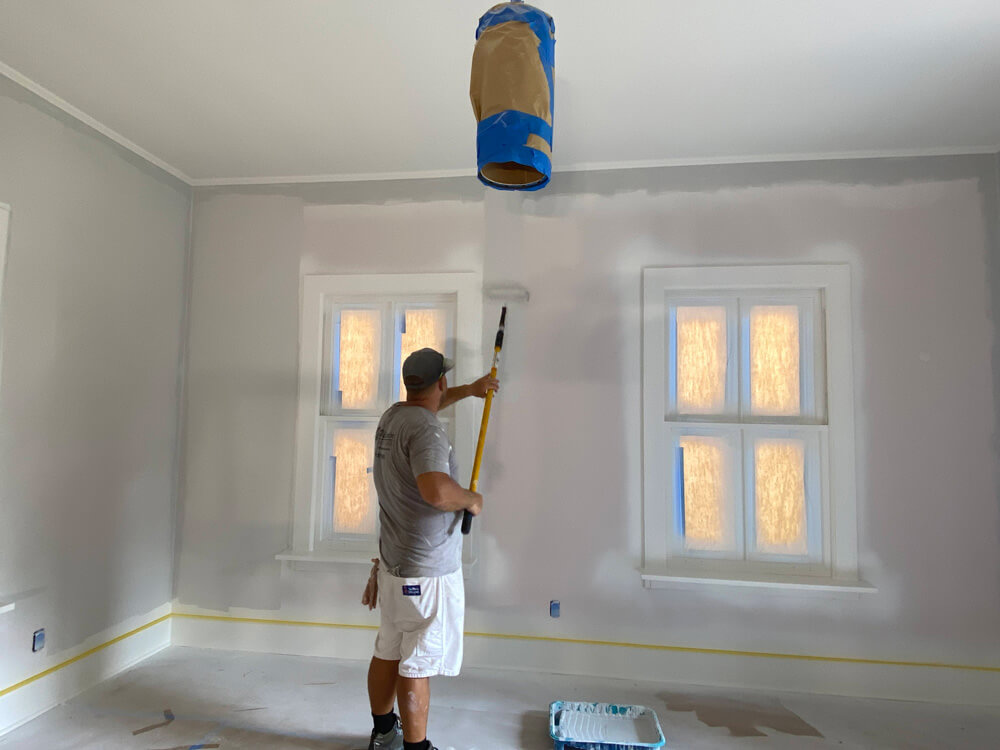 While your tiles are being installed, your painter can also start applying 'duration interior paint' in the rooms where no more work or preparation is needed. Rooms where you don't plan on putting new tile, parquet, or laminate. Make the most of your time to decrease the duration of your renovations.
Second step:
Getting a quote and choosing a professional
The most important step is choosing the right contractors and painters. Besides googling "painter near me" on the internet, keep in mind a few useful tips from us.
Your search will definitely be more effective if you look for professionals in your area. This way, after an initial phone conversation the painter can quickly come to your home and perform the survey. You can also use Google Maps to zoom in on your location and search for painters near you. You can immediately see the reviews of previous clients and pictures from previous projects or navigate directly to the company's website.
Reviews and images of the painting company
Reading reviews from clients and rolling through pictures of completed projects creates a first impression that will help you make a decision on the right professional for you. As a painter myself, I am proud to continuously receive positive feedback from my clients about the work we did on their home. We have never had anybody say to us that we cannot post a few images of the transformation their home went through. They are happy to share their satisfaction and to help other people find a good professional.
Third step:
How much will it cost?
To accurately plan for costs get you quotes and ask for an on-site survey of your home. After an in-person meeting, you can tell if the company is the right choice for you and if the quote is in your budget. This kind of survey from a professional can save you a lot of time on planning costs and scheduling, and you will also receive a lot of ideas for your renovation.
For example, if you are planning a renovation that includes taking down walls, we suggest adding 15-20% to your total cost. You never know what additional work may lay inside your walls, such as needing to move some electrical wires that you did not plan for ahead. Thankfully, this does not apply to painting. A professional painter can accurately determine the cost of any interior or exterior painting project.
If you follow the above steps, you will have a good idea of the whole renovation process and the money and time the project will cost you.
If you need interior or exterior painting, please feel free to give me a call. 1(904)217-9681
I perform a quick on-site survey with my team and give you a personalized quote in no time for your planned restoration. This way, you can check one step off your list!
Read more:
Related blog aritcles: Want to Rent Your Property? This Is How You Add Value!
The Ultimate Guide To Repairing And Preparing Walls Before Painting
How long to paint a house interior?