Estimating an average time to paint a house is very important for planning your project. Whether you paint it yourself or hire a professional painter, it's always worth calculating the time frame for the job. This way you will have a better idea of what the costs, supply quantity and effort the project will require. In this article, you can learn how to calculate the average working time for interior wall painting.
How long to paint?
Most people only focus on the time it takes to paint, but much more time is spent on preparation, packing, and cleaning up afterwards – more time than the painting itself. Factoring in these essential tasks is viable to the planning process. Also, anticipating several variables you will come across for your painting project will cause your time frame to vary.
Another element that is often forgotten is that the number of people who will be helping to complete the painting project. Painting alone is difficult. At a minimum, you can work effectively in pairs, but ideally you should have 3 or 4 painting professionals working at the same time. Certain tasks can be done simultaneously, so the work will progress faster.
There are some tasks that simply cannot be done alone or are very difficult to complete independently; for example, moving heavy, bulky furniture or painting walls with great heights – it is necessary to work in pairs for safety reasons.
It is important to know if the painting is affected by other maintenance work and if all the necessary tools and paints are available. If you hire professional painters, they will have all the tools to get started and will also supply the paint of your choice. If you want to paint yourself, you will need to take the time to buy and rent all the necessary tools.
How long to paint interior of house?
Painting the interior of a house is an intricate process that demands careful planning, preparation, and execution. The duration required to complete the project can vary significantly depending on various factors. Let's explore the key elements that influence the timeline:
1. House Size and Layout
The size of your house plays a crucial role in determining the time required to paint the interior. Larger homes with more rooms naturally require more time compared to smaller residences. Additionally, the layout of the house, including the number of floors and intricate architectural features, can also affect the painting duration. Complex layouts with numerous corners, nooks, and crannies may require extra attention and time to ensure a seamless finish.
2. Wall Condition and Preparation
Before painting, it is essential to prepare the walls adequately. The condition of the walls can impact the time needed for the project. If your walls are in good shape and do not require extensive repairs or priming, the painting process will be relatively quicker. However, if your walls have cracks, holes, or existing layers of paint that need to be stripped, additional time will be necessary for proper preparation.
3. Number of Painters
The number of painters involved in the project can significantly affect the timeline. More painters can complete the job faster, as they can work simultaneously in different areas of the house. On the other hand, a single painter might take more time to finish the project. It's important to strike a balance between the number of painters and the size of the project to ensure an efficient and timely completion.
4. Complexity of the Project
Certain painting projects are more complex than others, requiring additional time and attention to detail. If you plan to incorporate intricate designs, patterns, or multiple paint colors, the project duration will naturally be extended. Similarly, if you intend to paint ceilings, trim, or other hard-to-reach areas, extra time should be allotted for these tasks.
5. Drying and Curing Time
Once the paint is applied to the walls, it needs adequate time to dry and cure before the room can be used or additional coats can be applied. The drying and curing time can vary depending on factors such as temperature, humidity, and type of paint used. It's essential to consider this time when estimating the overall duration of the painting project.
6. Personal Schedule and Deadlines
Your personal schedule and any specific deadlines you have in mind will also impact the time required to paint your house interior. If you need the project to be completed within a specific timeframe, it's crucial to communicate this to the painters and ensure they can accommodate your needs accordingly.
How long does it take to paint a room?
Let's look at the concrete numbers first, using the simplest example. It takes a painting professional 1-2 days to paint a 10 x 10 room. Now let's break down in detail how the 1 or 2 working days are spent:
Packing up, clearing, and protecting the area: 2-4 hours.
It is important to get everything out of the room. Larger furniture can be moved into the middle of the room and covered up. Finally, protect anything you do not want paint to adhere to with masking tape or plastic secured with duct tape. Do not forget the door and window frames. The preparation time is affected by how many objects you must move and protect.
Wall preparation (sanding and repairing wall defects): 2-4 hours
All light switch and outlet covers must be removed. Any holes or imperfections in the wall must be properly patched and lightly sanded to blend in with the texture of the wall. The more damage there is on the wall, the longer the prep work will take.
Painting edges and corners: 1-3 hours
Before rolling, the edges are first painted with a brush. To produce the cleanest lines, use painter's tape to protect the side of the edge you do not want to paint. This is particularly important if you are not painting the room one solid color. For instance, will the ceiling be a different color then the walls?
Prime and roll paint: 2-4 hours
For durability or walls in poorer condition, at least 1 coat of primer is required. Then the interior wall paint can be rolled on. The drying time between coats must be followed according to the label found on the paint products. This is often the reason why 2 working days are required for 1 room.
Cleaning after painting: 1 hour
To reiterate the original question: how long does it take to repaint a room? You should calculate 8 – 16 hours. If you'll be painting alone or with family members, you'll probably go slower than a professional painter.
Can a room be painted in one day? Yes! As an experienced professional, I can do the job in up to 1 day.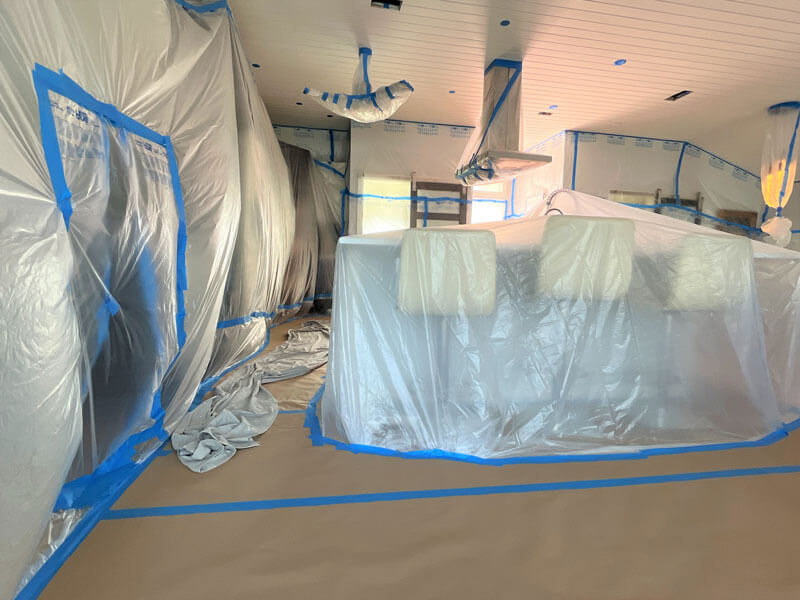 How long does it take to paint a house interior?
Calculating the time needed for a complete interior painting is more difficult. Here you can calculate per room based on the previous information. If you are also painting the ceiling, then calculate 2 days per room.
For the most common floor square footage, you can expect the following time frame, which will be affected by the variable factors mentioned at the beginning of this article.
How long to paint 1000-4000 sq ft?
· How long to paint 1000 sq ft? = 1-2 working days
· How long does it take to paint a 1,500 sq – 2000 sq ft house interior = 3-4 working days
· How long to paint 4000 sq ft house? = 6-7 working days
These are average working hours, with a team of 2 – 4 professionals. The time frame includes: 2 coats of paint, minor repairs, general cleaning.
The larger the floor space, the more important the preliminary personal survey is to calculate the exact time needed.
If you don't want to invest in painting tools and would rather rely on an experienced, professional painter, call me to help with your project. 1(904)217-9681
Zachary Boucher
14/08/2023
Extremely professional, fair pricing, very satisfied with end result. Went above and beyond to get the job done and impressive attention to detail. Impeccable cleanup, excellent experience all around.
We live out of town but have a condo at the beach. We had to coordinate the painting with various other services and Peter was incredibly responsive and punctual. He was a pleasure to work with and most importantly did a superb job!! Don't think twice about hiring him.
I used Multicolor to paint my house trim. When I called, a real person answered the phone. That was a pleasant surprise. I told them what I needed. Within a day or so Peter, the owner, came out to estimate the job. He looked closely at the condition of the trim to understand what was needed. I got a very reasonable price and we scheduled the work to start within a couple of days. The painter Peter sent out knew his business and was well organized. He was very easy and pleasant to work with. This painter was unable to work the second day, but a different man came out and finished the job. He was as professional as the first one. I never saw either man take a break. Maybe they did, but not long enough for me to notice. They finished the job a day early. It looks great. My wife loves the way the house looks. I'm very happy with the job and will use Multicolor Paints for future jobs. Also, I never knew anything about this company, the owner, or employees before I called them. I choose them based on a recommendation from a Jacksonville company that did not want to travel this far except for a full house painting job.
Dianne Norquist
02/02/2023
No words to express my gratitude to Peter, Eric and Benny for the professional. Amazing job they did on our exterior. My husband has been a builder for many years and he is very impressed with the workmanship. We had a difficult two-story new home in treasure Beach that needed a lot of caulking. They did a great job putting on primary and two coats of color that will last way after I'm gone... They were courteous and kind from the very beginning to the final cleanup. No need to look any further. I did a lot of research. They are the best around and more than fair in their pricing thank you again Peter, Eric and Benny. God bless.. photos can be seen on the website 🙂
If you want a quality job done on time by a responsible crew, then you should hire Multicolor. Peter and crew showed up when they said they would and did a meticulous job painting the exterior of my home. There aren't many quality companies like this anymore, and I really appreciate the value of their work.
I hired Peter and his crew to paint my master bedroom and bath. OMG! The paint job was meticulous! Perfect! Flawless! How many adjectives can I come up with? It was not only the paint job that was meticulous. They arrived precisely on time, even a little early. When they replaced the furniture, it was perfectly placed under where they knew the pictures would go. The hung back up the crazy flower garland around my windows. I swear to you that they even polished the metal switchplates in my master bath before they replaced them. Their attention to detail is amazing. .. amazing! Peter obviously takes a great amount of pride in his workmanship and that of his crew, and justifiably so. If I ever need any more painting done, I would not even think about hiring anybody else. Nope. I wouldn't even think about it!
Jonathan Cordero
06/10/2022
I own a large charter boat business and needed my heads(bathrooms) painted. They did a fantastic job and knocked out the project in less than 2 days. With marine paint things can get a little delicate. Peter and his team were very professional and aware of what my questions/needs were. Thanks for the great job!
Peter and the rest of the crew at Multi Color Painting were fantastic to work with. We would definitely recommend them to anyone. They were very professional and we are extremely pleased with the work they performed. Peter, the owner, could have very easily charged us more money for a couple of things that weren't anticipated after the job started but he did not. (We even tried to pay him more and he said "no thank you") We trust this company and would hire them again.
Awesome job painting my kitchen cabinets Great service, super nice and professional
I used Multi Color Painting to paint the majority of my home. Peter was great from the beginning and was very helpful in deciding the stylistic direction I wanted to go in terms of color. The finished product exceeded my expectations and I definitely recommend you give them a try. His team was also happy to come back and do a few touch ups in some small areas I noticed to ensure I was 100% satisfied.
I perform a quick on-site survey with my team and give you a personalized quote in no time for your planned restoration.
Related blog articles:
Three Steps to a Successful Home Renovation
Wall Painting Tools And Equipment – What You Will Need For Interior Wall Painting
How Can I Clean Walls With Flat Paint?
Paint Sprayer vs Roller? Pros and cons
How long does it take for interior paint to dry?