Estimating an average time to paint a house is very important for planning your project. Whether you paint it yourself or hire a professional painter, it's always worth calculating the time frame for the job. This way you will have a better idea of what the costs, supply quantity and effort the project will require. In this article, you can learn how to calculate the average working time for interior wall painting.
How long to paint?
Most people only focus on the time it takes to paint, but much more time is spent on preparation, packing, and cleaning up afterwards – more time than the painting itself. Factoring in these essential tasks is viable to the planning process. Also, anticipating several variables you will come across for your painting project will cause your time frame to vary.
Another element that is often forgotten is that the number of people who will be helping to complete the painting project. Painting alone is difficult. At a minimum, you can work effectively in pairs, but ideally you should have 3 or 4 painting professionals working at the same time. Certain tasks can be done simultaneously, so the work will progress faster.
There are some tasks that simply cannot be done alone or are very difficult to complete independently; for example, moving heavy, bulky furniture or painting walls with great heights – it is necessary to work in pairs for safety reasons.
It is important to know if the painting is affected by other maintenance work and if all the necessary tools and paints are available. If you hire professional painters, they will have all the tools to get started and will also supply the paint of your choice. If you want to paint yourself, you will need to take the time to buy and rent all the necessary tools.
How long does it take to paint a room?
Let's look at the concrete numbers first, using the simplest example. It takes a painting professional 1-2 days to paint a 10 x 10 room. Now let's break down in detail how the 1 or 2 working days are spent:
Packing up, clearing, and protecting the area: 2-4 hours.
It is important to get everything out of the room. Larger furniture can be moved into the middle of the room and covered up. Finally, protect anything you do not want paint to adhere to with masking tape or plastic secured with duct tape. Do not forget the door and window frames. The preparation time is affected by how many objects you must move and protect.
Wall preparation (sanding and repairing wall defects): 2-4 hours
All light switch and outlet covers must be removed. Any holes or imperfections in the wall must be properly patched and lightly sanded to blend in with the texture of the wall. The more damage there is on the wall, the longer the prep work will take.
Painting edges and corners: 1-3 hours
Before rolling, the edges are first painted with a brush. To produce the cleanest lines, use painter's tape to protect the side of the edge you do not want to paint. This is particularly important if you are not painting the room one solid color. For instance, will the ceiling be a different color then the walls?
Prime and roll paint: 2-4 hours
For durability or walls in poorer condition, at least 1 coat of primer is required. Then the interior wall paint can be rolled on. The drying time between coats must be followed according to the label found on the paint products. This is often the reason why 2 working days are required for 1 room.
Cleaning after painting: 1 hour
To reiterate the original question: how long does it take to repaint a room? You should calculate 8 – 16 hours. If you'll be painting alone or with family members, you'll probably go slower than a professional painter.
Can a room be painted in one day? Yes! As an experienced professional, I can do the job in up to 1 day.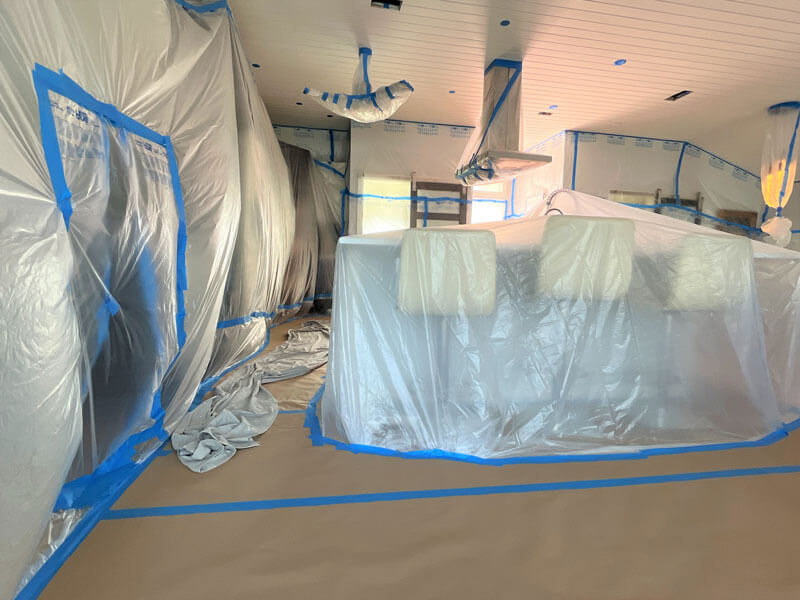 How long does it take to paint a house interior?
Calculating the time needed for a complete interior painting is more difficult. Here you can calculate per room based on the previous information. If you are also painting the ceiling, then calculate 2 days per room.
For the most common floor square footage, you can expect the following time frame, which will be affected by the variable factors mentioned at the beginning of this article.
How long does it take to paint 1000 sq ft?
· 1000 – 1200 sq ft empty house = 1-2 working days
· 1500 – 2000 sq ft empty house = 3-4 working days
· 4000 sq ft empty house = 6-7 working days
These are average working hours, with a team of 2 – 4 professionals. The time frame includes: 2 coats of paint, minor repairs, general cleaning.
The larger the floor space, the more important the preliminary personal survey is to calculate the exact time needed.
If you don't want to invest in painting tools and would rather rely on an experienced, professional painter, call me to help with your project. 1(904)217-9681
I perform a quick on-site survey with my team and give you a personalized quote in no time for your planned restoration.
Related blog articles:
Three Steps to a Successful Home Renovation
Wall Painting Tools And Equipment – What You Will Need For Interior Wall Painting
How Can I Clean Walls With Flat Paint?
Paint Sprayer vs Roller? Pros and cons
How long does it take for interior paint to dry?
How often should you paint interior walls?