If you're planning to give your home a fresh coat of paint, one of the biggest decisions you'll need to make is whether to use a paint sprayer or a roller. Both tools have their pros and cons, and the choice depends on various factors like the project's size, the type of paint, the surface you're painting on, and your experience level.
After choosing the color and type of paint, the next step is to decide which tool to use. Should you apply the paint with a sprayer or a roller? Which is the best choice for your project? Everyone wants to paint quickly and easily, but that does not necessarily mean you immediately invest in one option over the other. In this article I will summarize the pros and cons so you can make the right decision.
What is a Paint Sprayer?
A paint sprayer is a tool that uses compressed air or high pressure to atomize and spray paint onto a surface. Paint sprayers are fast and efficient and are capable of covering large areas quickly. They are available in different sizes and types, including airless, HVLP (High Volume Low Pressure), and LVLP (Low Volume Low Pressure) sprayers. Paint sprayers are ideal for painting large areas like walls, ceilings, and fences.
Painting with a sprayer is not always faster
Spray painting seems convenient and quick: You can simply purchase a spray gun from your local hardware store to apply the paint to the wall and you are done, right? In reality, it is not that simple. Preparation before using a spray machine is much more time-consuming than using a roller. The reason is that everything must be carefully protected because the sprayer throws a fine mist of paint into the air and anything that is not protected will be stained.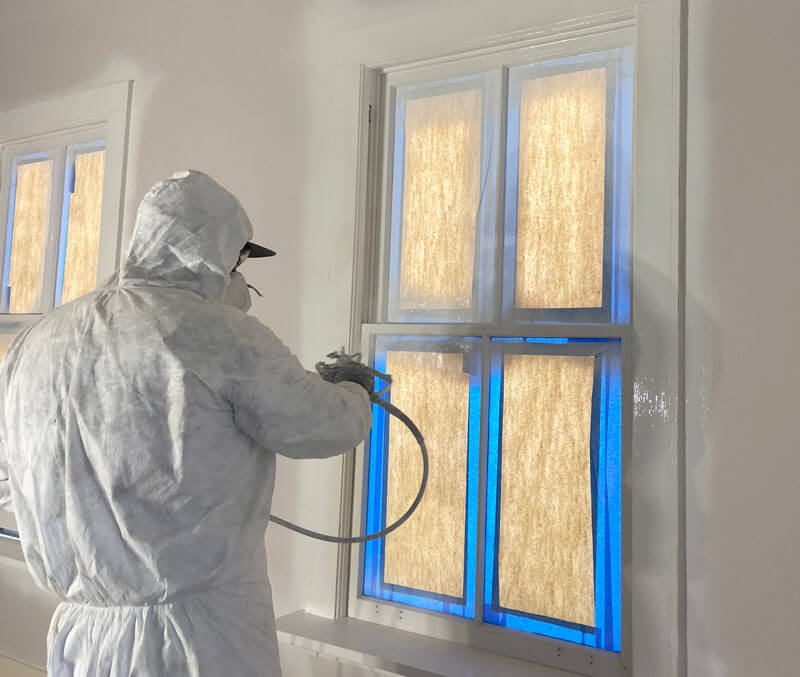 The spray nozzle should also be thoroughly cleaned after each use to prevent the paint from clogging the opening and to ensure that it can be used later. If you add up the time spent on preparation and finishing work, you will soon realize that it will be about the same as the rolling method. So do not make your choice based on speed, but rather on surface area and your comfort level. 
Advantages of Using a Paint Sprayer
Speed: Paint sprayers are faster than rollers and can cover large areas quickly.
Even coverage: Paint sprayers provide an even coat of paint without leaving brush or roller marks.
Consistent finish: Paint sprayers provide a consistent finish, making it easier to achieve a professional-looking paint job.
Ideal for large surfaces: Paint sprayers are ideal for painting large surfaces like walls, ceilings, and fences.
Disadvantages of Using a Paint Sprayer
Messy: Paint sprayers can create a mess if not used correctly, and overspray can land on nearby surfaces, including floors, furniture, and plants.
Expensive: Paint sprayers can be expensive compared to rollers, and some models require additional equipment like air compressors or spray tips.
Requires more prep work: Using a paint sprayer requires more prep work, including masking off the areas you don't want to paint and covering nearby surfaces.
What is a Paint Roller?
A paint roller is a tool that uses a roller sleeve to apply paint onto a surface. Paint rollers are easy to use and are best suited for painting smooth or semi-smooth surfaces like walls and ceilings. They come in various sizes and types, including foam rollers, mohair rollers, and microfiber rollers.
Rolling paint method: Pros and cons
Rollers are commonly recommended by paint stores when you ask for advice. Why is that? Without experience, it is the safest tool. The layer of paint applied with a roller is usually thicker, so it covers well. Economically, rolling is a better choice because the paint goes exactly where you intend, and you do not lose an excess amount in overspray.
A roller is also inexpensive – or at least cheaper than a spray machine. It is a good idea to choose a better-quality roller to ensure that it will not slip off the frame during your work, or release lint or fibers into the paint. Unfortunately, inferior quality rollers can cause such problems, which can be quite annoying when working. Selecting a good quality roller will prove to be rewarding in the long run.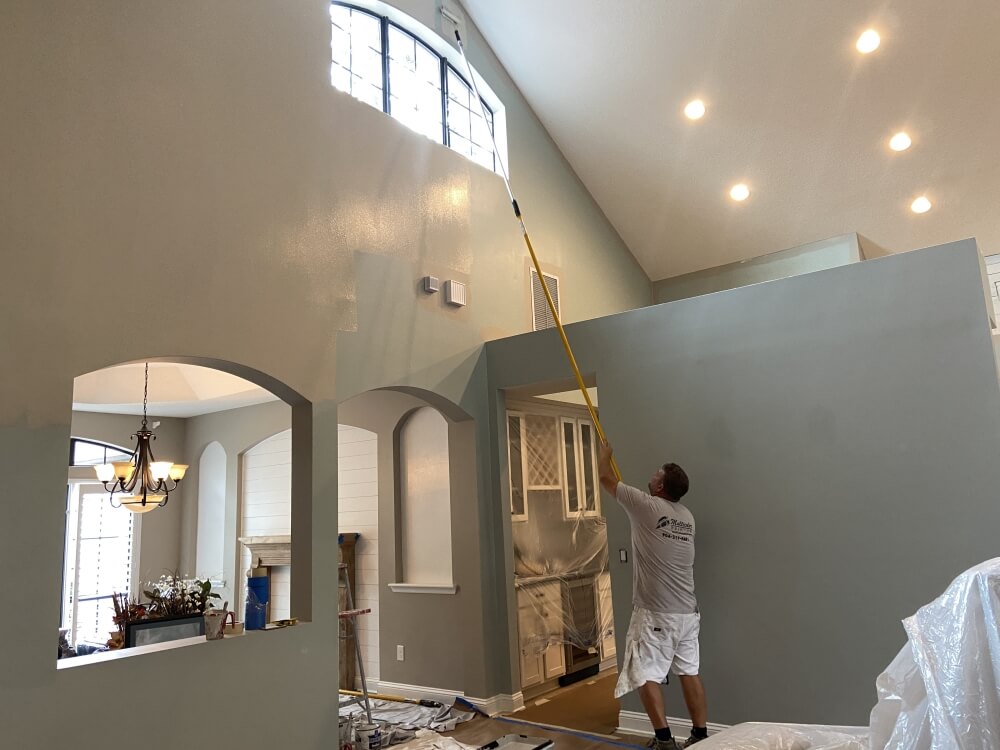 A paint roller is a very good choice for indoor jobs where a renovation or repaint job is needed, but not throughout the entire house. Maybe you only want to paint walls but not the ceiling. There is less preparation, and it is much easier to wash out and reuse the roller.
Advantages of Using a Paint Roller
Easy to use: Paint rollers are easy to use and require minimal preparation.
Affordable: Paint rollers are affordable compared to sprayers and require no additional equipment.
Suitable for most surfaces: Paint rollers are suitable for most surfaces, including walls, ceilings, and doors.
Disadvantages of Using a Paint Roller
Time-consuming: Painting with a roller is more time-consuming than using a sprayer and may require multiple coats to achieve a smooth.
May leave roller marks: If not used correctly, paint rollers may leave roller marks or streaks on the painted surface.
Unsuitable for textured surfaces: Paint rollers are unsuitable for textured surfaces like stucco or brick.
Paint Sprayer vs Roller: When should you NOT paint with a roller?
If you are looking to paint a house or garage that is completely empty and in need of a full renovation, you may want to consider spraying the paint. In a completely empty room with no furniture and you can easily protect windows or tiles (with plastic or foil for example), it is much quicker and easier to use a spray machine. The same is true outdoors. For large areas of exterior wall surfaces where only certain elements of the house need to be protected, applying the paint with a roller is slower and more cumbersome.
The texture of the wall surface is also a factor in the application decision. Painting popcorn or cottage cheese textured ceilings is much more difficult with a roller, and several coats will need to be applied. The surface of the paint roller is relatively flat, so the paint cannot penetrate every tiny depression in the texture evenly. Spraying the paint is a better application choice for these surfaces.
Things to look out for when choosing a spray device!
Make sure you have suitable protective clothing and a mask.
Protect everything you do not want to paint with foil. For instance, not only do you need to cover the window frames, but also the glass surface of the window!
Before you start, practice on a piece of cardboard or other surface where a mistake would not matter. You need to feel comfortable using a spray gun so that you can have clean and even results.
Cleaning the spray gun is time-consuming, so time it right. Do the prep work the day before. When you put the spray gun on, you should allow yourself enough time to paint everything at once, rather then having to thoroughly clean it then repeating the task the next day.
A spray gun is usually an expensive tool, but you could also rent one.
You will need more paint when spraying, so take this into account when purchasing your paint! About 30% of the paint is lost in the air when spraying a surface vs. painting with a roller.
Only spray paint outdoors on a calm day. It is not possible to control the spray from the gun in windy weather.
Paint Sprayer vs Roller summary
No one tool is better than another. I use both in my work. I really depends on what kind of surface you want to paint, your experience level and how often you will be painting.
If you want to paint a large house quickly, it is always a good idea to call a professional who is a pro at using a spray machine.
If you don't want to invest in painting tools and would rather rely on an experienced, professional painter, call me to help with your project. 1(904)217-9681
I perform a quick on-site survey with my team and will give you a personalized quote in no time for your planned restoration.
I will quickly take care of your indoor painting needs with quality materials and more than 10+ years of experience!
Related blog aritcles: Three Steps to a Successful Home Renovation
Wall Painting Tools And Equipment – What You Will Need For Interior Wall Painting
How Can I Clean Walls With Flat Paint?
Can I use interior paint outside?
How long to paint a house interior?
Professional wood and metal surface coatings