Choosing the appropriate colors to match your garden's ambiance, creating a uniform and harmonious look, and applying paint to the furniture and garden ornaments is a complex task. The wide variety of textures that appear in your garden requires many different techniques and paint materials.
Popular surface materials in the garden include stone, wood, metal, brick, or a combination of these. No wonder that most people hire professional painters to complete these exterior painting jobs! Ten years of experience on the job and the quality paints of Sherwin Williams makes this task easier for me.
Let me give you a few basic principles before I show you step-by-step how to treat different surfaces and what techniques and materials to use for each:
Make sure to always take into consideration how vacant or crammed your garden is. If the garden has a lot of empty space with only a few ornamental plants and furniture pieces, you can bring more life into it by using strong and vivid colors. If there is already too much too see in your garden, choose a light or pastel color combination, to give your plants a good background and keep the attention on the special ornamental pieces in the garden.
I always spend extra time on the application and pay special attention to the execution of exterior projects because the objects in the garden are more exposed to environmental effects, such as fading due to constant sunlight. If the paint gets damaged, it has to be repaired as soon as possible! With careful sanding of the dry surface and repainting, you can prevent moisture from seeping under the paint and damaging your ornament or furniture.
Let's Paint the Old Furniture Too!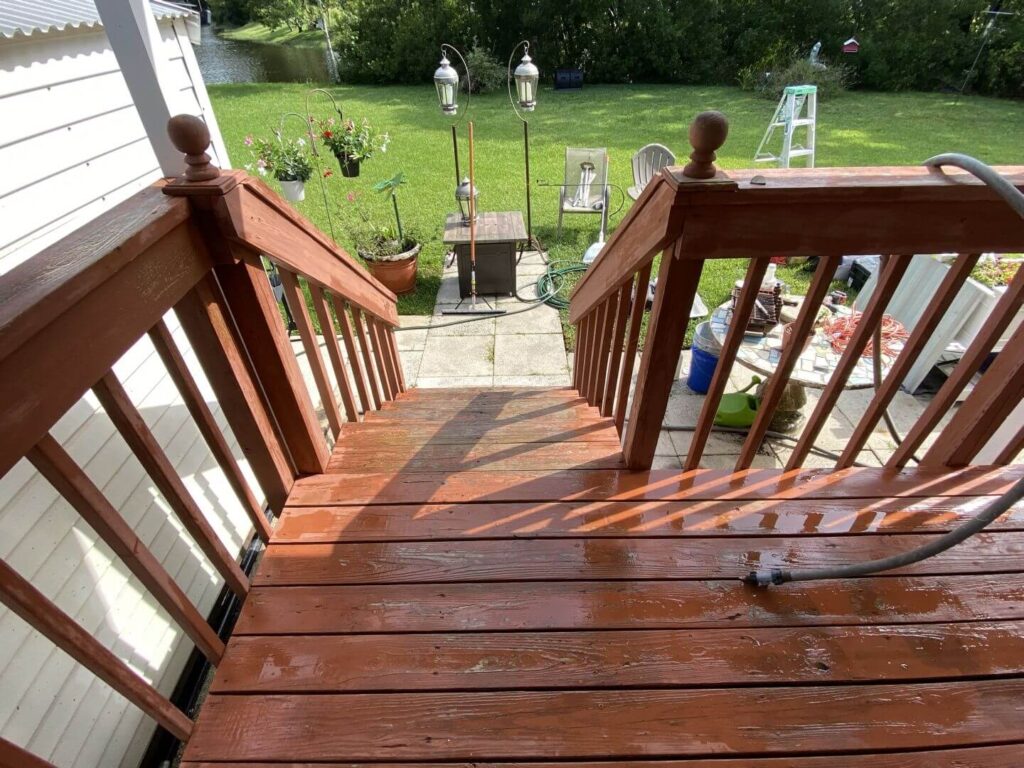 Many people throw away their old garden furniture, even when it is still in salvageable condition. Some furniture pieces are easy to refinish, and with little bit of determination and quality paints we can turn them into the centerpieces of our garden.
First, I remove all the cracked paint from the surface of the furniture. I usually work with an electric sander, but for smaller and more detailed surfaces I use cloth backed abrasives or sandpaper to avoid damaging the wood.
After sanding, I dust and apply Sherwin Williams exterior wood primer, which protects the wood from mold, fungal growth, and insect damage. In the next step, we can start the application of the second primer with the Sherwin Williams multi-purpose primer in two coats. At last, I apply Sherwin Williams enamel paint in one or two coats of the chosen color to provide perfect coverage and the expected color effect.
Best Veranda Colors
Soothing Blue
Blue is a classic veranda color that can add a touch of tranquility to your outdoor space. Light blue hues, such as powder blue or sky blue, are perfect for creating a calming atmosphere that will help you unwind after a long day. Meanwhile, navy blue or indigo can add depth and drama to your veranda, making it a perfect choice for a more formal space.
Refreshing Green
Green is a natural choice for a veranda, as it can help create a serene, relaxing outdoor oasis. Soft, muted greens like sage or olive are perfect for a veranda that is designed to evoke a sense of calm and relaxation. Meanwhile, brighter shades like lime green or chartreuse can add a pop of color to your veranda, making it a cheerful and inviting space.
Warm and Inviting Yellow
Yellow is a cheerful, warm, and inviting color that can help make your veranda a welcoming space. Whether you choose a soft buttery yellow or a bright lemon yellow, this hue is perfect for creating a happy and uplifting ambiance.
Elegant Gray
Gray is a versatile color that can help create a sophisticated and elegant veranda. Whether you opt for a light gray or a dark charcoal, this neutral hue can serve as a backdrop for other colors or stand on its own as a timeless and classic choice.
Bold and Vibrant Red
Red is a bold and vibrant color that can help create a dramatic and eye-catching veranda. Whether you choose a soft coral or a bright fire-engine red, this hue is perfect for making a statement and adding personality to your veranda.
Fence Maintenance Tips
There are many different fencing options with a variety of materials and designs to choose from. Besides aesthetics, it is important to keep in mind maintenance requirements when choosing your fence. Let me help you navigate the variety of fence materials, such as wood, steel, concrete, and others.
Wood fencing paint in the garden
Wood fencing is without a doubt very appealing, creating a friendly and inviting vibe for your garden. These fences don't only create a natural look, but they carry endless possibilities: we can burnish, varnish, paint the wood, and customize it any way we like. Of course, a natural pine fence is beautiful in itself.
This category also includes the popular and functional lamella fencing, designed for visual protection as well as enhancing the appearance of your yard. It is mostly used for patio fencing, but not matter where it goes, it is also perfect support for climbing plants and vines.
I would be happy to do the yearly maintenance and repainting of your fences. With some regular care, your fence will keep its stunning appearance for a long time. Feel free to give me a call! I'll do an in-person survey and give you a customized quote! Call now: 1(904)217-9681
Steel and Metal Fencing
In the last few years, steel and metal have become more and more popular for fencing. Probably, their biggest advantage against wood fencing is that they do not require regular maintenance. If you are tired of having to sand your fence every 1-2 years, then steel or metal fencing is the perfect solution for you! Maintenance and a fresh coat of paint are only needed every 3-5 years. Give me a call, I would be glad to help you with the restoration of this kind of fence as well!
What paint to use on garden ornaments?
There are many types of paint available on the market, but not all of them are suitable for garden ornaments. You need a paint that can withstand harsh weather conditions, such as rain, snow, and direct sunlight. Here are some of the best types of paint to use on garden ornaments:
Acrylic paint: Acrylic paint is a popular choice for garden ornaments because it is water-resistant and dries quickly. It is also available in a wide range of colors and finishes, including matte, glossy, and metallic.
Spray paint: Spray paint is an excellent option for garden ornaments with intricate designs or hard-to-reach areas. It is easy to apply and dries quickly. However, it is important to choose a spray paint that is specifically designed for outdoor use.
Oil-based paint: Oil-based paint is durable and can withstand harsh weather conditions. It is ideal for garden ornaments made of wood, metal, or concrete. However, it takes longer to dry and requires more time and effort to clean up.
Epoxy paint: Epoxy paint is a two-part paint that creates a hard, durable finish. It is ideal for garden ornaments made of concrete, stone, or ceramic. However, it is more expensive than other types of paint and requires some expertise to apply.
Tips for Painting Garden Ornaments
Now that you know what paint to use on garden ornaments, it's time to get painting! Here are some useful tips to help you achieve a professional-looking finish:
Clean the surface: Before you start painting, make sure the surface of your garden ornament is clean and dry. Use a mild detergent and warm water to remove dirt and grime.
Sand the surface: If the surface of your garden ornament is rough or has chipped paint, sand it down with fine-grit sandpaper. This will help the new paint adhere better.
Apply a primer: If you are using oil-based or epoxy paint, it is recommended to apply a primer first. This will help the paint adhere better and improve its durability.
Use a brush or roller: Depending on the size of your garden ornament, you can use a brush or roller to apply the paint. A brush is ideal for smaller ornaments, while a roller is best for larger ones.
Apply multiple coats: To achieve a professional-looking finish, it is recommended to apply multiple coats of paint. Allow each coat to dry completely before applying the next one.
Seal the paint: Once the paint is dry, it is important to seal it with a clear, waterproof sealant. This will protect the paint from fading and peeling.
Call now: 1(904)217-9681
More exterior painting projects: https://localpainterflorida.com/painting-projects/