House Painting Projects in Saint Augustine 2021
Here are more pictures of a few of my exterior house painting projects in Saint Augustine. Let me introduce you to some of the colors and surfaces I have worked with.
House painting
Before starting the exterior house painting of your home, it is good to know the answers to these five questions. When you ask for a quote, I will ask these from you. If you don't know the answers, no worries, we will do the onsite survey together!
 

What is the surface area of the project?

 

What material is the surface? Wood, brick, plaster?

 

What condition is it in?

 

When do you want to have it done?

  Have you chosen a color already?
In the times of pandemic we are committed to take any exterior projects, please don't be afraid to contact us, we can arrange and plan everything via phone call or e-mail.
Do you also feel the need to keep renovating because your house never feels like it's completely finished? You always think of something new, something to be redecorated? I wholeheartedly understand, I think it is important to let our living space change with us!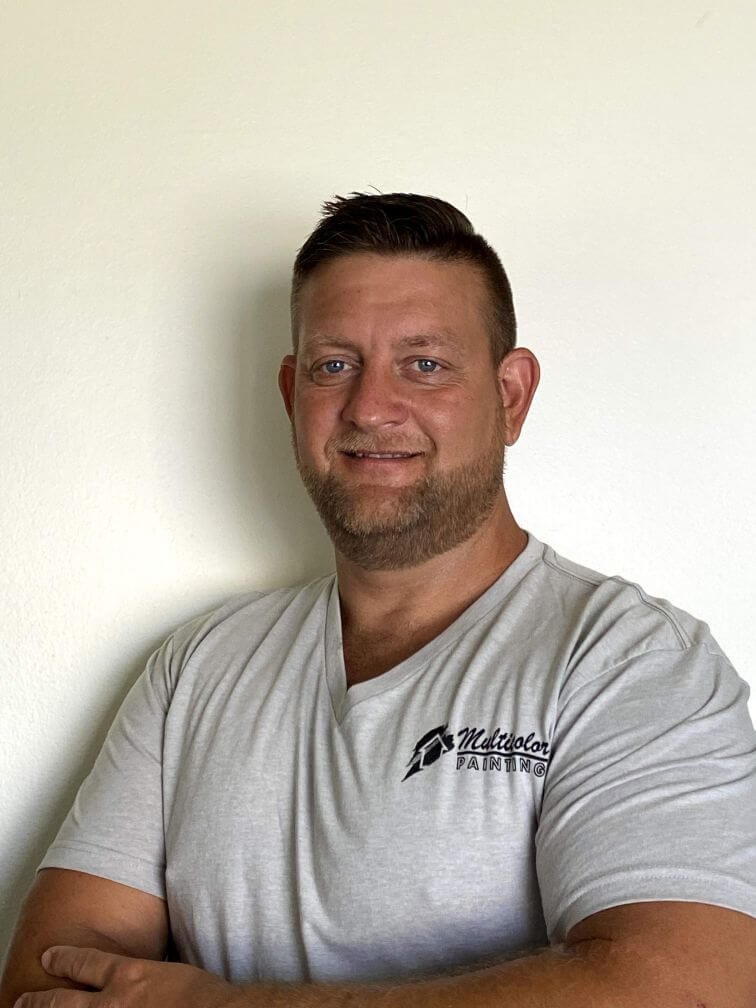 Peter Hando
– Local Painter in Saint Augustine, Florida
Coquina shell surface is painted by Multicolorpaints!
I have worked with many different types of wall surfaces and painted on various different materials. For the past few days my team and I have been painting the coquina shell exterior of this recently purchased 1700 square foot fixer-upper. The Chatura gray SW 9169 color was an excellent choice, it goes perfectly with the new doors, windows, garage door, and roof. As with every exterior project, we started with a thorough pressure cleaning to get all the dirt off before applying paint. After a layer of Tuf-Top primer sealer and spraying on chalk binder we applied two coats of Emerald Exterior Acrylic Latex paint from Sherwin Williams. Since the wood soffits were old, we treated them with two coats of oil base primer before applying the outer coat.
Get a Quote: 
Exterior house painting near me:
Beautiful color, house exterior painting
Here is our new favorite. What a perfect color combination: Greek Villa with this Raccoon Grey really brings a modern Greek look to the home.
After careful preparation, application of primer, rolling on the paint, …and finally painting the garage and front door in the same color, the inner arches of the windows also received this beautiful grey color. What a creative and unique idea by our client! We cannot wait to hear your ideas too! 
Multicolor Paints House exterior painting in coastal areas St Augustine, Florida
When the client picks the perfect color. White, but not harsh, nor cold, nor warm, just simply perfect. After having tried all possible colors on the color wheel and not finding a perfect match, came the idea of Sherwin Williams Duration exterior paint 7005, which is a simple, pure, and happy color easily paired with other colors and styles. I love working with this color because the finished product's beauty speaks for itself and my clients are always satisfied! As the first step in the work process, I rid the walls of years of accumulated dirt with a high-pressure cleaner and repaired all damages around the house. I treated rust stains, filled holes and gaps, sanded, and finally did a thorough cleaning of the glass and floors before applying primer and paint. The weather was kind to us again so our clients were able to sit on their patio with champagne and enjoy the view of their home's new exterior in just a few days!
Get a Quote: 
Exterior house painters near me:
House exterior painting
This house really deserved an exterior renovation. I love the city of Saint Augustine and I am happy to contribute to its beauty with my work. I have completed numerous house-, apartment-, and garage painting jobs and it fills me with pride to know that I have transformed homes and made people happy in many parts of this amazing city.
Get a Quote: 
house painting
House exterior painting – 02
House painting projects in Saint Augustine always leaves the biggest impression. A new clean color in place of the old look will refresh the ambiance of the whole house. It is nice to see that as we get closer and closer to the finish line, our clients watch the process with more and more enthusiasm. They may even get in the mood for some interior renovation as well!
House exterior painting – 03
The exterior paint on this 2341 sq. ft house may not be as noticeable at first glance because the color only changed by one shade. However, if you look at it again, you can see the freshness and glimmer of the new coat. After careful preparation, we fixed all cracks and other damages on the walls and applied the new shade: ANEW GRAY SW7030.  The pure white and blue doors are also perfectly distinguished.
Paint used: www.sherwin-williams.com
Sherwin Williams Loxon primer

Sherwin Williams Emerald Exterior paint 




Sherwin Williams Emerald 7005 pure white

Sherwin Williams Resilience Exterior Acrylic Latex

Chatura Gray Sherwin Williams Exterior
House exterior painting – 04
Do you need to renovate your home in Saint Augustine? Put it on the market? Or just bring some color into your life?
Regardless of the reason, some new paint will surely pay off in the future! One of our dear clients decided to refresh the interior of his home. Although the color did not change, we got rid of the years of staining, and the new coat of paint and bright white baseboards revitalized not only the walls but the whole home! Whatever our client's plan was, he was definitely happy to have done the renovation!
House exterior painting – 05
 St. Augustine's housing market has been booming in the last few months. The number of renovations and new constructions is on the rise, our beautiful city is expanding and getting prettier.
We painted JC South Electric's new affordable smart home using the best quality materials, as always, with the Sherwin Williams Duration exterior and interior paints. The home is waiting for its new residents with a stunning modern appearance!
House exterior painting – Color change
We had the opportunity to paint 2020's color in the last few weeks of the year on the exterior of one of our dear great clients' home.
Classic Blue was not only a delight to paint, but also challenging, since the edges between the dark wall color and the extra white frames had to be done with the outmost attention and precision to achieve perfection with this pronounced color contrast.
Blue walls, extra white main door and frames, and an African grey garage door and shutters => the overall effect is spectacular!
Exterior wall painting always leaves the biggest impression
A new clean color in place of the old look will refresh the ambiance of the whole house.
It is nice to see that as we get closer and closer to the finish line, our clients watch the process with more and more enthusiasm. They may even get in the mood for some interior renovation as well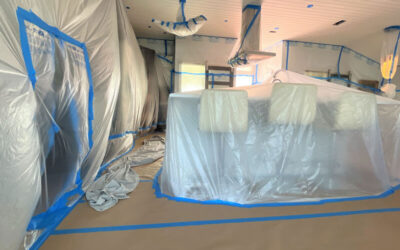 Floors and furniture should be protected when painting. I would like to share with you which plastic and masking paper to choose for your project.
read more
Message to peter
If you are planning a painting project, it is time to get to know me: I am Peter and I am a professional house painter. I can make your house remodeling project come true!
I have over 10 years of experience in the field and I will gladly answer all of your questions.
Call to schedule a time!
Office Location
24206 Harbour Vista Cir, St. Augustine, Florida 32080
Hours
M-F: 7am - 5pm, S: 7am -5pm
24206 Harbor Vista Cir. St.
Saint Augustine Floria 32080
HOURS:
M-F: 7 am - 5pm,
S: 7am - 5 pm
LISENSE: ST-9529