Kitchen cabinet painting projects 2022
Elegant and smooth kitchen cabinet renew
Over time, like everything else, kitchen cabinets wear out and begin to look old. This doesn't mean you have to replace the whole cabinet – that would be a very time consuming and expenisive project. Most of the time we just get bored with the color of the door panels and frame. That's when we come in and paint the kitchen of your dreams. Our designer client dreamed up a complete interior plan for her home that included a matching kitchen. Sherwin Williams Emerald Urethane Trim Enamel Paint once again delivered the expected results for our satisfied client. Look at these elegant handles that will be arriving for her soon 😊
Black and white kitchen cabinet renovation
Black and White! Often a tiny change can bring us joy, and often a little more imagination can create striking results. If you just can't decide between 2 colors, you choose both 😊! White on top, black on the bottom with the durable satin finish on the surface of the door leaf also offers a richer look. A smooth surface with a slight gloss…. Sherwin Williams Emerald Urethane Trim Enamel Paint is available in a range of colors and custom matches are also available on request.
Kitchen cabinet refurbish
This year, many of our customers placed their confidence in us to refurbish their kitchen cabinets.
I can safely say that we haven't disappointed anyone 😊 Unlike the more commonly used combination of grey walls and white kitchen cabinets, the shades are reversed. The grey satin finish of the cabinets I chose has an extremely elegant look, paired with a bright warm toned accent wall that highlights the kitchen backsplash fantastically. The grey color is timeless and can be incorporated into any style.
Wonderful kitchen cabinet renewing
They are even more beautiful in real life!!! With careful attention, 100% precision and the best materials / tools, nothing is impossible. Even our client's jaw dropped!!!! However, the correct steps must be take for a beautiful and long term result – and so the time frame for a completed kitchen such as this one is is between 4-6 days.
Day 1: complete dismantling, thorough cleaning, sanding, buffing, 1st coat of primer
2-4 days: 2 coats of Sherwin Williams Emerald Urethane Trim Enamel Paint
Allow time to dry
Completely assemble the cabinet after drying. Each piece received 3 coats of evenly applied cabinet spray, with each layer recieving a light sanding in preporation for the next coat. Proper drying time between coats is essential for long lasting quality!
Kitchen cabinet renovation
In recent months, we've been renovating cabinets for our clients. The most popular request is to change from a woodgrain finish to a clean white finish. Not only is it easy to clean, but it has a modern appeal. I'm able to do the job quickly, without any issue. If you're planning a kitchen renovation, call me today. 
Each part of the 52-piece cabinet is coated with Sherwin Williams Emerald Urethane, which gives a smooth, luxurious finish. This water-based enamel resists yellowing compared to traditional oil-based coatings and creates a tough, durable finish that withstands the wear and tear of frequently cleaned and used areas.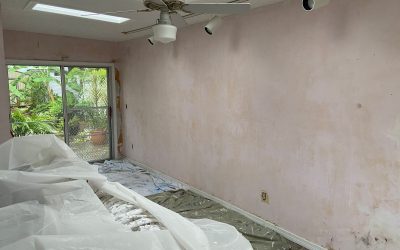 Old wall paint removal is often a bigger challenge then the painting itself. I'll show you what you need to pay attention to during the preparation!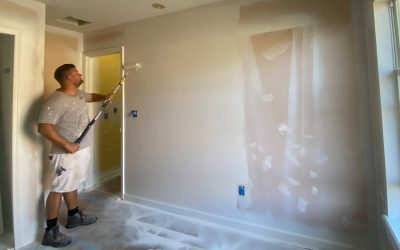 Wallpaper vs. paint: Pros and Cons. I can help you decide. Read over these tips and insights to help you decide which direction you want to pursue.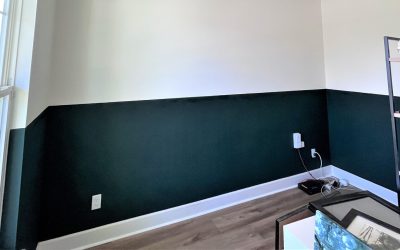 Stuck with leftover wall paint you do not want to store? In this article I will give some tips on how use it up creatively!
24206 Harbor Vista Cir. St.
Saint Augustine Floria 32080
HOURS:
M-F: 7 am - 5pm,
S: 7am - 5 pm
LISENSE: ST-9529