The more neglected areas of family homes such as cellars, storage areas, or garages usually have concrete floors. The same with the concrete pathways in the garden. The disadvantage of these untreated surfaces besides aesthetics is that they get dirty, stained, and eroded easily and they are also difficult to clean. However, a variety of surface coatings, concrete paints, or synthetic resins can easily take care of these problems. With these coatings, you can make these surfaces more durable and give them a beautiful new look to replace the harsh concrete look. Read more: Painting of Concrete Floors
Water Repellent Coats: The Durable and Aesthetic Solution
At times, we treat these concrete surfaces with water repellant coatings. They do not change the structure of the surface, but they make the top layer stronger and water repellant by absorbing into the material. They are also easier to maintain clean. Dust proof garage. These materials chemically bind to the concrete and they prevent water form getting in but do not prevent evaporation of vapor particles. This treated surface will be more durable and last longer than the previous untreated concrete surface.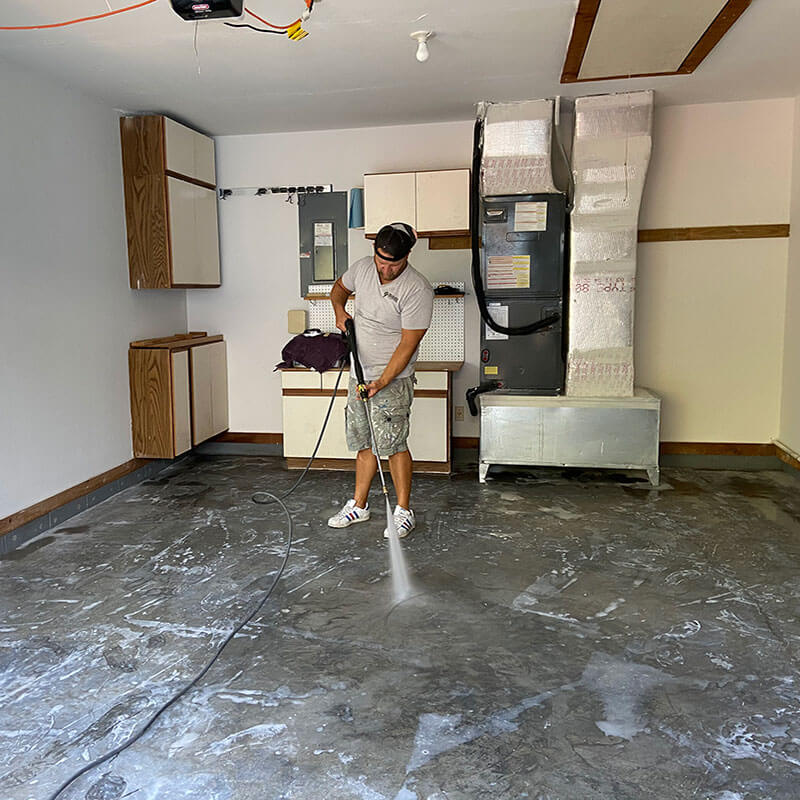 Especially silicon, as well as other acrylic based impregnating agents have many benefits. They dry quickly, are vapor permeable, but are also colorless. This treatment can significantly improve the cleanliness of the surface because dirt and contaminants can't penetrate the coating and are easily removed from the surface with a high-pressure cleaner. These coatings are also usually UV resistant and antifreeze. Before the treatment, a thorough surface cleaning is required, and the coat is then applied onto a completely dry surface. For the best results, it is recommended that any dust proof coatings are reapplied every 4-5 years. Read more: Painting of Concrete Floors
Coloring with Concrete Paint
We recommend giving your harsh concrete floors a new look with a beautiful concrete paint color. Correctly applied paints to thoroughly cleaned concrete surfaces only provide surface protection and barely change the structure of the material. When using concrete paints, it is important that the surface to be painted is dust-free, dry, and clean of any dirt. Oily or dirty surfaces prevent the paint from properly sticking to the surface of the concrete and later result in the paint peeling off. This is why proper surface cleaning beforehand is an absolute necessity.
Dust proofing Concrete Floors
It is sometimes necessary to remove the previously applied peeling paint and sand the surface before applying a new coat. It is also important to note that painting freshly made concrete surfaces is only possible after the complete binding and drying of the concrete. In some cases, if the concrete paint brand requires it, a deeply penetrating primer must be applied first.
If the paint is still intact and not peeling, it is possible to simply paint over old concrete paint. There are water and solvent based concrete sealers. They are both easy to apply with a brush, but it is more efficient to use a roller for larger surfaces. Spray painting is another viable option. The paint needs to be applied in two layers to achieve maximum durability. Concrete paints are available in a variety of colors so you can pick the exact color you want for your garage or terrace sidewalk. Concrete paints have many benefits; however, it is important to note that these paints do not give durable and lasting protection to surfaces that are heavily used. Read more: Painting of Concrete Floors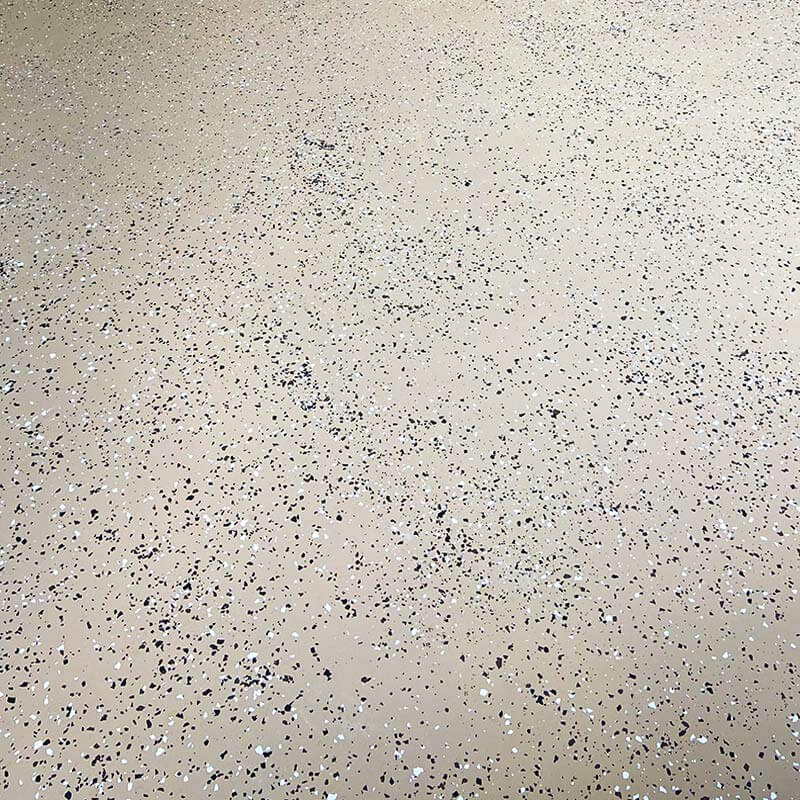 The Longest Lasting and Prettiest Solution is Epoxy Resin
Epoxy synthetic resin is the most effective solution for coating concrete surfaces. These epoxy resin-based coatings advantageously change the structure of the surface material. The durability and wear resistance of epoxy is much higher than that of concrete paints and it creates a smooth and easily cleanable surface. It usually requires the application of a deep penetrating epoxy primer first as well as a thorough sanding of the surface area. Epoxy creates a very thin layer on the concrete that is water, oil, and chemical repellant. Epoxy surfaces have a silky shine making it an ideal option if the goal is to have a pretty surface. The epoxy binds really quickly and it only needs restoration every 10 years or so.