I am sure most of you would rather choose to lay on the beach instead of paint your walls – especially in this steaming hot weather. However, you do not have to worry about spending your summer vacation days working on your house if you hire a good local painter. I can put a fresh coat of paint on your walls and have it ready before you get time off, or while you are enjoying your time at the beach.
If you do decide to take on a painting project on your own, here are a few helpful tips to making painting easier in the summer!
Tips for exterior house and wall painting in hot weather
It is important to avoid painting in direct sunlight and to paint sections of the house that are in the shade, paying attention to the direction of the sun in the sky. Start painting early in the morning on the south side of your home before the sun is at its strongest. After, you will have enough time to move to the west side of the building before the sun directly hits those walls. Later in the afternoon you can continue to the east side of the house. The higher the temperature is, the quicker evaporation is, so it is important in the summer to paint fast with quick strokes to avoid streaky or patchy walls due to different drying times. This may be more difficult for an inexperienced painter, so we especially recommend avoiding painting during the hottest part of the day and taking advantage of early morning and evening hours.
Helpful advice to avoid damp and stained walls
It is true that when the temperature rises the walls dry faster too. However, the high humidity in Florida during the summer slows the drying of paint and increases the probability of trapping moisture on the surface of the wall. Fans, air conditioning, or some air flow in the room can help speed up the drying process and help avoid dampness in the walls. Trapping moisture in the walls can quickly stain the drywall and cause rotting and unhealthy mold growth. Having the air conditioning on at 77°F or lower helps your walls dry more effectively. Opening the doors and windows for short periods of time will also give your house proper ventilation and make it easier for you to paint.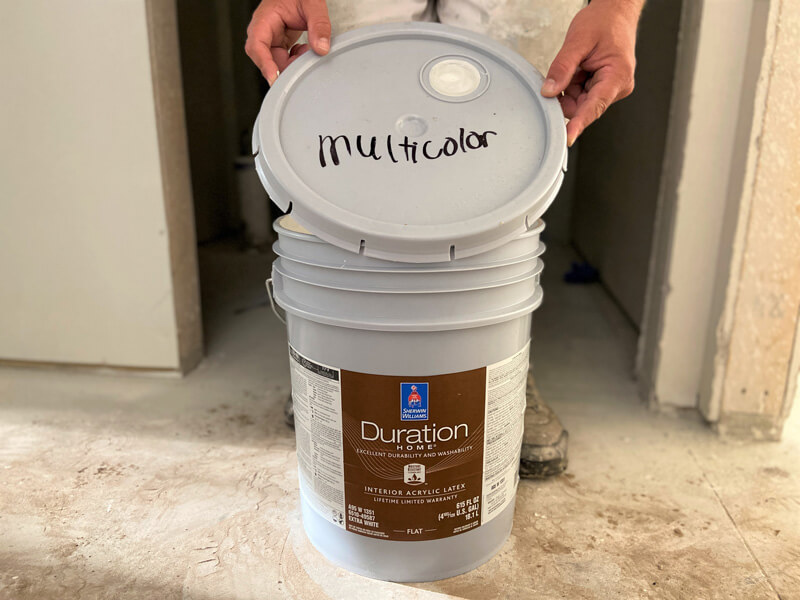 How to ventilate a room while painting
Can you paint in hot weather! Here are some tips and tricks to help you ventilate a room while painting:
1. Open Windows and Doors
The easiest and most effective way to ventilate a room while painting is to open windows and doors. This will allow fresh air to circulate in the room and carry the paint fumes out. Be sure to open windows and doors on opposite sides of the room to create a cross-breeze.
2. Use Fans
Fans can be a great addition to your ventilation plan. Set up fans in windows or doorways to help push the fumes out of the room. You can also use a box fan to create a cross-breeze by placing it in an open window on one side of the room and pointing it outwards.
3. Use an Exhaust Fan
If you have an exhaust fan in your bathroom or kitchen, turn it on while painting to help draw the fumes out of the room. If you don't have an exhaust fan, consider installing one in the room you plan to paint.
4. Seal Off the Room
If you're painting a small room, consider sealing it off with plastic sheeting to prevent the fumes from spreading to other areas of your home. Use painter's tape to secure the plastic sheeting to the doorway, and be sure to leave a small opening for fresh air to circulate.
5. Wear a Respirator
If you're sensitive to paint fumes or if you're using oil-based paint, consider wearing a respirator to protect your lungs. Look for a respirator with a rating of N95 or higher to ensure that it provides adequate protection.
Pay attention to ratios when diluting your wall paints
Use the instructions from the paint manufacturer when diluting your paints during the summer. We often do not dilute our paints, but at very high temperatures dilution makes it easier to apply on the walls with the help of a brush or a roller. Use deliberate and fairly quick strokes to easily spread the paint on the desired surface. Try not to stop the roller during the application process and finish the section of the wall you started without stopping for a break. If you do choose to dilute your paint, it is even more important to properly cover all surfaces with a protective sheet and masking tape to avoid paint dripping on unwanted surfaces and having to clean later. Dilution is an especially useful practice when working with darker paints. To make your job even easier, choose one-coat paints, so you only have to apply a single layer of the color after you have already applied your deep primer. This will save you time and energy!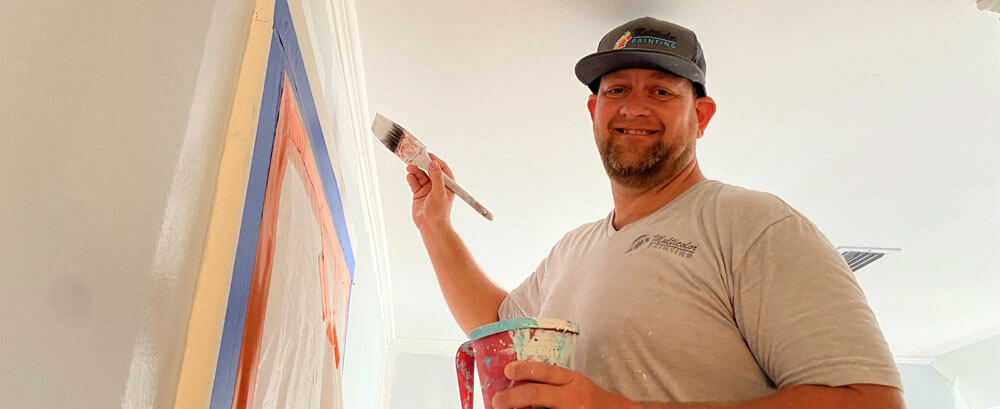 The summer heat in Florida can present some challenges but we are here to help! If you follow these few simple tips, you will not have to wait with your painting project before some cooler weather rolls in. Let us know if you have any questions and we would be glad to assist with your summer project!
Feel free to give me a call! I'll do an in-person survey and give you a customized quote! Call now: 1(904)217-9681
Zachary Boucher
14/08/2023
Extremely professional, fair pricing, very satisfied with end result. Went above and beyond to get the job done and impressive attention to detail. Impeccable cleanup, excellent experience all around.
We live out of town but have a condo at the beach. We had to coordinate the painting with various other services and Peter was incredibly responsive and punctual. He was a pleasure to work with and most importantly did a superb job!! Don't think twice about hiring him.
I used Multicolor to paint my house trim. When I called, a real person answered the phone. That was a pleasant surprise. I told them what I needed. Within a day or so Peter, the owner, came out to estimate the job. He looked closely at the condition of the trim to understand what was needed. I got a very reasonable price and we scheduled the work to start within a couple of days. The painter Peter sent out knew his business and was well organized. He was very easy and pleasant to work with. This painter was unable to work the second day, but a different man came out and finished the job. He was as professional as the first one. I never saw either man take a break. Maybe they did, but not long enough for me to notice. They finished the job a day early. It looks great. My wife loves the way the house looks. I'm very happy with the job and will use Multicolor Paints for future jobs. Also, I never knew anything about this company, the owner, or employees before I called them. I choose them based on a recommendation from a Jacksonville company that did not want to travel this far except for a full house painting job.
Dianne Norquist
02/02/2023
No words to express my gratitude to Peter, Eric and Benny for the professional. Amazing job they did on our exterior. My husband has been a builder for many years and he is very impressed with the workmanship. We had a difficult two-story new home in treasure Beach that needed a lot of caulking. They did a great job putting on primary and two coats of color that will last way after I'm gone... They were courteous and kind from the very beginning to the final cleanup. No need to look any further. I did a lot of research. They are the best around and more than fair in their pricing thank you again Peter, Eric and Benny. God bless.. photos can be seen on the website 🙂
If you want a quality job done on time by a responsible crew, then you should hire Multicolor. Peter and crew showed up when they said they would and did a meticulous job painting the exterior of my home. There aren't many quality companies like this anymore, and I really appreciate the value of their work.
I hired Peter and his crew to paint my master bedroom and bath. OMG! The paint job was meticulous! Perfect! Flawless! How many adjectives can I come up with? It was not only the paint job that was meticulous. They arrived precisely on time, even a little early. When they replaced the furniture, it was perfectly placed under where they knew the pictures would go. The hung back up the crazy flower garland around my windows. I swear to you that they even polished the metal switchplates in my master bath before they replaced them. Their attention to detail is amazing. .. amazing! Peter obviously takes a great amount of pride in his workmanship and that of his crew, and justifiably so. If I ever need any more painting done, I would not even think about hiring anybody else. Nope. I wouldn't even think about it!
Jonathan Cordero
06/10/2022
I own a large charter boat business and needed my heads(bathrooms) painted. They did a fantastic job and knocked out the project in less than 2 days. With marine paint things can get a little delicate. Peter and his team were very professional and aware of what my questions/needs were. Thanks for the great job!
Peter and the rest of the crew at Multi Color Painting were fantastic to work with. We would definitely recommend them to anyone. They were very professional and we are extremely pleased with the work they performed. Peter, the owner, could have very easily charged us more money for a couple of things that weren't anticipated after the job started but he did not. (We even tried to pay him more and he said "no thank you") We trust this company and would hire them again.
Awesome job painting my kitchen cabinets Great service, super nice and professional
I used Multi Color Painting to paint the majority of my home. Peter was great from the beginning and was very helpful in deciding the stylistic direction I wanted to go in terms of color. The finished product exceeded my expectations and I definitely recommend you give them a try. His team was also happy to come back and do a few touch ups in some small areas I noticed to ensure I was 100% satisfied.
More Interior painting service